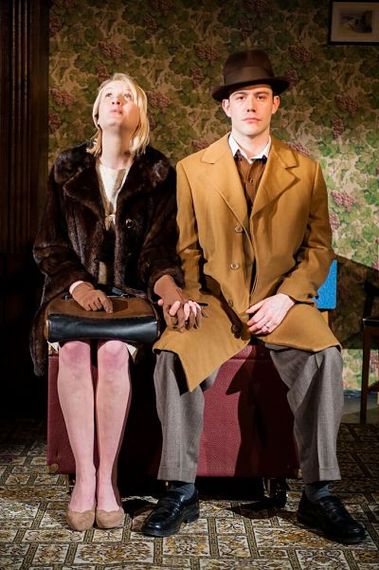 "So this is my story and whether you believe it or not is your business and not mine," explains Janet. Believe it. Her tale, about a young married British couple in Northern England in 1961, is a strangely compelling look at the state of consumerism and love gone goofy. Equal parts social commentary and theater of the absurd, One Hand Clapping, at 59E59 Theaters, is a thoughtful and engaging dark comedy.
Adapted and seamlessly directed by Lucia Cox from the novel by Anthony Burgess, of A Clockwork Orange fame, it kicks off the Brits Off-Broadway fest. Howard (Oliver Devoti) and Janet (Eve Burley) Shirley live a provincial existence. She works at a local supermarket and waxes rhapsodic over baked beans and toast; Howard, a used car salesman, is as negative as his wife is positive: "What are we, really? We don't have much to give the world."
Howard thinks it's a wicked world, plagued by rampant consumerism and the threat of nuclear war. His one desire -- to live like a millionaire for a month, then "to snuff it" -- is admittedly novel. So is his tactic to secure a victory over circumstances. He decides to go on a quiz show, armed with a photographic mind and a relentless determination to win.
The fun is taking the journey with these two quirky people, the disciplined, exacting Howard, who, in Oliver Devoti's hands is beautifully modulated and recognizable as a man painfully aware of his limitations. Similarly, Eve Burley is excellent as Janet, a simple, friendly woman who takes comfort in the ordinary, but yearns, however quietly, for something more. Plus, Meriel Pym's set and costumes are spot-on.
A searing look at the changing mores of the '60s, juxtaposed with the peppy black-and-white ads that run during the show. Advertising's vapidness mirrors a post-war Britain aping American consumption. What happened, Howard muses, to the gravitas of earlier times?
At 80 minutes without an intermission, One Hand Clapping is an intimate, riveting ride. In this tiny theater, big things happen.
Crosstown, a larger off-Broadway venue takes on politics, always fertile ground for satire -- and the Clinton years, with sex, scandal and Republican skullduggery, offered it up in buckets. So it's probably no surprise that Clinton the Musical, now off-Broadway at New World Stages, has landed at the same time Hillary is running for president.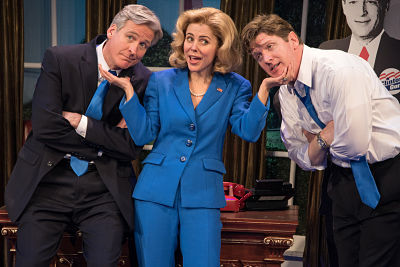 It begins in 1993, when President Bill Clinton (Tom Galantich) takes office. He's young, charismatic and Democratic, to the horror of GOP leaders, the food-obsessed Newt Gingrich (John Treacy Egan) and a gay, leather-loving Kenneth Starr (a joyously over-the-top Kevin Zak). They plot to unseat the new president by whatever means necessary -- even if it means digging deeply into his Arkansas past and disrupting much need health-care reform.
What's good public policy next to the obsession with power?
While the Republicans come in for their just slams, in a script that follows the roller-coaster ride that was Clinton's impeachment, it also posits two Bills: WJ, the caring, responsible one, and Billy, the wild, womanizing playboy (Duke Lafoon). Only one person, an uber-ambitious Hillary (Kerry Butler) sees them both -- at the same time!
And there in lies the conundrum of the Clinton years. Throw in a crazed Linda Tripp (Judy Gold) and a saucy Monica Lewinsky (a terrific Veronica J. Kuehn), and the fast-paced, over-the-top parody is complete. Paul Hodge's score zings everyone, from the scandal-loving, fact-ignoring press to the right-wing conspiracy determined to take the president down at any cost.
One quibble: It's too heavy-handed when driving home Hillary's presidential ambitions. Men strive for the presidency with ferocity -- and if you're last name is Bush, blatant entitlement. Why not women?
Dan Knechtges's direction is zippy and fun and his cast delivers. For political junkies, Clinton the Musical delivers all the wacky elements of power politics in red, white and blue.
One Hand Clapping photo: Emma Phillipson
Clinton the Musical photo: Russ Rowland
Calling all HuffPost superfans!
Sign up for membership to become a founding member and help shape HuffPost's next chapter