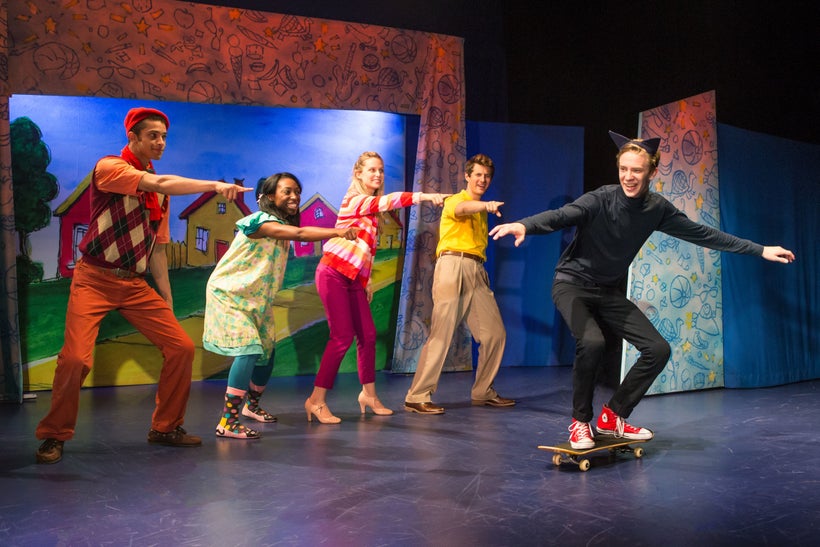 It's tricky turning a popular children's book series into a musical, but Theatreworks USA's Pete the Cat, now at the Lucille Lortel in Greenwich Village, purrs right along. Just ask the hyped-up kid-filled audience. For some, it was like seeing the Beatles.
Little wonder. Groovy Pete (Kyle Sherman) is draped in magical sunglasses and hipster cool. His wild adventures with Jimmy and Olivia Biddle (Adante Carter and Brandi Porter) are a lesson in friendship.
Peter is encouraging, unflappable and a natural ego booster. Will Aronson's breezy, upbeat score and Sarah Hammond's lively book and lyrics capture his charms. This delightful show boasts a Sixties' can-do vibe that endears Pete to the audience.
Even Gus the Platypus and Grumpy Toad, Pete's friends, and his VW bus make an appearance.
Songs such as "Happy Roommates" or "Out From Under The Couch" are funny, pitting cat against boy. But they are also humorous reminders that it's OK to venture outside your comfort zone. Here, the Baileys befriend Pete — and the savvy street cat enters a new terrain. Can do-your-own-thing Pete adapt to family life?
Porter and Carter are spot on, joined by Sam Tedaldi and Matt Dengler, who neatly play a variety of roles. As Pete, Sherman brings a boatload of enthusiasm and his own brand of kooky warmth. All legs and tail, his wide grin and boundless energy is the engine that drives this well-crafted effort.
Pete's rule: Never refuse a hug. This musical deserves a big one.
The Government Inspector, Nikolai Gogol's political farce about corruption, is a frenetic comedy relevant in any age. Adapted from a play by the great Russian playwright, it mines all the silly and pretentious insanity that defines bureaucratic crooks.
The Red Bull Theater's snappy production is now off-Broadway at New World Stages. The farce hits its mark, while making a larger statement about the systemic nature of institutional greed and incompetence.
And yes, it's no stretch to see contemporary parallels.
Set in a provincial Russian town in 1836, the premise is a delicious case of mistaken identity. The Czar has dispatched a government inspector to access its municipal departments – courts, hospitals and schools. The scheming mayor (Michael McGrath) gets word the inspector has arrived — and orders his officials to bribe and grovel with abandon.
The only glitch — they've got the wrong guy! Hlestakov (Michael Urie) is more interested in his hair and escaping his creditors; the town's leaders are obsessed with sustaining their own mediocrity — at any price.
Director Jessie Berger has assembled an excellent ensemble that delivers Gogol's satiric slam at governmental fraud with glee. The set, built on two levels, makes a key point: When reality is blurred, and sustaining the status quo, however vile, morphs into a fantasy world all its own, chaos and dysfunction reign.
Plus, the toxicity feeds into every aspect of life – political to familial – upending any hope for a just or even competent society.
Performed with zest by the cast, Urie is sensational as the energetic rogue, aided by Arnie Burton, who plays dual roles; his postman is a study in campy delight. A sassy Mary Testa is perfect as the mayor's shameless wife, while McGrath's mania for power is sharply drawn — and equaled only by his lack of conscience. As the mayor's daughter, Talene Monahon takes a small role and makes it notable.
Indeed, the cast, like Alexis Distler's sets and Tilly Grimes' costumes, hits exactly the right note: fast and furious.
Calling all HuffPost superfans!
Sign up for membership to become a founding member and help shape HuffPost's next chapter
This post was published on the now-closed HuffPost Contributor platform. Contributors control their own work and posted freely to our site. If you need to flag this entry as abusive,
send us an email
.