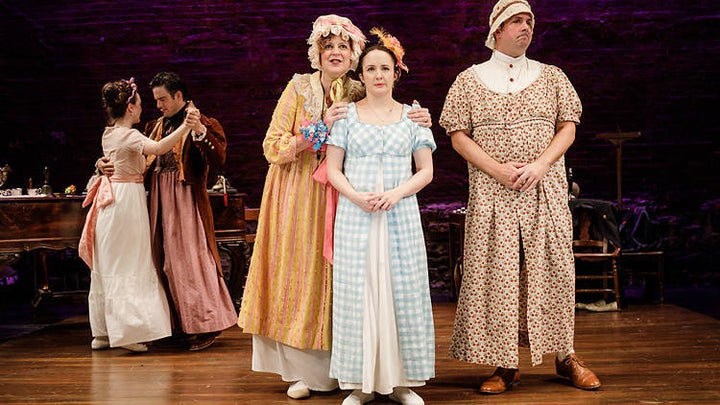 Jane Austen is known for her social insights and occasional satiric impulses. Actress/adapter Kate Hamill has kicked it up a notch in the comedy department, delivering a Pride and Prejudice that is funny and whimsical, but still captures the essence of Austin's captivating novel.
Now at the intimate off-Broadway Cherry Lane Theater, the gender-bending Pride and Prejudice features a super-talented cast who utilizes cross-dressing and pop music to tell the story of feminist heroine Elizabeth Bennett (Hamill) and her tumultuous relationship with Mr. Darcy (Jason O'Connell.)
Many of the performers play dual roles, which only heightens the fun.
It's 1813 in rural England, and Mrs. Bennett (Nance Williamson) has one overarching goal: marrying off her daughters. While truculent Lizzy is marriage-adverse, her siblings are eager to be wed. Jane (Amelia Pedlow) has fallen for goofy, good-natured Mr. Bingley (John Tufts), while Lydia (Kimberly Chatterjee) is overly friendly with a local lieutenant (Mark Bedard).
The focus, despite the girls' wishes, is less on desire than income; the Bennetts are middle-class and devoid of long-term financial security. Bingley and Darcy are both gifted with large fortunes, which makes the prospect of an alliance devoutly to be wished.
But "the course of true love never did run smooth," as Shakespeare noted, and that's especially true here, where class, love and propriety collide. Austen outlined tricky romantic terrain — "women without prospects have to settle" —and Hamill takes the obstacles as opportunities for humor. (She did the same in her successful take on Sense and Sensibility.)
The adaptation, with tight, energetic direction by Amanda Dehnert, injects big laughs in an otherwise, at times, heartbreaking tale. Hamill's irreverence for period pieces is refreshing. And while the slapstick on one occasion is over-the-top, as a whole, it is surprising and engaging.
Thank the amazing cast, which has great chemistry and energy. Mark Bedard and John Tufts master multiple roles with ease, while the Bennett sisters are just right. Together, they give audiences a classic that's worth revisiting with new eyes.
A second show worth revisiting, the Broadway musical Legs Diamond, with music and lyrics by Peter Allen, was the subject of an anniversary concert last night. Allen also starred in the original show nearly 30 years ago, with book by Harvey Fierstein and Charles Suppon.
Twenties gangster Legs Diamond would have appreciated the venue, the swanky nightclub Feinstein's/54 Below, for the one-night-only celebration.
Criminals are surprisingly good fodder for musicals — think Chicago, The Gentlemen's Guide To Love and Murder and The Producers. The show opened in December 26, 1988 and ran till February 19, 1989. Much like its namesake, Legs Diamond ran into trouble.
While the ill-fated show was the last to play at the Mark Hellinger Theater, it had big positives, including Tony-nominated costumes and choreography and the legendary Julie Wilson.
Anyone who saw the original can testify to the lavish sets. And despite critics' disdain, it was an entertaining spectacle.
Original cast members, including Christine Andreas, Ruth Gottschall, Bob Stillman and Jim Fyfe, shared stories about Allen's generosity, as well as personal reminiscences, and performed accomplished ballads, such as "The Man Nobody Could Love," "Cut the Cards" and "The Music Went Out Of My Life."
In fact, Allen's beautiful melodies and cheeky lyrics were a loving reminder that talent and artistry never die. Almost 30 years later, the Legs Diamond score still clicks. Maybe it's time for a revival.
Related
Popular in the Community