 Shakespeare's plays are frequently staged in contemporary dress to make them accessible to modern audiences. Pulp Shakespeare keeps period garb and enlists his distinct style of language to cleverly restage Quentin Tarantino's Pulp Fiction.
Now at the Cherry Lane Theater, the show, part of the NYC Fringe Festival, calls on two murderers, a boxer, a brutal lord and his alluring wife to tell the convoluted tales of betrayal and redemption.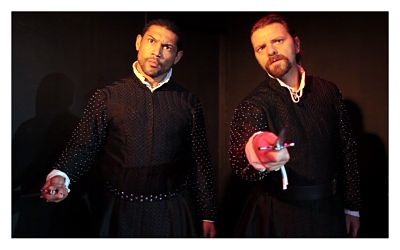 Her Majesty's Secret Players utilize blank verse and prose, throwing in a few of the Bard's famous lines en route, to show similarities in tone and plot line to the Oscar-winning screenplay.
Both Tarantino and Shakespeare, per the play's director, have a "fondness for incorporating violence and sexual tension into their stories." Integrating their distinct styles is entertaining, but if audiences aren't devotees of the film, the production's dark humor will elude them.

Pulp Shakespeare recreates the film's set pieces -- the diner dancing, pocket watch story and resuscitation scene -- with flair. The touted discussions, such as the sexual overtones of massaging a woman's foot, work beautifully in the metaphor-rich language of the Elizabethan stage.
Aaron Lyons as Vincent de la Vega and Dan White as Julius are nicely paired; the cast in general -- Mia (Hannah Beck), Butch (Christian Levatino), Roger/Zed (David Lautman), and Marcellus (Nathan Freeman) -- clicked.
Issues of divine intervention, revenge and loyalty are approached with both menace and black humor intact. Pulp Fiction fans will love it.
Theatergoers in general will embrace Horton Foote's touching Harrison, Tx at the 59E59 Theaters, the first play in Primary Stages' new season.
Three one-act plays, "Blind Date" and "The One-Armed Man," both set in 1928, and "The Midnight Caller" in 1952, take place in the same Texas town. Ordinary social interaction -- a first date, a disgruntled worker or boardinghouse blues -- are presented in achingly human terms, proving the big themes in life are calibrated in small intimate moments.
This is small-town America, where social pleasantries matter, and the Lion's Club, church and high-school football define community ties.
In "Blind Date," a talkative aunt who credits "personality" with her social success (Hallie Foote) is schooling her independent niece Sarah Nancy (Andrea Lynn Green) in acceptable date conversation. The young girl's suitor Felix (Evan Jonigkeit) is a bit dorky, and she is defiantly uninterested -- which makes their humorous missteps a delight.
A darker side of life is evident in "The One-Armed Man." A cotton factory manager (Jeremy Bobb) is confronted by an angry ex-worker (Alexander Cendese). It's the shortest play in the series, but the explosive undercurrents of marginalized people resonate in any age.
The longest act, "The Midnight Caller," examines the lives of boardinghouse residents, who run the gamut from a yearning young stenographer, aptly named Cutie (Andrea Lynn Green), to Alma Jean (Mary Bacon), a no-nonsense, prickly woman angered by a new boarder and what passes for scandal in small-town Texas.
All the residents, including a rueful schoolteacher (Jayne Houdyshell), either muse on their current lot or reconcile themselves to fate. It's the plaintive cry of a lonely alcoholic and his midnight pleas that underscore the gentle sadness of existence.
Horton Foote was masterful at mining the drama of small-town life. Pam MacKinnon directs her excellent cast with delicacy, making Harrison, Tx a quiet revelation.
Related
Popular in the Community