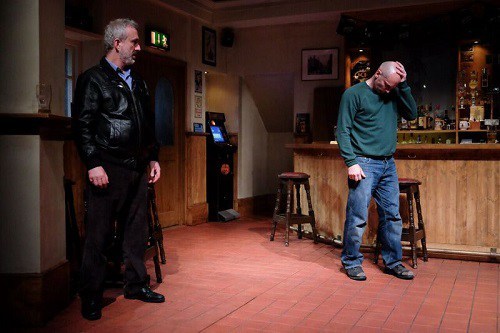 Truces may be declared, but the long-term fallout is harder to reconcile. That's the premise of Quietly, now at the Irish Rep.
It's set in a Belfast bar, a decade after the 1998 Good Friday Agreement, which hammered out a new political government for Northern Ireland, ending, in large part, the violent 30-year conflict known as The Troubles.
But the psychological scars remain. So do contentious questions, such as: What is the definition of a victim?
In Quietly, first performed at Dublin's Abbey Theatre in 2012, two men, on opposite sides of the struggle, meet 36 years after a fatal bombing altered their lives. Both struggle with issues of truth, guilt and responsibility.
As a teenager, Ian (Declan Conlon) a former soldier for the UVF (Unionist Volunteer Force), a Protestant paramilitary organization, threw a bomb into a bar, filled, he was told, with suspected IRA sympathizers, killing Jimmy's Catholic father. Both were 16 at the time.
As Jimmy, Patrick O'Kane gives a riveting performance as a man terribly wronged, trying to reclaim his life. Like a panther ready to spring, Jimmy is filled with rage and demands an apology from Ian. Every sinew of his body is coiled in anger. Can words erase a lifetime of suffering? Forgiveness is more than he can bear.
Ian, too, is grappling with his past, and the repercussions of violence are confronted with stark realism. Playwright Owen McCafferty gives each man his due, while noting that truth and reconciliation are not twinned, however much politicians desire it.
"We all need to be heard at some time," muses Jimmy to the Polish bartender (Robert Zawadzki), the third man in the otherwise empty bar. And when he speaks, we listen. Quietly is a raw, taut 75 minute drama that injects a sense of menace, as well as sorrow, into every potential utterance.
McCafferty posits the murky pressures of foot soldiers in a decades-long war. Can catharsis be achieved? Ireland may have moved past armed conflict, but still wrestles with its horror.
REAL LIFE. REAL NEWS. REAL VOICES.
Help us tell more of the stories that matter from voices that too often remain unheard.