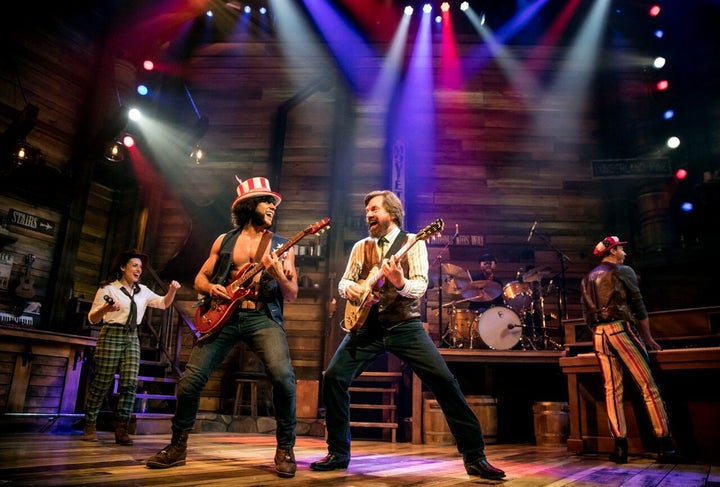 For Deadheads, the musical Red Roses Green Gold, now off-Broadway at the Minetta Lane Theater, will be welcomed. The show is set in 1920s at the Palace Saloon and Mining Company, Cumberland, inspired by the opening number, "Cumberland Blues."
Jackson Jones (Scott Wakefield), owner of the all-purpose entity, is a charming swindler who wants to hold onto his property, which the dastardly and sometimes goofy McElroys long to retrieve.
This war of the con artists has its limits. Jones has a longtime companion too spooked to say "I love you" (Maggie Hollibeck), a sassy daughter with a gift for poker (powerful singer Natalie Storrs) and a prodigal son (Michael Viruet) who plays fast and loose with truth and romance. On the upside, Viruet is crushing it at the gym.
Throw in some awkward courting and good ole' boy cunning and you get the picture.
The real focus is the music by Jerry Garcia and Robert Hunter. The score hasn't lost any of its magic – as evidenced by audience members piping in — and it is performed by energetic actors, including Brian Russell Carey, David Park, Michael McCoy Reilly and a sassy Debbie Christine Tjong. All prove themselves to be talented musicians.
Directed by Rachel Klein at a frenetic pace, the solid ensemble is a high-energy act, even jumping, inexplicably, into the audience.
Red Roses Green Gold offers the occasional moment of entertaining family hijinks, but it can't save the production from a weak script that fails to engage us with the characters, while pushing improbability to the limit. It's like hitting a false note, over and over.
In fact, the jukebox musical could just as easily have been a tribute concert to Garcia. And for those who don't know the Dead's music, it may attract new fans.
Lovers of the Big Apple Circus have cause to celebrate. The nonprofit Big Apple Circus, which is celebrating its 40th year, came perilously close to folding. It filed a Chapter 11 petition in November 2016, but was saved from bankruptcy in February.
Now, it's back at Lincoln Center's Damrosch Park, albeit in a scaled-down version. Yet, the streamlined, fast-paced direction still brings laughter — and gasps — from the audience. This is family-fun at its most democratic.
The Big Apple Circus is a modern-day enterprise, which means rescue dogs are often rescued and well-treated. Under the big top, the human feats amaze: jugglers, acrobats, contortionists. There is Nik Wallenda and the Fabulous Wallendas in an exciting, suspenseful closing act, while the Flying Tunizianis, a trapeze act, leaves audiences cheering at its audacity and skill.
For children, the antics of Grandma the Clown and her comic sidekick, Joel Jeske, are a perennial favorite. There are few things young kids like more than watching clowns spray each other with water.
As for the animal acts, trainer Jenny Vidbel has 16 horses perform in the ring.
In short, the Big Apple Circus, which boasts a specific artistry, has something for everyone. It's less splashier than previous incarnations, but remains a wonderful salute to a bygone era.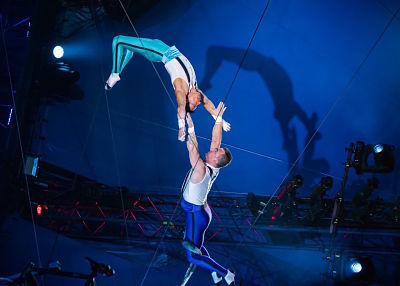 Related
Popular in the Community