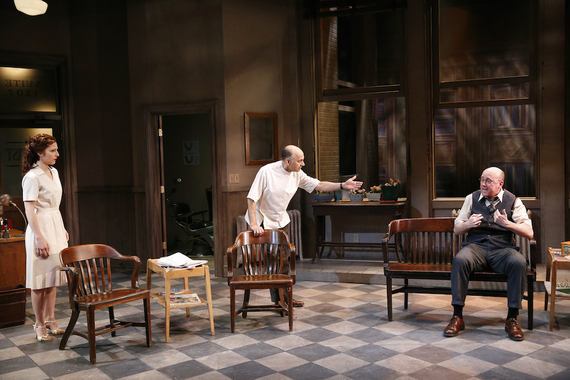 Powerhouse playwright Clifford Odets produced his greatest plays in prewar America. Masterpieces like Awake and Sing! and Golden Boy focus on the moral dynamics and economic despair that propel the human spirit in the face of devastating circumstances. Openly political treatises, they criticize harsh economic systems, even as they concentrate on the heartache of interpersonal relationships.
By contrast, Rocket to the Moon, now at Theatre at St. Clement's, is a Depression-era departure, insofar as emotions, not capitalism's dark side, is paramount. Here, the search for love trumps all, though financial woes are never far from the surface.
In what Odets called his "Romance in Three Acts," Rocket to the Moon muses on the nature of love, lust and desire. The men are dreamers, predators or elderly suitors. The women are either desperate for security or dazzled by fantasies of passion. Love may lift the spirit, but unless one seizes the chance for happiness, it's an illusion.
Set in a steamy summer in New York in 1938, the play posits the life of middle-aged dentist Ben Stark (Ned Eisenberg), a decent, caring man assailed on several fronts. His wife Belle (Marilyn Matarrese), portrayed as hard and demanding, rightly worries that his soft heart will cost them financial security.
Angry that he's paying the rent for fellow dentist Dr. Cooper (Larry Bull), who drinks to combat the blues, she lashes out. The couple is bound by a decade of disappointment, conjoined by the knowledge that happiness is somehow beyond their reach. Then Ben, much to his surprise, gets his deliverance.
Young Cleo, a pretty dental assistant (Katie McClellan), joins his practice -- and suddenly, for the first time in his life, he gets a rare chance at happiness. Will he take that rocket to the moon?
This being Odets, the answer is tangled. What stymies or spirits our desire for fulfillment is complicated. Pathos struggles with desire. Realities collide. Even as Ben contemplates his options, he's forced to confront his father-in-law's agenda. Rich Mr. Price (Jonathan Hadary) delivers hard truths in a soft-spoken way. Unlike Frenchy (Michael Keyloun), a struggling podiatrist down the hall, or oily choreographer Willy Wax (Lou Liberatore), Price knows both the romantic score and the price of success, whatever the venture.
Director Dan Wackerman shapes a vision of those on the precipice. Stark's struggles are achingly portrayed by Eisenberg, while McClellan nicely captures Cleo's vulnerability and longing. Indeed, the cast works hard to do justice to the rarely performed play. So do Harry Feiner's sets and Amy C. Bradshaw's costume design.
The truth of existence, its pain and sorrow, and its occasional glimmer of hope, are Odets' specialties. While Rocket doesn't have the soaring power of his best works, The Peccadillo Theater Company solid revival is worth seeing.
Calling all HuffPost superfans!
Sign up for membership to become a founding member and help shape HuffPost's next chapter