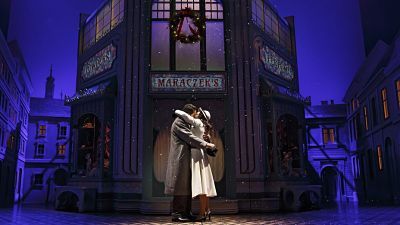 She Loves Me is not a big, brassy Broadway musical. Based on the play Parfumerie, the revival of the Sixties gem is set in Budapest, 1934. It's a more formal time, and the show champions intimacy and charm.
The story takes place in the interior of Maraczek's Parfumerie -- and the jewel box set is inviting. Beautifully colored items -- women's scents, soaps, creams -- are displayed with elan. Head clerk Georg (Zachary Levi), Ilona (Jane Krakowski), Mr. Kodaly (Gavin Creel), Ladislav (Michael McGrath) and Mr. Marazcek (Bryan Jennings) are a tight-knit group who wait on customers with precision.
Into this world comes Amalia (Laura Benanti). She not only talks her way into a job, but we soon learn that she, like Georg, has been writing letters to "Dear Friend." Both have fallen for the other in print; their actual identities remain a mystery to them.
The original story inspired two later films: The Shop Around The Corner and You've Got Mail. In both, the initial antipathy converts into love, but not before a series of well-timed arguments and disappointments.
What's lovely is watching their individual stories unfold: Ilona's search for the right man, Amalia's dreams, coupled with Georg's desires, are played out with spirited simplicity. Especially touching is the café scene, where a waiter (a delightful Peter Bartlett) copes with the vagaries of young love.

En route, McGrath gets a wonderful moment as he nails his status in "Perspective," while Krakowski, also an excellent dancer, delivers an especially touching "A Trip to the Library." Creel is perfect as the sly Kodaly, hitting his apex in "Ilona." Jennings is poignant as a man nostalgic for youth. Levi is a strong romantic lead with heart, while Benanti proves her comic chops. They, like the rest of the cast, click.
In fact, the cast has more than its share of Tony winners. And it shows.
There is a sweetness and care to She Loves Me, aided by David Rockwell's glorious sets and Scott Ellis' crisp direction. The music/lyrics are by Jerry Bock/Sheldon Harnick, whose masterpiece, Fiddler on the Roof, is playing at the Broadway Theater, a few blocks away.
Whereas She Loves Me touts pure romance, the revamp of a Mozart opera, Figaro 90210, a bilingual production off-Broadway at The Duke, embraces a 21st-century ethos. Like the original late-18th century The Marriage of Figaro, librettist Vid Guerrerio tells the tale of two servants, Figaro and Susanna, who succeed in marrying, despite their philandering employer's attempts to seduce Susanna.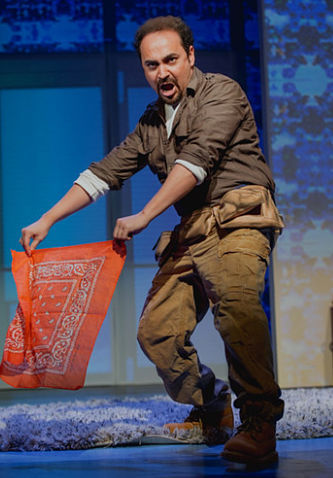 Paul Conti (Luke Scott) still gets his lesson in fidelity, but this round, it's courtesy of illegal Mexican immigrants. Figaro (Jose Adan Perez) and Susana (a spot-on Samarie Alicea) work in Beverly Hills for rich Conti and his wife, Rozanne (Raquel Suarez-Groen).
Conti offers to pay off Susana's debts -- she was brought to the U.S. by the exploitive Babayan (Ethan Herschenfeld) and Ms. Nam (Kat Liu) to work in their factory. But his generosity comes at price -- though claiming love, he wants sexual favors. In turn, his wife Roxanne hopes to rekindle their marriage, kick-starting a scheme of her own, with the help of Susana.
While the Mozart tropes -- duplicity, broad comedy -- remain, Guerrerio isn't reducing his characters to one-dimensional; the issue of citizenship and the threat of deportation are real. So are the feelings of anger and resentment the topic engenders.
Throw in a secondary plot line with Li'l B-Man (Dwayne A. Washington) and Conti's snarky daughter Barbara (Emma Grimsley) and the comedy is complete. Plus, some wonderful plot twists make Figaro 90210 a well-crafted work.
Mozart's music is glorious, and so is this entertaining and inventive update. The silly elements of the opera remain, but they are neatly intertwined with serious issues, confronted within an entertaining, beautifully performed framework.
Perez and Alicea have chemistry, making their scenes together fun. Scott nicely calibrates his character's desires; Suarez-Groen is a standout. Grimsley delivers adolescent angst well; the menacing smugglers hit the mark. Indeed, the entire cast, along with director Melissa Crespo, is first-rate.
Photo: She Loves Me/Joan Marcus; Figaro 90210/Ben Gibbs
Calling all HuffPost superfans!
Sign up for membership to become a founding member and help shape HuffPost's next chapter