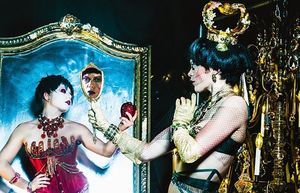 No troupe is better at reinventing classic fairy tales than Company XIV. Its version of the Brothers Grimm's Snow White, now off-Broadway at the Minetta Lane Theater, is exquisitely imagined through dance. The Queen (Laura Careless) is forever asking her magic mirror: "Who is the fairest?"
When the answer names a rival even more beautiful, it's time to up the stakes. Extreme envy, vanity and pride translate into murderous intentions. The Queen dons a series of increasingly clever disguises, including a Spanish mantilla and Day of the Dead masks, to search her prey: Snow White (Hilly Bodin).
The poisoned apple, glass coffin, the charming prince and the Seven Dwarfs make notable appearances -- but not always in conventional form. That's the genius of XIV; it combines cabaret, circus arts, ballet and both classical and pop music to produce a singular spectacle.
Plus, it underscores how fearless choreography can tell a story and engage audiences in a hip way. That's thanks, in part, to Sarah Cimino's makeup design, Zane Pihlstrom's remarkable sets and costumes, and Jeanette Oi-Suk Yew's lighting, which creates a smoky sense of Weimar Republic cabaret: naughty, decadent, alluring and always entertaining.
Of special note is Careless: She's that rare dancer who can also act -- imbuing her performances with great emotion and drama. Magnificent in the just-closed Nutcracker Rouge, she is joined by Marisol Cabrera, Laura Careless, Courtney Giannone, Lea Helle, Nicholas Katen, Malik Kitchen, Mark Osmundsen, Davon Rainey and Marcy Richardson, under the direction of Austin McCormick.
Together, they create a gender-bending extravaganza that is not-to-be-missed amazing.
Also eye-opening, but for completely different reasons, is Rich Orloff's documentary-style play, Chatting with the Tea Party, at the Robert Moss Theater in the East Village.
A self-described independent liberal, he wanted to know, in a polarized political world, what the other side was saying.
So over the course of a year, the Chicago-born playwright attended more than 20 Tea Party events, and collected 63 hours of interviews with local leaders. Then he revamped it into a play; every word spoken by a Tea Party member. In a country as politically hostile as the U.S., he found the answers revealing -- and surprising.
Yes, he hears outrageous claims about guns and healthcare. Many refuse to listen to facts about the economy (Reagan and Bush doubled the debt; Bush sanctioned the 2007 bailout), employment, education or gun safety. Some rely on dubious information from the Internet or John Birch Society. They tout the Founding Fathers, but shut down when history trumps ideology.
(Orloff doesn't include some of the hateful rhetoric about Obama and immigrants.)
But there is also understanding. There are a number of older, family-oriented Americans who feel disengaged from the process. Some are struggling; others are angry at a system that panders to rich and poor alike, but decimates the middle class.
They want to get involved; they want their voices to be heard. They "get off the couch," an action he applauds. And, for the most part, Orloff (Jeffrey C. Wolf) finds they are respectful to him, open to talking and even, on occasion, willing to consider common ground.
Orloff may disagree with their contradictory politics, but he likes them as people.
A suspicion of big business, bailouts and lobbyists means they have something in common with progressives on the Left: a distrust of corporate America. (An irony, given this "grassroots" movement was founded, largely financed and mobilized by the Koch Bros. to push a specific agenda. Fighting for the rights of ordinary people is not part of their platform.)
Still, what makes Chatting with the Tea Party so engaging is Orloff's reach across the divide. He has made a civilized attempt to discover why certain Americans feel the way they do. Are they being exploited? Do they have a point? Is there room to compromise?
John E. Brady, Maribeth Graham and Richard Kent Green do an excellent job of portraying both liberals and Tea Party advocates. Paul Girolamo's projections nicely augment the discussion. America is a big country, and Orloff has assembled a series of voices that illustrate not only our differences, but our shared humanity.
Photo: Steven Trumon Gray
Calling all HuffPost superfans!
Sign up for membership to become a founding member and help shape HuffPost's next chapter