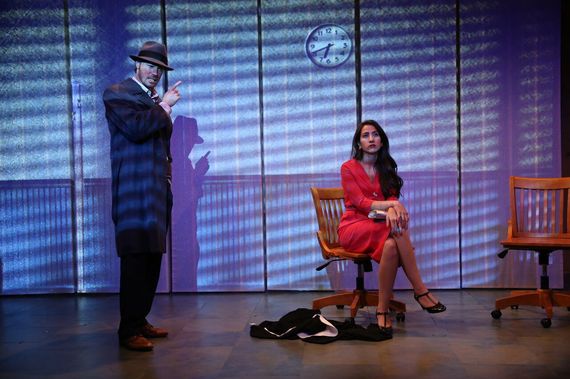 The conventions of film noir and its famed PIs are ripe for parody. That's the premise of Richard Alfredo's The Dark Clothes of Night, a clever little minx of a play, the third of three one-acts in Series B at this year's Summer Shorts at 59E59 Theaters.
In a hilarious send-up of The Big Sleep and 1940s screen detectives, Dark Clothes has private eye Burke (Dana Watkins) entranced by a client (Sinem Meltem Dogan), a femme fatale who may have ensnared him in murder.
As he regales her with a riotous array of one liners -- claiming he's "clean as a cat's conscience" or calls a butler a "stuffed artichoke" -- he takes audiences on a joyride through the genre. But here's the twist, each of the characters, including sidekick Barry (James Rees), flip roles.
There is the story of the classy dame and the dead body, and the tale of film professor Rob Marlow (a nod to Raymond Chandler's ace PI), a man so obsessed with cinematic fantasies his marriage goes sour. The dual construction is entertaining; it's clear that everyone -- including the actors -- is having a good time.
Dark Clothes is neatly constructed by Alfredo, who has a gift for comic timing and a playful prose style. He is adept at poking fun at academic critiques, while teasing the humor of out Hollywood classics. Ably directed by Alexander Dinelaris, it will appeal to fans of the detective genre -- or anyone enamored of sassy writing.
Oscar-winning writer Dinelaris (Birdman) is also represented by Queen, based on a Gabriel Garcia Marquez story. This quiet two-hander posits Queen, a prostitute (Casandera M.J. Lollar), and Joe, a kindly middle-aged man (a pitch-perfect Saverio Tuzzolo) enamored of her.
Queen is angry and bitter; he's a stand-up guy. She wants more than a crappy life; Joe wants only to care for her. The pain of unrequited love and the sudden demands of friendship will be tested. Rage and desire take a sinister turn.

Queen is an economic meditation on the pathos of missed connections -- and how far a good guy will go.
Pushing boundaries is the premise behind the opening short Black Flag by Colorado College professor Idris Goodwin. Two college freshman at a Manhattan university share the same dorm room: one white, one black. Deja (Suzette Azariah Gunn) is from Detroit, while Sydney (Francesca Carpanini) hails from Georgia. To ensure her daughter remembers her roots, Sydney's mother packs a Confederate flag.
Deja is taken aback, but Sydney explains it's about pride of place, not a symbol of racism to her. Deja counters: "It's your side of the room." The lines are drawn: Black Flag raises provocative questions about perspective and symbolism.
Yes, Deja is unnerved; and the dialogue sounds like most campus discussions. But to Goodwin's credit, two talented actresses and director Logan Vaughn, the women aren't one-dimensional. The play is a thoughtful examination of what we are taught vs. the power of knowledge.
For those who prefer their anxiety visceral, there is Paradiso: Chapter 1, an immersive, interactive escape-room experience. Participants have to collect clues and solve puzzles in an hour to achieve their goal.
Done in a secret location in midtown Manhattan, it begins with dangerous-sounding texts from the Virgil Corp, specialists in nasty global machinations. (Note the classical allusion, as creator Michael Count's inspiration is Dante's Divine Comedy. The resemblance, however, ends there.)
Paradiso can be a suspenseful, 60-minute adventure to share with friends -- complete with 3D holographic projection technology and special effects. At certain moments, it's like being in a movie with a slight dystopian edge.
But the production needs a stronger, logical through line to give the escape story more shape. It would also prevent some of the actors, especially dead ones, from whispering clues to participants.
Related
Popular in the Community