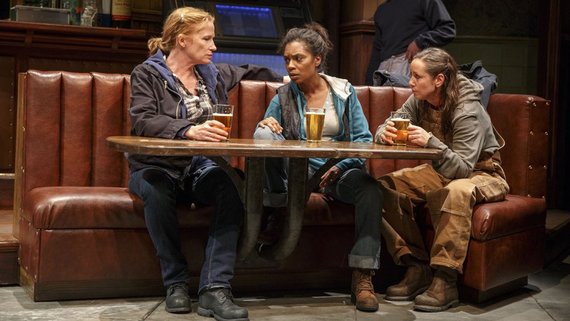 The Trump presidential win isn't expected to help the Rust Belt states. Despite campaign rhetoric and NAFTA vitriol, manufacturing jobs have been shipped overseas for decades.
A tech-based economy has been wreaking havoc on American industry for years -- and no one exemplifies that pain better than the workers in Sweat, now off-Broadway at the Public Theater.
Written by Pulitzer-Prize winner Lynn Nottage, Sweat is set in Reading, Pennsylvania. The action moves between 2000 and 2008, the Bush years, as a once-prosperous town endures the upheaval of global economics and shifting domestic priorities.
Unions no longer hold sway. Management lacks loyalty to the plant where generations of workers proudly gave their all.
The play opens as Jason (Will Pullen) and Chris (Khris Davies) are released from prison. Former best friends, they are now estranged, caught in a vortex of regrettable action that effectively seals their fate. Similarly, their mothers, Cynthia (Michelle Wilson and Tracey (Johanna day), once tight as sisters, are shattered by events.
The pace is well calibrated; the action veers back in forth in time, charting the fall of the plant: strikes, lockouts and personal repercussions. The tragedy is that the tight-knit group doesn't hold management more accountable for their plight. Instead, racial harmony and deep friendships unravel, replaced with anger and fear.
This is class warfare -- with the working-class turning on itself.
The power of Sweat is that Nottage takes time to build her relationships and circumstances. She gets the tone just right. Workers' struggles are viewed with compassion and understanding.
She instinctively grasps that all politics is personal.
The cast is uniformly excellent, as is Kate Whoriskey's tight direction. Sweat is a compelling drama that exposes the dark underbelly of America's manufacturing decline. It personifies the anger of those who feel cheated -- and the chaos that ensues when ordinary people are pushed to a breaking point.
This is social realism elevated to art.
Once you're ready to move to the comic realm, consider the shpilkes (Yiddish for anxiety) and artistry of Monica Piper, whose tender and funnyNot That Jewish is at New World Stages.
"Do I have a Jewish heart?" 7-year-old Monica Piper asks her mother. "Of course, darling. We're Democrats."
So begins Piper's 90-minute solo show, part-memoir, part Jewish exploration. It's a portrait of a Jewish-American world, the post-war baby-boomer Bronx, replete with two striking parents. Her father, a former entertainer for whom humor is a religion, and a beautiful mother loaded with charm and sass.
Wondering why they always went downstairs to her aunt's for Shabbat dinner, Piper's mother explains: "Do you want to cook for nine hours or do you want to take an elevator?"
Little wonder Piper grew up to become an Emmy-winning comedy writer, with Rugrats, Rosanne and Mad About You to her credit. Much like her parents, she sees the humor and pathos in everyday life -- and has a way of expressing it in a lovely, intrinsically Jewish way: sardonic and insightful.
The show begins and ends with her quest. She's proud to be Jewish, though regrets she isn't better educated in its traditions and beliefs. Instead, she champions the ethical aspects of Judaism: deeds, acceptance and compassion.

That sentiment is interwoven throughout, as we journey from a New York childhood to her adult life in Los Angeles, with hilarious stops for romance, heartbreak and hope en route.
The well-crafted production showcases Piper's considerable gift for storytelling. Kudos to her for turning laughter and tears into a memorable theater experience.
REAL LIFE. REAL NEWS. REAL VOICES.
Help us tell more of the stories that matter from voices that too often remain unheard.