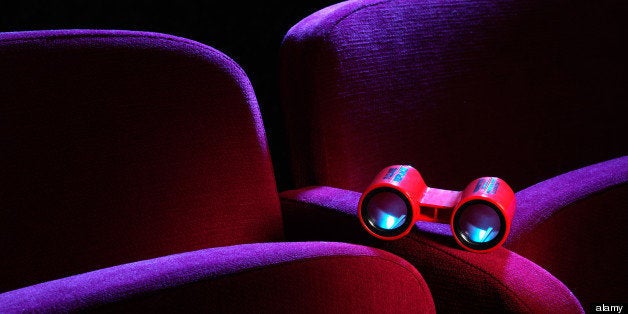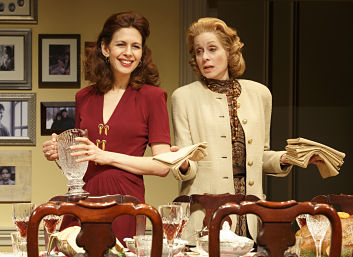 The Assembled Parties is one of the few original plays to debut on Broadway this season -- and it's a winner. Opening in a grand Upper West Side apartment populated by assimilated Jews, it addresses searing issues of family, class and culture.
Now at the Samuel J. Friedman Theater, the play is packed with clever lines, but behind the laughter is social commentary - "A Republican Jew is like a skinny fat person" and savvy insights -- "a cheerful nature is an utterly ruthless thing."
Richard Greenberg's latest work peers into the tragic ironies of family pathology. The American Jewish experience, accompanied by lingering resentments -- "the sense of neglect is the last to go" and the crippling effects of affluence, are explored with sensitivity. The funniest lines often underscore great unhappiness.
Both acts are set on Christmas, a non-holiday for Jews that brings two families together and troubled relationships bubbling to the surface.
Thanks to seasoned actresses like Jessica Hecht, as the sweet, overly literate Julie, and Judith Light as Faye, the angry suburbanite who can make any line sizzle with an occasional Yiddish lilt, The Assembled Parties offers a potent mix of pathos and thoughtfulness. Julie's husband Ben (Jonathan Walker), son Scotty (Jake Silbermann), brother-in-law Mort (Mark Blum) and Scotty's friend Jeff (Jeremy Shamos) are all solid, but ultimately secondary players. Faye's daughter, the hapless Shelley (Lauren Blumenfeld), has perfected the vacant stare, but she's too insipid to matter.
Dysfunction may be funny to watch; but as Greenberg reminds us, it's devastating to live.
Here, the family saga belongs to the mothers; and it's through them that love, obligation pain and strength are revealed. The performances are exceptional: Hecht, portrays an ethereal beauty with fine-tuned comic élan, while Light who brilliantly wisecracks, is a pleasure to watch. Director Lynne Meadow keeps the action tight, skillfully capturing the sadness and denial that lives just beneath the surface of life.
A second original Broadway play is giving Nathan Lane fans cause for celebration. The multitalented actor is in his best role since The Producers, playing a stock burlesque character, the nance, to explore the torment between public and private life and the raging hypocrisy of sex and politics.
Now starring in The Nance at the Lyceum Theater, Lane is Chauncey Miles, a well-known burlesque figure, a campy homosexual usually played by a straight man who reveled in double entendres. The catch: He is homosexual. It's 1937 and police routinely persecute gay men, "or as we call it in New York Tuesday." Thus, Chauncey navigates his sexuality carefully.
The line between his professional and personal life blurs when he meets Ned (a touching Jonny Orsini). Ned may be naïve about culture, but wise in the ways of the heart. The bawdy world of burlesque, with its cheap jokes and cheesy humor, comes under fire from a staged morality crusade. Ironically, Chauncey hates FDR and Communists; he's convinced the city's Republican administration will never impede business.
One of the burlesque dancers, left-wing Sylvia (Cady Huffman) likens Chauncey's politics to "a Negro at a Klan rally." Yet radically differing politics doesn't negate friendship.
Chauncey isn't deterred; he attributes the grandstanding to the upcoming election; a political conservative, he believes the GOP will safeguard his rights. Then, as now, unctuous politicians betray him. Such faux morality, coupled with the sub rosa world of gay men in the 1930s, are given their due. Lane delivers an excellent, layered performance that marries his trademark sass to inner torment.
Douglas Carter Beane's book for The Nance is smart, witty and heartbreaking. A terrific cast, including actor/manager Efram (Lewis J. Stadlen) and several bawdy dancers, dippy Joan (Jenni Barber), and Carmen (Andrea Burns), give Jack O'Brien's zippy direction its due. So do evocative sets and costumes.
The Nance exposes the cruelty of hypocrisy, while revealing the humanity and heroics behind the curtain.
The Assembled Parties photo: Joan Marcus
REAL LIFE. REAL NEWS. REAL VOICES.
Help us tell more of the stories that matter from voices that too often remain unheard.