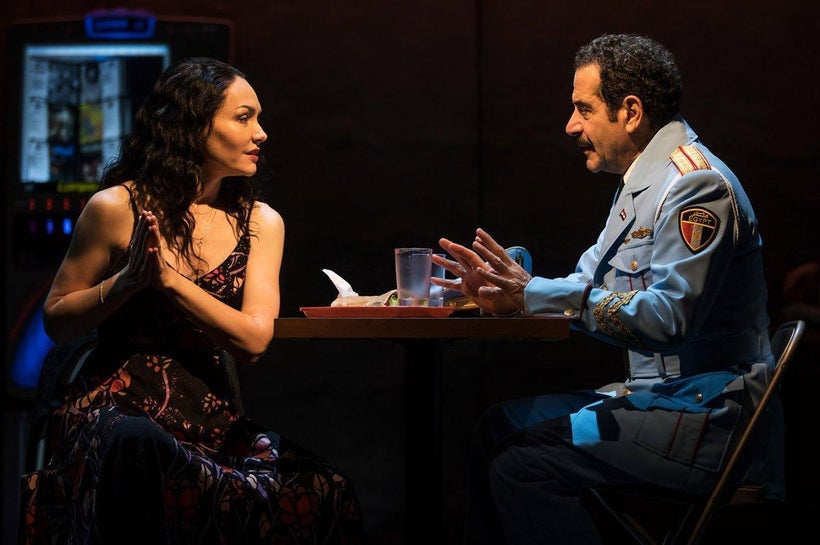 What a difference a letter makes.
The Band's Visit, now on Broadway at the Barrymore, is a quiet revelation. A chamber-piece musical set in Israel, it's billed as a "not-very-important" story about Israelis and Arabs, sans any political overtones. That's not only refreshing, it allows for achingly moving exchanges to occur.
A group of Egyptian musicians from the Alexandria Ceremonial Police Orchestra, led by upright, serious conductor Tewfiq (Tony Shalhoub), are stranded in a remote desert town. The band is meant to play in Petah Tikvah, a cosmopolitan center. Instead, due to a mistake at the bus station, it lands in Bet Hatikva, the Israeli version of nowhere.
The Band's Visit, based on the 2007 film by Eran Kolirin, transferred from the Atlantic Theater. And despite the tremendous difference in theater size, director David Cromer has retained the intimacy and allure of this quirky, unadorned tale.
The big theme here is missed connections.
Dina (a seductive Katrina Lenk), is a cynical, sexy Israeli café owner who suggests the band stay overnight. Tewfiq agrees, and the next few hours reveal the yearning and sorrow that define the human experience.
The Israelis are welcoming; the Egyptians are grateful for the hospitality. As individual stories emerge —trumpeter Haled (Ari'el Stachel) is flirtatious, but nurses his own fears; Itzik (John Cariani) seems happy, until he reveals his rocky marriage — nationality fades into the background.
Here, Jews and Arabs share more than meals and gorgeous music; they confide longings and regret. David Yazbek's hypnotic score, seasoned with Israeli and Arab melodies, along with a dollop of jazz and pop, is inviting. The on-stage actors/musicians are stellar.
But the overarching relationship, between Dina and Tewfiq is most compelling. (Dina's "Omar Sharif" is hauntingly beautiful.)
Dina is drawn to this reserved man, and the scenes between the two are riveting. Lenk, last seen on Broadway in Indecent, is a powerful actress who commands the stage. Shaloub is a chameleon, able to successfully transform himself into any character with ease. Together, they are captivating.
What's striking is how a simple plot line can grab your heart, thanks to Itamar Moses' tender book. This minor-key musical is unassuming, accompanied by Scott Pask's sets and Sarah Laux's costumes.
As a gentle breeze drifts over the lonely town, there is something else born aloft, possibility. Pay a Visit.
However, give Illyria, now off-Broadway at the Public Theater, a miss. Set in 1958, it concerns Joe Papp, the Public's founder, and the trials and tribulations he endures to put the New York Shakespeare Festival on firm footing.
Papp (John Magaro) grapples with money woes, McCarthyism, city politics and professional rivalries, such as sparring with director Stuart Vaughn (John Sanders). Plus, he is dealing with his wife's (Kristen Connolly) conflicted feelings about her acting career and their newborn daughter.
It all seems like meaty stuff, especially in the hands of director/playwright Richard Nelson, known for the Public's staging of his Apple Family saga.
But the failure to deliver is twofold. First, it is impossible to hear the cast. The low talkers, in Seinfeld parlance, are frustrating; the lack of volume is aggravating. Second, the acting is wooden, rather than engaging; in part, because there is minimal plot and little-to-no drama.
That's a shame. Papp was a pivotal figure in New York theater, as were others represented here. They deserve better, given the weighty subject matter — the nature of culture and the goal of theater in a democratic society.
Listening devices are casually offered for the "conversational" play — they should be required. Then again, a rewrite should come first.
REAL LIFE. REAL NEWS. REAL VOICES.
Help us tell more of the stories that matter from voices that too often remain unheard.
This post was published on the now-closed HuffPost Contributor platform. Contributors control their own work and posted freely to our site. If you need to flag this entry as abusive,
send us an email
.