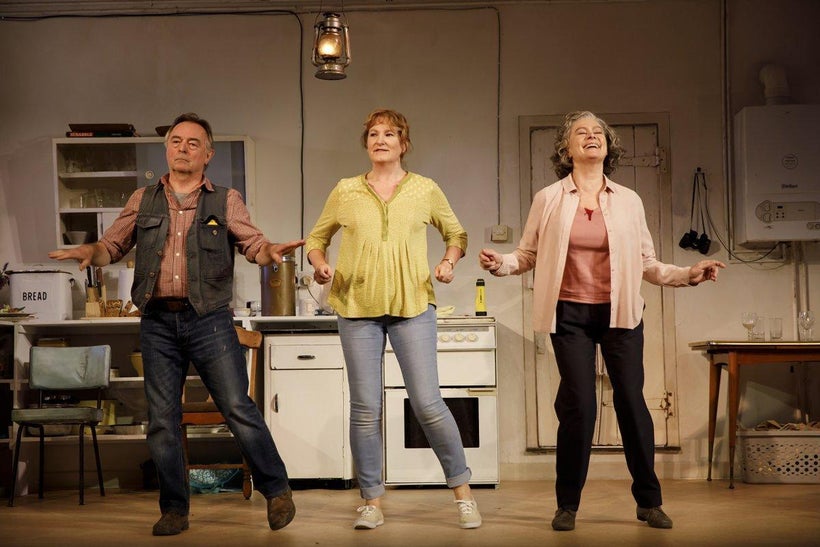 The nuclear apocalypse is here, be it the Fukushima power plant disaster in Japan six years ago or the earlier Three Mile Island debacle. Playwright Lucy Kirkwood locates her toxic terrain on an English coast — with the same terrifying results.
That's the premise of Broadway's The Children, a London import now at the Samuel Friedman. It is as disturbing as it is thought-provoking. It posits the question: What are the responsibilities of an older generation to a younger one?
It concerns three nuclear physicists who once worked together at the local power plant. Hazel (Deborah Findlay) is married to Robin (Ron Cook). They reside in a depressing cottage in the aftermath of a nuclear accident.
Unexpectedly, Rose, a long-ago friend (Francesca Annis), arrives with a plan. It takes time to reveal her true mission — and 15 minutes could easily be hacked from act one — but once we hit the play's essence, the drama ratchets up.
All bets are off in this engaging effort, which is riveting in its intense desire to bottom-line ethical imperatives in the face of death. All social obligations or sexual histories are swept away. The Children, which is oddly named, narrows the world to a fine point.
The acting is impressive and all three seem comfortable and credible. Annis is particularly compelling as a woman with an agenda. She is steely in her determination, an interesting counterpart to Findlay's domesticity.
An added character is Peter Mumford's mood-enhancing lighting. A wave of destruction is engulfing our trio — and it is useless to swim against the current.
On the comedic front, Shakespeare's Twelfth Night is now off-Broadway at the CSC, a minimal set — a few tables, chairs and steamer trunks — suffice as both ship and the island of Illyria.
Viola (Emily Young) and her tempest-tossed twin brother Sebastian (Javier Ignacio) are separated in the storm, each fears the other is lost at sea. Gender confusion ensues on rescue, as do romantic entanglements before a happy resolution is achieved.
Indeed, when actors aren't performing, they double as musicians with guitar, fiddle, bass and piano. The original music works well. Noah Brody's well-paced direction keeps the action moving.
The performances by the Fiasco Theater are energetic and amusing. Ben Steinfeld, who plays the fool/jester (Ben Steinfeld) has a beautiful voice.
Olivia (Jessie Austrian) is regal yet silly in her love for Violet/Caesaro. Cousin Toby (Andy Grotelueschen) and his fellow conspirators deal humorously with Malvolio (Paul L. Coffey).
This tale of mistaken identity makes for lively storytelling; it's a "most happy wreck" all round.
Finally, Vocal Productions NYC ended 2017 with Rossini's The Barber of Seville at the Rose Nagelberg Theater. A spirited production, the wacky love story between Rosina (Madison Marie McIntosh) and Count Almaviva (Sam Varhan) was deftly rendered. McIntosh and Keith Milkie, as her scheming guardian Bartolo, were standouts amid a mostly solid cast. The company's artistic director, Valentin Peytchinov, as Don Basilio, the bribable singing master on December 16, was a delight.
VP, along side the VPNYC Orchestra, is a nonprofit opera company to watch.
REAL LIFE. REAL NEWS. REAL VOICES.
Help us tell more of the stories that matter from voices that too often remain unheard.
This post was published on the now-closed HuffPost Contributor platform. Contributors control their own work and posted freely to our site. If you need to flag this entry as abusive,
send us an email
.