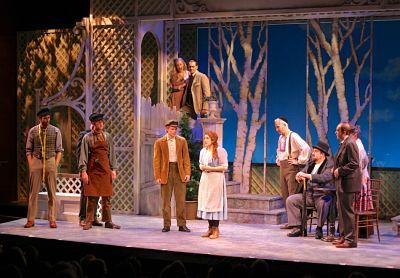 It's been a big summer for Yiddish theater.
First came Paula Vogel's brilliant play Indecent at the Vineyard Theater, which told the back story to staging the provocative God of Vengeance, a masterwork by Sholem Asch. Hailed in Europe, it was a hit off-Broadway on the Yiddish circuit, but provoked such outrage on Broadway, its producer and cast were charged with obscenity.
Then came the second staging of the 1923 Yiddish operetta classic The Golden Bride (Die Goldene Kale), now at the Museum of Jewish Heritage. (The first was in December 2015.)
Nominated for two Drama Desk Awards, the enchanting production, by the National Yiddish Theatre Folksbiene, has meticulously reconstructed the rags-to-riches script. A pitch-perfect 20-member cast performs the beautiful score, a mix of klezmer, waltz, opera and Russian ballads, played by an excellent 14-piece orchestra, under the baton of Zalman Mlotek.
The story revolves around Goldele (an extraordinary Rachel Policar), a poor girl in a Russian shtetl, in love with Misha (Cameron Johnson). When she comes into a legacy, the village suitors pursue her with zeal. But her wish is to marry the man who can find her long-lost mother.
Surrounding Goldele are various members of her close-knit village, including Khanele (Rachel Zatcoff) who has fallen for Jerome (Glen Seven Allen), Goldele's American cousin. They provide much comic relief, as does Kalmen (Adam B. Shapiro). Act 1 focuses on the traditional life of the shtetl, as well as the villagers' perceptions of America.
By Act II, both Goldele and her family are in New York. It's the Roaring Twenties and the contrast between old world and new is stark, in dress and language. And yes, there are some silly moments throughout. But what's so touching is how the production bridges the chasm, fusing Jewish music and American rhythms with themes that underscored the conflicts immigrants faced.
The Golden Bride is a time capsule, culturally and politically. Deftly staged by directors Bryna Wasserman and Motle Didner, this energetic musical is charming and poignant. The setting is Jewish, but the story speaks to everyone.
Sung in Yiddish, there are simultaneous superscript translations in English and Russian.
With music by Joseph Rumshinksy, lyrics by Louis Gilrod and libretto by Frieda Freiman, The Golden Bride opened at Kessler's Second Avenue Theater in 1923 and ran in Yiddish-speaking communities till 1948.
Thankfully, Folksbiene has rescued this gem from obscurity. Running through August 28, don't miss this rare glimpse of the past.
Or, a fitting compliment to the period: New York's Yiddish Theater: From the Bowery to Broadway at The Museum of the City of New York. The smart, informative exhibition, with more than 250 artifacts, details the remarkable phenomenon that was the Yiddish Theater. It's history and glories, legendary founders, Boris Thomashefky (his grandson is conductor Michael Tilson Thomas) and Jacob Adler, and its innumerable artistic contributions are noted.
Not only did Paul Muni, John Garfield, Fanny Brice and Jerome Robbins crossover from the Yiddish theater, which imported modernist elements from Europe, but its influence on American theater was huge. Boris Aronson, a pioneer in set and costume design, later revolutionized Broadway, winning six Tonys for scenic design in a celebrated career.
Popular in the Community