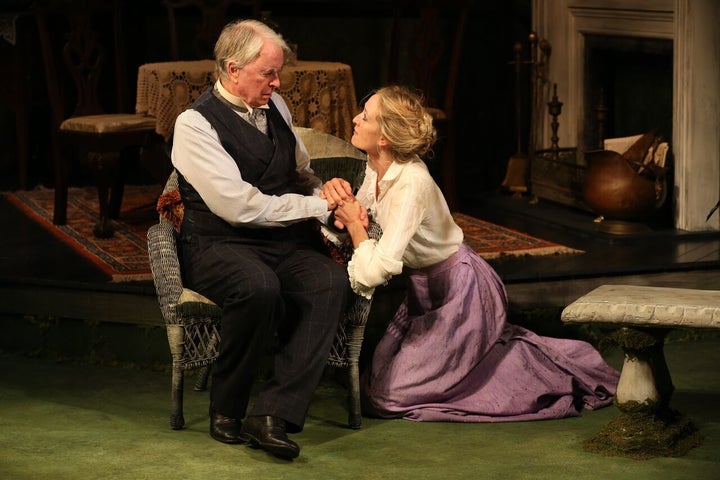 There is a chasm between farm laborers and landed gentry, especially when issues of home rule abound. The revival of Brian Friel's interesting The Home Place, now off-Broadway at the Irish Rep, exposes the mounting political turmoil in 1878 County Donegal.
Tensions are running high between English-born landowners and their often-mistreated Irish tenants. As the play opens, local owner Christopher Gore (John Windsor-Cunningham) is terrified of assassination. A hated Anglo-Irish landlord, Lord Lifford (based on an actual case) is murdered, and Christopher fears a similar fate.
While priding himself on friendly relations with his tenants, Christopher still laments "the doomed nexus of those who believe they are the possessors and those who believe they are the dispossessed."
His intentions are undercut by his pompous cousin, Dr. Gore (Christopher Randolph), an anthropologist hoping to prove the Irish poor a lesser race. He's convinced his findings will allow England to "control a whole universe." Con (Johnny Hopkins), a local leader, is willing to back his outrage with muscle.
Christopher is a man who understands the implicit contradictions of his status, but is ill equipped to deal with them. His feelings for his beautiful housekeeper (Rachel Pickup), exiled from her own Irish roots, are equally problematic.
The issue of home rule dominated Ireland in the late 19th and early 20th centuries, and the intimacy of Friel's play addresses displacement on all fronts.
The Home Place is an intelligent, intimate drama. There is an elegiac, Chekhovian quality here, and director Charlotte Moore's cast makes the most of the emotional tumult. Windsor-Cunningham hits the right mournful note as Christopher, with strong performances from a nuanced Pickup and Randolph as the condescending academic.
James Noone's set captures time and place beautifully, as does the music by Ryan Rumery and M. Florian Staab. The Home Place isn't as powerful as Friel's Translations, but it's still moving, ably recording conflicts of love and dislocation — personal and political — with sensitivity.
Conversely, on the kid front, it's time to celebrate Eric Carle's books. This new edition of The Very Hungry Caterpillar, off-Broadway at the DR 2 Theater, includes the story of Brown Bear, Brown Bear, 10 Little Rubber Ducks and The Very Lonely Firefly.
This gentle production, accompanied by music, is colorful and inventive. The puppetry is wonderful, and the sweetness with which the stories unfold, make it a perfect theatrical introduction for toddlers.
Plus, for children who know and love the stories — and many in the audience do — it's a chance to see favorite characters on stage. The images and production keep faith with the books' gentle tone, much to the delight of its viewers.
Created by Jonathan Rockefeller, the show has a lovely pace and enchanting quality, capitalizing on Carle's distinctive visual sensibilities. The Very Hungry Caterpillar is artistic, surprising and fun.
Popular in the Community