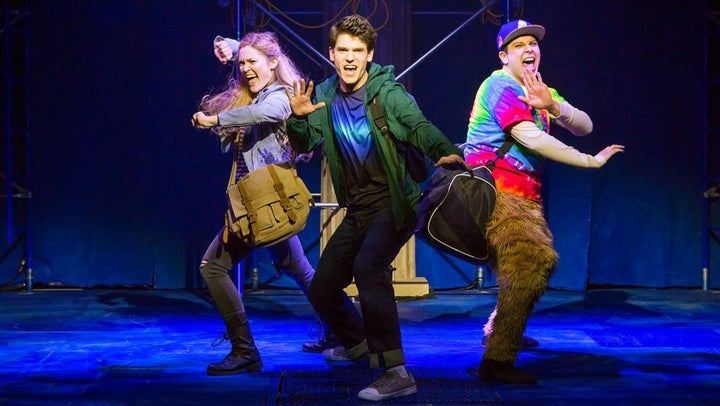 The perennial complaint of kids is parents. They inevitably induce teen angst, but when your mom is Athena or your dad is Zeus, things get extra-weird.
Just ask the kids at camp Half-Blood.
As these half-god, half-mortals know, Greek gods are just as troublesome as their human counterparts. The campers despair of being normal, but come to realize "little things that make you different, make you strong."
And, since the adult gods have a nasty habit of acting out, Percy (a fantastic Chris McCarrell) and his pals Annabeth (Kristin Stokes) and Grover (George Salazar) have to find Zeus' missing lightning bolt before he and his dysfunctional brothers, Hades and Ares, go nuclear.
That's the premise behind the clever, highly entertaining off-Broadway musical The Lightning Thief: The Percy Jackson Musical at the Lucille Lortel. (The show originally ran at the Lortel a few years back in an hour-long version. The current incarnation adds another hour and new songs.)
With a book by Joe Tracz and music and lyrics by Rob Rokicki, the zippy production addresses sexism, loneliness and parental neglect, but champions friendship and smart, independent choices — at lightning speed.
Director Stephen Brackett makes the most of low-tech elements, utilizing mood lighting and creative costumes to create a parallel universe of monsters, centaurs and gods. He's also blessed with a versatile cast, including Carrie Compere. Jonathan Raviv and Salazar, who play several roles, are standouts.
The Lighting Thief is a reminder that off-Broadway is an important venue for musicals. The dialogue is funny and the story, like its engaging, energetic lead, has important messages for adults and teens alike.
Derek DelGaudio also has a few lessons to impart — but his turf is magic.
Subtlety is one of the hallmarks of sleight-of-hand magicians. For DelGaudio, a two-time winner of the Academy of Magical Arts' Close-Up Magician of the Year award, such artistry brings gasps from his audiences.
Now off-Broadway at the Daryl Roth Theater, DelGaudio's latest show, In & Of Itself, explores illusion, identity and secrets. It's at once personal and prophetic: The boy who hid information makes a living blurring reality.
His tricks are impressive and he does amaze — but at times, the pacing is a bit too subtle.
Before the show, audience members can choose a card that describes how they really see themselves, such as: I am an artist; I am an eccentric; I am a cowboy. How DelGaudio weaves these internal assignments into his show is nothing short of remarkable.
But the real trick is how he employs stories, illustrated by cut-out windows on a back wall, to underscore his sleight-of-hand. For 75 gently hypnotic minutes, the amiable DelGuadio reminds us that seeing is believing — even if what we see is an illusion.
Support HuffPost
The Stakes Have Never Been Higher
Related
Popular in the Community