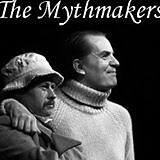 Friendships can be tricky, especially when people are as seemingly different as J.M. Barrie, author of Peter Pan, and R. F. Scott, the Antarctic explorer. They are the subject of The Mythmakers, a UK import for the New York International Fringe Festival, now playing at Teatro Latea August 20, 24 and 25.

Written by Rose MacLennan Craig and Richard White, The Mythmakers addresses the relationship between two men at the top of their game.

The intimate 70-minute production examines an Edwardian friendship loaded with affection and respect, but kept at a certain emotional distance. Barrie and Scott are adept at articulating their passions, but less successful at dipping into the subtle recesses of the heart.

At first glance, they may seem an unusual pair; but their relationship, portrayed with great feeling by Steve Hay (Barrie) and Jonathan Hansler (Scott), is quietly engaging.

Both were celebrities in pre-World War I England. Barrie had once dreamed of becoming an explorer, but pursued a literary career instead, to great acclaim. Conversely, Scott, heralded from his first South Pole expedition, longed to be a writer, but family pressure pushed him into a naval career.

What they share is a passion for adventure; though Barrie's exists in the realm of imagination. He dreams of accompanying Scott to the South Pole, which the explorer describes as a place of "terrible beauty" with "ice as architecture." Scott is poetic in his imagery, lured by the dangers of the icy kingdom. Barrie is envious of his fearlessness. Yet Mythmakers, nicely directed by Sarah Berger, records the moment they became estranged, just before Scott left for his final, deadly journey.

In fact, when Scott died in 1912, Barrie was heartbroken. Among Scott's undelivered letters, found when his body was discovered, a poignant one to Barrie read: "I never met a man in my life whom I admired and loved more than you..."

Today, movies often reduce male friendship to a silly bromance of boys who refuse to grow up. Barrie and Scott remind us that adult friendships are based on deep, abiding connections. And though both are better at discussing big themes versus their respective domestic travails, The Mythmakers provides a peek into the mind-set of two compelling figures.
REAL LIFE. REAL NEWS. REAL VOICES.
Help us tell more of the stories that matter from voices that too often remain unheard.