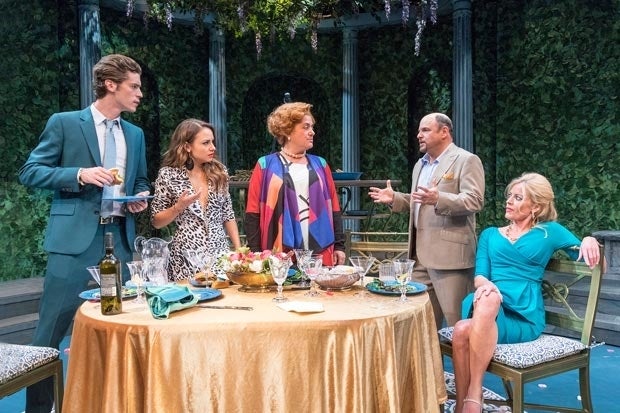 It's fun to watch comedic pros Jason Alexander, best known as George on Seinfeld, and Broadway wonder Sherie Rene Scott wisecrack their way through The Portuguese Kid, a cockeyed love story now at the Manhattan Theater Club.
Scott plays Atalanta, a beautiful two-time widow who suspiciously outlives her husbands. She's clever and free with the zingers. And for some inexplicable reason, screams Barry, her lawyer's name, during sex. Barry (Alexander) is not impressed. He dubs her Clytemnestra, a reference to a murderous wife she takes, unknowingly, as a compliment.
A force of nature, she wants Barry to sell her lavish mansion in Providence, Rhode Island. That sale kicks off the ambitions of her young stud Freddie (Pico Alexander), who happens to be the ex of Barry's wife, Patty (Aimee Cerrero).
Between the older woman-younger man, older man-younger woman entanglements, there is maternal tsorris. "Barry's no shyster! He's just a lousy lawyer," explains his domineering mother, Mrs. Dragonetti (a powerful Mary Testa). In fact, some of the funniest scenes are between her and Atalanta, who spit blood at the sight of each other.
Anxious to keep Atalanta away from her son, Mrs. D hurls: "Take my advice. Get fat. Count your money. You've killed enough men."
It's the gender wars in Bronx accents.
Playwright John Patrick Shanley has shaped a lightweight domestic comedy with predictable results. The material is humorous at times, but pales in comparison to his deeper works: Doubt, Outside Mullingar and Moonstruck.
The Portuguese Kid, the title refers to an event in Barry's childhood, is notable less for its execution, than its capable stars. Scott gets a laugh just by raising a finger. Her melodious voice delivers a comedic jab with lighting precision. Alexander mostly holds his own, though story-wise, it's hard to fathom the attraction he holds for Atalanta.
Shanley doesn't stint on the one-liners, but clever digs aren't enough to sell The Portuguese Kid, which is a light repast rather than a filling theatrical meal.
On the musical front, The Migration at the New Victory Theater presents a multimedia explosion of music, dance and art. It is inspired by Jacob Lawrence's "Migration Series," a 60-panel series of paintings depicting the post-World War I migration of African Americans. (Completed in 1941, MoMA owns half of the paintings, The Phillips Collection in Washington, DC, houses the rest.)
With the paintings as an ever-changing backdrop, the Step Afrika! troupe utilizes step, tap, modern, jazz and African dance to tell an important global story — the journey from Africa to the U.S. That precedes the second transition — when an estimated 6 million African Americans moved from the rural South to the industrial cities of the North.
The dancers are also able musicians, and the show opens with a compelling drum number. The rhythms of cultural change — ritual, religion, spiritual and urban life — are captured by saxophone, flute and piano, as well as moving vocals.
The show is energetic and entertaining and the train sequences are especially notable.
This immigration story is an important part of American history, beautifully rendered via art and dance. It would be helpful, however, to have an opening screen briefly explain Jacob Lawrence and the focus of his Migration Series, thereby giving context to a key event.
Step Afrika!, which promotes stepping as an educational tool, has created a percussive homage to a people and place, deftly aided by Kenann Quander's striking costumes and Harlan Penn's set design.
Related
Popular in the Community