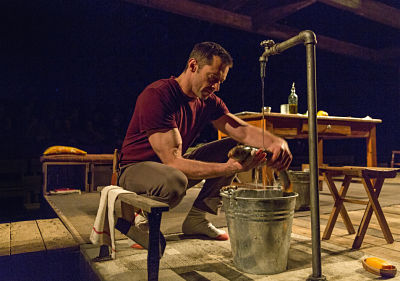 Hugh Jackman is a big Broadway draw. Even though his current drama The River at Circle in the Square drowns in insignificance. Ticket prices exceed the most expensive musical; it's a lot to pay to watch Wolverine gut a fish, though no one can dispute the man does it with finesse.
Despite the considerable talents of the song-and-dance performer, what you get is 85 minutes of a rambling, nonlinear story of a fisherman (an understated Jackman) who brings various girlfriends (Cush Jumbo and Laura Donnelly) to his rustic cabin. The women, like his dialogue, are interchangeable. There, he feigns romance -- or does he? -- while waxing poetic about fly-fishing.
There's no hint of menace, though the various women suggest the hunky fisherman regularly casts his reel -- but can't haul in an emotional commitment. He's got a trick to catching fish; and he uses similar wiles to lure lovers.
Given his celebrity status, Jackman can choose from any number of scripts to showcase his considerable range. The mystery is why he tapped this one. Jez Butterworth brought his convoluted, over-the-top rant Jerusalem to Broadway a few years ago. The River, his latest UK import, is less energetic, but equally confusing and unsatisfying.
At one point, Jackman likens the sensation of catching sea trout to "a million sunsets rolled into a ball and shot straight into your veins." If only The River had that much splash.
Happily, It's Only A Play does. It is an acerbic love letter to the theater -- and no one can outdo Terrence McNally when it comes to delicious digs. In a snappy comedy now at the Gerald Schoenfeld, he sends up Broadway producers, directors and actors, zinging their narcissism and self-obsession with targeted glee.
McNally has updated his 1986 comedy -- savaging everything from celebrity-larded shows -- "theater is the new Statue of Liberty for movie actors" -- to Matilda to New York Times reviews. The vicissitudes of the theater and its habitués are rendered with a series of sassy one-liners, delivered at super-sonic speed. Nothing escapes McNally's wrath.

The play opens in the elegant Upper East Side bedroom of a silly blonde producer (Megan Mullally) awaiting reviews of her first production, The Golden Egg. Nathan Lane plays a TV actor who turned down the lead; he secretly hopes his playwright/friend's (Matthew Broderick) work is a flop. A pitch-perfect Stockard Channing is Virginia Noyes, a one-time star hoping Egg secures her much-needed comeback. She drips with venom, sashaying across the set with righteous indignation. Like the irrepressible Lane, she is one of the show's high points.
Throw in Rupert Grint, of Harry Potter fame, making a solid Broadway debut as a kleptomaniac wunderkind director, F. Murray Abraham as a vitriolic critic and a wonderful Micah Stock as the naive coat-check boy, and It's Only A Play promises a hugely entertaining romp.
The only crack in this Egg is Broderick, whose monotone whines are grating. Whatever the line, it's rendered in a wimpy, nasal drone.
Fortunately, the terrifically funny cast, led by the always-cheeky Lane and tightly directed by Jack O'Brien, more than compensates. For anyone who loves theater and all its crazy trappings, this Play is for you.

Photo: Richard Termine
REAL LIFE. REAL NEWS. REAL VOICES.
Help us tell more of the stories that matter from voices that too often remain unheard.