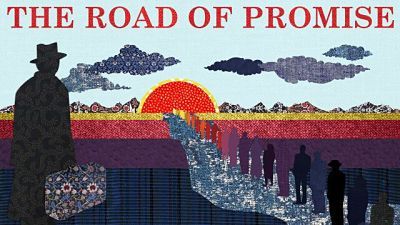 German composer Kurt Weill was no stranger to Nazi harassment. A prominent and popular Jewish composer, he fled to Paris in 1933. Well known for his theater hits, such as The Threepenny Opera and Rise and Fall of the City of Mahagonny, he soon headed to the safety of New York.
In 1937, the Manhattan Opera House debuted his lavish production The Eternal Road, an opera-oratorio in four acts, with libretto by Franz Werfel, created to alert the public to Hitler's persecution of the Jews.
The U.S. premiere of the new concert adaptation, reconceived as The Road of Promise, an oratorio in 14 scenes, is led by Tony-winning conductor/director Ted Sperling, artistic director of The Collegiate Chorale, and features the Orchestra of St. Luke's.
It plays May 6 and 7 at Carnegie Hall in New York.
The story: Modern European Jews take shelter in a synagogue under threat from mobs outside. They listen to stories of the Old Testament, including a 13-year-old boy, to sustain the community's strength. The youngster learns of his heritage and faith from the rabbi and emerges as the new hope for his people.
Renowned singers include Ron Rifkin, Anthony Dean Griffey, Mark Delavan, Philip Cutlip, AJ Glueckert and Lotte Lenya Competition finalists/winners Lauren Michelle, Megan Marino and Justin Hopkins.
Ted Sperling discussed the importance of re-staging Weill's Eternal Road:
Why select this piece? Does it again speak to the rising anti-Semitism in Europe?
TS: We're doing this primarily for musical reasons, but of course, the current events in Europe make its message even more relevant than we expected when it was initially scheduled. This is a major piece by a major composer that has not really had its day in the sun. We're looking forward to bringing it to New York audiences and then to a worldwide audience through the recording by Parma/Navano Records.
Where does the work fit in the Kurt Weill oeuvre?
TS: To me, it feels like a transitional work for Weill. It has an operatic aesthetic, similar to what you hear in Mahagonny, but it also has elements that hint at the Broadway works to come.
What does Collegiate Chorale add to such a work?
TS: We bring a chorus of 150 voices, which is necessary to bring these large double choruses to life. We also have assembled a stellar cast of singers and actors, many of whom have a close connection with the music of Kurt Weill. We're delighted to be working with the Orchestra of St. Luke's, New York's premier orchestra for concerts like these. And we are collaborating with Wendall Harrington, the premiere projection designer, to paint the walls of the hall with images from the stories being told.
What's singular about this particular Weill work?
TS: The original production of this piece, in 1937, was the most ambitious stage spectacle ever produced in New York, with a five-level set and a cast of nearly 250. It was a critical and popular success, but was too expensive to run. Even after more than 150 nearly sold-out performances, it bankrupted its producer.
Lately, the Collegiate Chorale has been performing at Carnegie Hall. Is that now your permanent venue?
TS: Our most recent unusual venue was the Intrepid Sea, Air and Space Museum, where we performed the New York City premiere of Battle Hymns. We expect to continue to perform at Carnegie Hall, as well as City Center, Lincoln Center, and unconventional venues that we're investigating right now.

The Road of Promise: Carnegie Hall on May 6, 8 p.m. and May 7, 7 p.m.
Calling all HuffPost superfans!
Sign up for membership to become a founding member and help shape HuffPost's next chapter