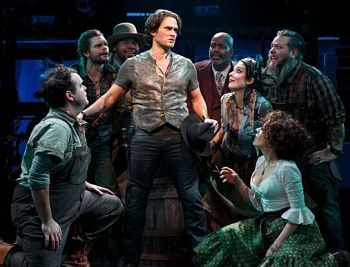 Eudora Welty is one of the South's great writers. So it's no surprise that one of her novellas inspired a 1975 musical, The Robber Bridegroom.
Dubbed a Mississippi fairytale, the off-Broadway revival at the Laura Pels Theater boasts a lively bluegrass score and Alex Timbers' trademark frenetic direction.
Timbers is the impetus behind Bloody, Bloody Andrew Jackson and Peter and the Starcatcher. His style is often inventive and economical. In this staging, want a waterfall? Wave a blue fabric. This round, his ensemble hits the Natchez Trace in Mississippi. The state is still a territory, and its citizens are a little nuts.
Handsome Jamie Lockhart (a charming Steven Pasquale) doubles as the Bandit of the Woods, a con man among rogues. When he meets a wealthy planter (Lance Roberts) hoping to marry off his daughter Rosamund (Ahna O'Reilly), Lockhart switches into high gear. First, he smells a big score. Then he falls for a redheaded beauty. No brainer: he hatches a plot to net himself love and money.
What he doesn't realize is that joke is on him.
Couple that with Rosamund's scheming stepmother, an outrageously fun Salome (a standout Leslie Kritzer), and backcountry buffoons, like Goat (Greg Hildreth) and the Harp brothers (Andrew Durand and Evan Harrington), and you get a sweet, somewhat hokey show.
Admittedly, it's a thin premise, but its hardworking cast delivers on the entertainment front.
With book and lyrics by Alfred Uhry, music by Robert Waldman, spot-on lighting and costumes by Jake DeGroot/Jeff Croiter and Emily Rebholz, respectively, A Robber Bridegroom makes up for in energy what it lacks in sensibility.
The Public Theater is staging a different kind of musical. Southern Comfort is based on a 2001 documentary about transgendered friends in rural Georgia, with book by Dan Collins and music by Julianne Wick Davis.
Like the film, it focuses on the last year in the life of Robert Eads (Annette O'Toole), the head of the group. The story has touching elements, but the standout is James J. Fenton's beautiful set.
The band (which has singing parts) trumps the actors in this respect. More disconcerting, in this particular production, is to hear traditional musical theater-style singing over folksy bluegrass instrumentation.
In fairness, audience members would probably enjoy a concert of the Southern Comfort band; it was impeccable. One suspects they would also like the documentary the musical is based on better than the musical.
REAL LIFE. REAL NEWS. REAL VOICES.
Help us tell more of the stories that matter from voices that too often remain unheard.