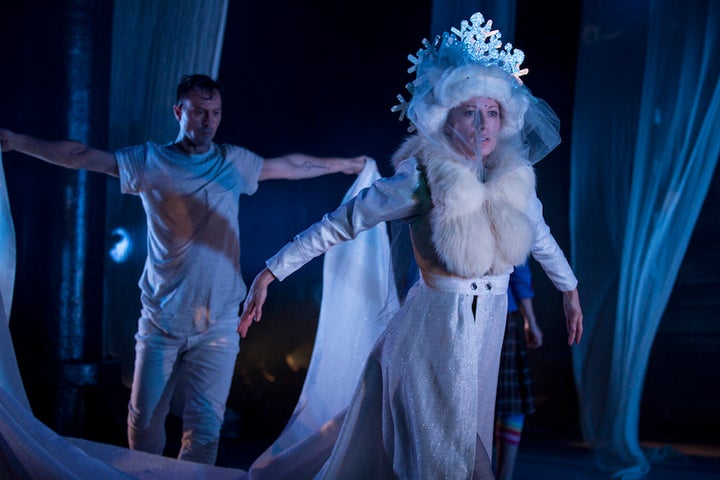 A magic mirror that reflects ugliness, a world populated by adults who want children to stay with them forever, comprise the picturesque backdrop to Hans Christian Andersen's fairy tale The Snow Queen.
The Blessed Unrest company has tackled the fairy tale off-Broadway at the New Ohio Theater with a twist all its own.
The Snow Queen is a story of friendship, adventure and fantasy, laced in this instance, with music and humor. Gerda (a terrific Nancy McArthur), is desperate to rescue her best friend Kai (Todd Grace) from the Snow Queen (a versatile Tatyana Kot in various roles).
En route, she encounters the Crows (Rich Brown and Zach Libresco), Ba, a moose, a Bandit Girl and Bandit Mother (Celli Pitt). Like all fairy tales, Gerda's journey is one of discovery. She relies on the power of love to save her friend from a frozen world devoid of goodness and beauty, while confronting the concurrent darkness that can define the grown-up world. (Not many BFFs routinely brave a snowstorm barefoot.)
Developed in a yearlong New Victory LabWorks residency, Matt Opatrny's adaptation of The Snow Queen is interesting and clearly appeals to its young audience. But it would have added to the pleasure to see more of the title's character, who controls winter with a dastardly hand.
Still, the versatile cast clicks, and the creative simplicity of Sydney Maresca's costumes works. Sam Vawter's sets utilized simple props to neatly improvise a castle, doors and trees. Director Jessica Burr gets the most from her cast.
At 80 minutes, with no interruption, Blessed Unrest gives Andersen his due.
Related
Popular in the Community