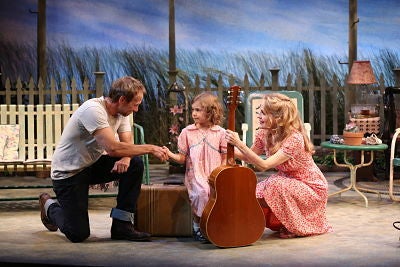 There is something at once charming and bittersweet in the residents of Harrison, Texas. Small-town life is a Horton Foote specialty — and The Traveling Lady — a tender tale of sorrow and redemption, set in 1950, is a beautifully understated work.
And it's perfectly staged off-Broadway at The Cherry Lane, a jewel-box theater that accommodates the sorrow and intimacy of it's sometimes quirky, often troubled residents.
"I hate missing funerals more than anything in the world," opines a semi-demented Mrs. Mavis (perfectly portrayed by Lynn Cohen). The latest citizen to meet her maker was a neighbor who viciously beat her foster son Henry (PJ Sosko). Such cruelty, an assumed rarity in Harrison, sets the stage for all that follows.
Emerson wrote, "the child is father to the man" — and that sentiment resonates with Henry. We learn of his travails through his young wife, Georgette (Jean Lichty), new in town, with child in tow (Korinne Tetlow). She is nervously awaiting the husband she believes has just been released from prison.
But Henry is not reliable; so she depends on the kindness of strangers. The women she meets, Clara (Angelina Fiordellisi), Sitter (Karen Ziemba) and Mrs. Tillman (Jill Tanner), obsessed with curing drunks, provide the kind of solace and generosity of spirit that define small-town life.
Yet all nurse heartache and loneliness; The Traveling Lady underscores the quiet dignity in the stillness of emotional uncertainty. That's especially true of Slim (Larry Bull), who finds himself attracted to Georgette.
Foote, a two-time Oscar winner for his screenplays, "To Kill A Mockingbird" and "Tender Mercies," has written a sensitive, economical play. Thanks to Austin Pendleton's direction, the play isn't encumbered by fussy staging. The art lies in its simplicity, while Harry Feiner's careworn set and lovely lighting are ideal.
The ensemble is uniformly excellent. Lichty's Georgette is a study in polite vulnerability, a Southern woman in desperate straits who refuses to forgo her humanity, while Ziemba's woeful countenance and Fiordellisi's gentle cheer complement their instinctive decency. Sosko neatly delivers a broken man who wants to be better — and can't.
This revival of The Traveling Lady would make Horton Foote proud.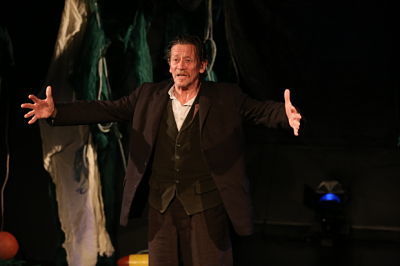 Farther east and 50 years earlier, playwright J.M. Synge traveled to the islands off the coast of Galway, Ireland, and in 1901, wrote about his fascination with the rugged people of The Aran Islands.
While he dubbed them "primitive," country folk dedicated to an ancient way of life, he also found their customs and rites, like the keening at funerals, a culture worth chronicling. "In this cry of pain, the inner consciousness of the people seems to lay itself bare …"
His journal forms a one-man show The Aran Islands, starring Brendan Conroy as the playwright. Now at the Irish Repertory Theater, Conroy, with his sharp eyes and mastery of dialects, delivers a hypnotic performance.
The play is a compilation of observations and stories Synge, a Protestant, wrote about the rural Irish, revealing the pagan beliefs that lay beneath their Catholicism. These are fisherman wedded to the sea, living with inherent danger. This is a world unto itself.
Though he was attacked by nationalists for not idealizing the Irish — and his masterpiece Playboy of the Western World caused riots at the Abbey Theater — Synge's stylized realism helped define the theater's mission. In fact, Sean O'Casey, the next major dramatist to write for the Abbey (Juno and The Paycock, The Plough and The Stars) hoped to represent Dublin's working classes with the same authenticity Synge showed for the rural poor.
Conroy does an excellent job of recreating this atmospheric, tight-knit community and the vivid, often harsh stories that define Inis Meáin, adapted and directed by Joe O'Byrne.
The Aran Islands pays tribute to a singular place and underscores Synge's commitment to the Irish Literary Revival. Conroy beautifully captures the islanders as he takes us on an intimate journey.
For those 100 minutes, you feel transported back in time.
Popular in the Community