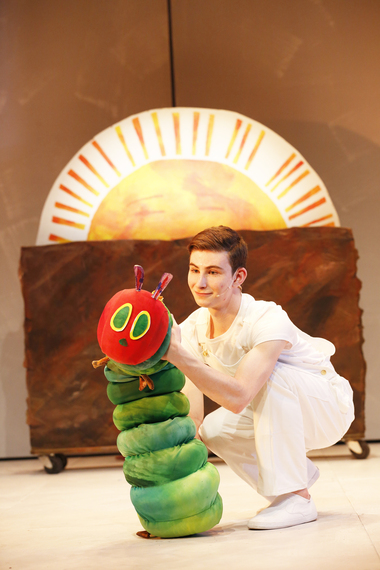 Adapting children's books into musicals can be tricky. It's a delicate balance between recreation and saccharine productions. But in a 60-minute show for toddlers that offers 75 puppets, The Very Hungry Caterpillar Show, faithfully adapts four of Eric Carle's beloved books off-Broadway at the 47th Street Theater.
Created by Jonathan Rockefeller, the stories are enhanced by a charming score. Four puppeteers dressed in white against a white backdrop manipulate beautiful large-scale puppets, bringing Carle's signature illustrations to life.
(One of the puppeteers makes a series of brightly colored animals appear on blank canvases: a blue horse, a black polar bear. For kids, it's fun to guess what animal comes next and be surprised by the unusual color pairings.)
In "Mister Seahorse," a gorgeous seahorse puppet travels underwater (bubbles drop down from above) and encounters various species of male fish, all "taking good care" of their eggs. In the end, Mr. Seahorse's eggs hatch and he sends them off with a message of love.
"The Very Lonely Firefly" captures the slightly spooky ambiance of the book. The lone firefly looks for other fireflies and keeps following lights as noises from a dog and a cat disturb the peaceful night. At one point, he follows fireworks that are depicted by sound effects and streamers a puppeteer throws over the audience and pulls back again.
"The Very Hungry Caterpillar" is last; the puppets and props deftly bring this beloved story to the stage. The butterfly revealed in the end is huge; its wingspan takes up the whole stage and looks just like the illustration in the book.
The theater is perfect for the show and the kids. This is a colorful production, loaded with gentle messages wrapped in an engaging presentation. If you're looking for young kids' introduction to theater, this is it.
Conversely, for savvy adult fare, there is Ute Lemper's latest CD.
The glorious actress and cabaret star is never afraid to push her musical boundaries. Renown for her Broadway and concert performances here and abroad, Lemper, a celebrated interpreter of Kurt Weill and the music of the Weimar era, has also produced inventive shows that tap a literary vein.

The Grammy-nominated, Olivier-winning artist created "Forever," an homage to Chilean poet Pablo Neruda, "Ultimo Tango," the songs of Argentinean composer Astor Piazzolla and "The Bukowski Project," her musical interpretation of renegade Charles Bukowski's poetry.
Now, Lemper turns her artistic attention to the mysterious, mystical elements of life.
Her latest CD, Ute Lemper's The 9 Secrets, a collaboration with acclaimed Brazilian author Paulo Coelho, will be released February 12 via Steinway & Sons.
Inspired by his 2012 novel Manuscript Found in Accra,, Lemper smoothly capitalizes on the work's thematic thrust. The action takes place in 1099 in Jerusalem, as the city awaits the invasion of the crusaders. Discovered after 700 years, the manuscript holds the answers to key life questions, how we navigate the tricky terrain of happiness and sorrow, desire and destruction.
Lemper wrote the music, set to Coelho's prose. Of the 12 tracks, two feature Coelho with her. (Coelho is best known for his most famous novel The Alchemist.)
"I took the most enthralling phrases out of Accra, put them into a poetic frame and then started with the composition of the songs," Lemper explained on her Web site. She calls the book "a gift to the world."
Her musical contextualization enhances that gift.
Per the novel: This is not about the absolute truth of life or death. / But it is about knowledge that helps us live and confront the challenges of day-to-day life. A simple knowledge of the heart.
Most tracks are sung in English, but songs such as "Beauty," "Solitude" and "Fire" are accented with Portuguese, French and German. Lemper's great gift as a singer is to dramatize lyrics, while her singular score has a moody, hypnotic quality. Soulful and moving, Lemper's latest album scores another success.
Photos: Caterpillar/Carol Rosegg; Lemper/Steffen Thalmann
Calling all HuffPost superfans!
Sign up for membership to become a founding member and help shape HuffPost's next chapter