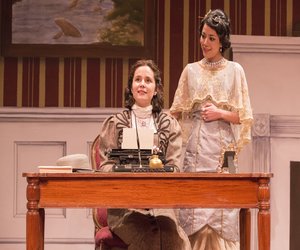 Imagine you're vacationing in a seaside hotel in Cornwall and casually pick up a dusty volume of plays in the library. That's the feeling of This Side of Neverland, now at the Pearl Theater. Audiences have stumbled into the world of Edwardian wit.
Neverland is actually two little-known one-act plays by J.M. Barrie, famed as the author of Peter Pan. Barrie examines the changing mores of modern life with a sly eye and cheeky humor. Both Rosalind and The Twelve Pound Look feature strong women and clever one-liners, neatly blurring the line between illusion and reality. They are airy pieces that house larger meanings: Life is rarely what it seems; truth often eludes us.
In Rosalind, the versatile Mrs. Page (Rachel Botchan) gives a young man (Sean McNall) a memorable surprise when he discovers her in the country. The guises we wear, the passions we follow, are telling. A treatise on youth and social expectation, it notes: "Everything is real -- except middle age."
The more layered piece, The Twelve Pound Look, stars Bradford Cover as a pompous man about to be knighted. He is in control until a temporary typist (Rachel Botchan) arrives, giving him the shock of his life. The disconnect between the sexes on marriage and success underscores the debut of the New Woman, then coming of age.
Twelve Pound Look is insightful, comically revealing the price of independence. Barrie humorously makes the point, appearances to the contrary: Men rarely know what their wives are thinking. Barrie skillfully turns the tables on class and convention. While Neverland is a deceptively light work, its terrific cast, especially Botchan's centered performance, ensures it's an entertaining one.
Equally notable, the New Victory Theater capitalizes on a growing trend this season. It's not just Broadway hits Matilda and Annie that feature precocious girls. The New Victory is offering its own version in The Firework Maker's Daughter, a chamber opera based on the novel by Phillip Pullman, part of His Dark Materials trilogy, through May 12.

A young pyrotechnic named Lila wants to follow in her father's footsteps, but he demands she marry and have children. Her passion is to uncover the secret of making fireworks: "I want to learn like a bird wants to fly!"
Thus, she embarks on a magical adventure, replete with elephants and crocodiles, to find the Fire-Fiend Razvani, defeating all obstacles in her quest. Lila must master Crackle Dragons, Leaping Monkeys and Golden Sneezes to achieve her dream.
Set in Southeast Asia, emphasized by Balinese shadow puppetry, the evocative music, featuring the Metropolis Ensemble chamber orchestra, has the flavor of the region. Composer David Bruce and librettist Glyn Maxwell, aided by creative costumes and sets, have artfully fashioned a wonderful tale that will seize the imagination.
Popular in the Community