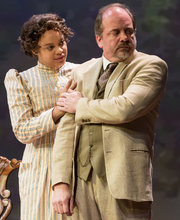 Life in Czarist Russia at the turn of the 20th century is bleak. The general malaise infects eco-forward Dr. Astrov, estate manager Vanya and his niece Sonya, while the serfs have little expectation of relief. Russia may be two decades away from the Bolshevik Revolution, but Uncle Vanya, now off-Broadway at the Pearl Theatre, offers a glimpse of a country on the verge of a nervous breakdown.
Like Ibsen, Chekhov is a key figure in the birth of modernism in the theater, albeit with a distinctly Russian sense of foreboding. The doctor, in the guise of the playwright, bemoans: "The climate is changing for the worse, every day the planet gets poorer and uglier."
Charting the misery of his beloved Russia on the brink is Chekhov's artistry. He is adept at heartbreak, exposing the raw yearnings of those caught between desire and obligation. Broken people, broken relationships destroyed by inertia and indifference are his specialty.
Uncle Vanya is set on an estate populated by a sterile, controlling academic, his disappointed young wife and overworked relations. While Vanya isn't as dramatically tense as Chekhov's Three Sisters or The Seagull, it is prescient in tone. Replete with literary giants -- Dostoyevsky, Tolstoy, Pushkin and Gogol -- Russia lagged behind burgeoning democratic movements worldwide. The play addresses women's rights, power imbalances and ecological issues, though Russia has yet to be roused from its tyrannical slumber.
In Uncle Vanya, only two characters, a bloviated, dry academic (Dominic Cuskern) and his wife Yelena (Rachel Botchan), the object of desire for both Vanya and Dr. Astrov (Bradford Cover), have a scintilla of ease. In turn, Astrov has bewitched Sonya (Michelle Beck).
Vanya and Sonya run the family estate, sacrificing their own needs to send earnings to her father, the pompous professor. His arrival signals the realization of profound unhappiness; their routine subverted, their misery increases exponentially. Is it too late to repair?
Paul Schmidt's translation is unerringly modern, the word "freak" is repeatedly used, as is the directorial style. But the strife and longing of the Russian soul is ever-present. The catch -- Vanya is more depression than drama. The painting that hangs on the wall in act two is telling -- a ship on rough waters threatens to capsize. Yet the need to sail on, whatever the hardships, remains.
Chekhov's larger vision is evident in Astrov's desire to preserve the forests for future generations, one of the more notable aspects of this ensemble production. However, not all the performers are in sync. Cover plays Astrov as a tormented whiner, circa 2014, while Botchan, usually a key part of any Pearl production, is uneven. Beck's Sonya is respectable, and Mixon's Vanya is a convincing wreck. The directorial balance is tricky; and the lack of action is a decided handicap. But kudos to set designer Jason Simms and Barbara A. Bell's costumes for hitting the right note.
Uncle Vanya is a challenge to stage. Still, as a chronicle of fin de siècle family dysfunction, wasted lives and thwarted passions, Chekhov's analytic eye sees all.

Photo by: Al Foote III
Calling all HuffPost superfans!
Sign up for membership to become a founding member and help shape HuffPost's next chapter