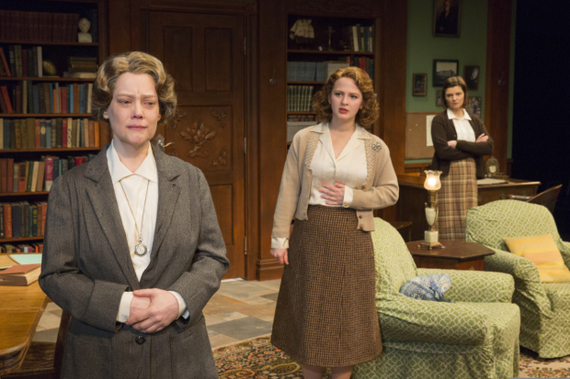 "Small schools are the worst," muses Miss Strong (Mary Bacon), math tutor at a Protestant all-girls boarding school in 1937 Ireland. Her policy of social restraint is predicated on 18 years of watching the politics of personal destruction.
The all-female faculty specializes in petty jealousies and malice. Hazel Ellis' Women Without Men, now off-Broadway at City Center Stage II, captures the incessant rivalry and nasty undercuts of any small group that's cloistered together and turns in on itself.
The production is set in the faculty lounge, or what the students rightly deem "the tyrant's den."
Smart, insightful, even sympathetic, Ellis' tight work is beautifully realized in the current revival. That's thanks to a stellar ensemble cast, who clearly delineates the sensibilities and sorrows of each teacher, and the Mint Theater, which is to be applauded for staging neglected gems.
It's scored a winner in Women Without Men.
Despite the unfortunate title, the play makes a profound statement about the nature of professional confinement and the purgatory of compulsory company.
That's especially true here - as the Constitution of Ireland that year legislated "a life within the home" for women, making it impossible for them to keep jobs after marriage. For those women who either chose to teach for personal fulfillment or economic necessity, they were forced into an austere life.
For the staff, it's a hot bath once a week, little time off and daily seaside walks, regardless of the harsh winter. It's all rather grim until a kind new teacher, Miss Wade (Emily Walton), comes on board. She's got a fiancé, but a progressive attitude. Wade doesn't see marriage as a panacea, preferring the chance to experience life.
She gets more than she bargains for.
And that's Ellis' point. There's an array of characters here, such as Miss Ridgeway (Kate Middleton), a pretty woman who would be a Cosmo girl in another decade; Mademoiselle Vernier (Dee Pelletier), the overly sensitive French instructor; Miss Willoughby (Aedin Moloney), a dour, prickly sort; and Miss Connor (Kellie Overbey), who has spent 20 years amassing her book on beauty and the arts, haughtily informing her colleagues that none could appreciate it.
(Shannon Harrington, Beatrice Tulchin and Alexa Shae Niziak are spot on as the students.)
Of course, there is the public face and the private reality. And those revelations can deliver one from accepted unhappiness into tragic fate. They also allow for a glimpse of nobility. Ellis deftly captures the sense of women's hopes amid tight societal constrictions.
Ellis based her play on her own experiences at the French School, Bray, founded in 1864 by French aristocrat Heloise de Mailly and remained open until 1966.
It's a pity she didn't write more. Women Without Men bristles with emotional ferocity, as director Jenn Thompson calibrates the tension with precision. Ellis' prose is economical, while her meaty thematic concerns demand our attention.