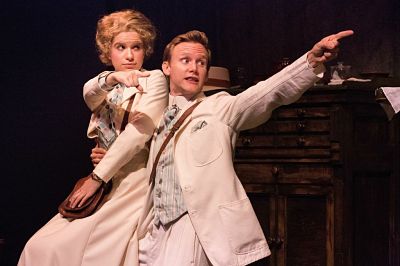 George Bernard Shaw was a master at social critique. He took aim at sex, marriage and championed the rights of women, zinging societal hypocrisy with a witty and calculated eye. His humor and insight are on display in off-Broadway's You Never Can Tell, which opens the Pearl Theatre Co.'s new season.
What first appears as a conventional English seaside resort comedy quickly evolves into something more. Philip (Ben Charles) and Dolly (Emma Wisniewski) visit Mr. Valentine (Sean McNall), a "five-shilling dentist." The duo is young, high-spirited and the offspring of Mrs. Clandon (Robin Leslie Brown), a famous writer.
The catch: they don't know who their father is, a seeming liability in straight-laced England, both for them and sister Gloria (Amelia Pedlow). As that mystery is revealed, so is the nature of unhealthy unions.
Gloria meets Valentine and while they fall for each other, they engage in verbal sparring, the "duel of sex," allowing Shaw to poke fun at the affectations and attitudes the sexes parade in order to wed. Marriage is posited as a prison, rather than liberation for women. Shaw's Fabian Socialism comes to the fore here; he uses Mrs. Clandon to express his views on an institution radically in need of reform.
If marriage is skewed, so is fatherhood. Throw in Mr. Crampton, a pompous, wealthy yacht builder (Bradford Cover), Walter, a wise waiter with impeccable manners (Dan Daily), and his barrister son (Zachary Spicer), and Shaw manages an intelligent treatise on class that upends Victorian sensibility.
The Pearl, which specializes in staging classic theater, has scored another winner. That's thanks to a consistently excellent ensemble cast and wonderful costume and set design. Ben Charles and Emma Wisniewski are delightful as the impish Clandons, while Zachary Spicer is perfect as the all-knowing lawyer. Brown, Cover and McNall, veteran Pearl members, are always good, as is David Staller's lively direction.
"You never can tell," explains Walter. Be it love, marriage, parenthood or modernity, Shaw allows his characters a raw honesty and clever wordplay that are timeless. This production of You Never Can Tell, co-produced with the Gingold Theatrical Group, which specializes in Shaw, is tellingly smart.
Popular in the Community