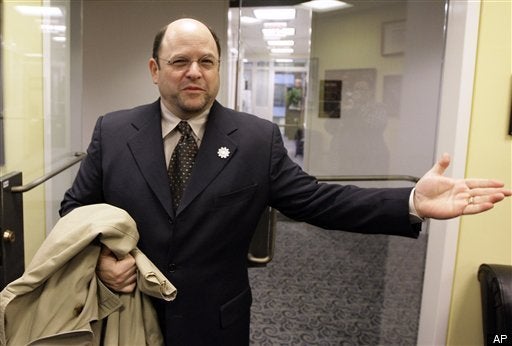 One hundred Hollywood and Broadway stars, including Catherine Zeta-Jones, Cynthia Nixon and Jason Alexander, are recording their favorite poems for a soon-to be-released album of poetry called Poetic License.
The album is being produced by GPR Records, a new label which describes itself as "dedicated to Broadway, classical, spoken word and children's music." Both GPR founders have ties to Broadway, and the lineup for Poetic License teems with stars of the big stage. In a press release, artistic director Glen Roven described the impetus for the album:
"I love poetry. I love reading it. I love memorizing it. I love hearing great actors recite it. In the past, I have had the audacity to set poetry to music. But, on this CD, the only music you will find is the music of the poems. Poetry unadorned. Great poetry needs nothing but a great actor with a voice as eloquent and expressive as the poem itself to lift the poem off the page and into the heart."
Contributors were asked to choose poems to record, which has led to an eclectic mix. Meaty selections like Yeats' "Prayer for My Daughter" and even a portion of Milton's "Paradise Lost" are set beside the lighter verse of Lewis Carroll and Winnie-the-Pooh creator A. A. Milne. Contemporary poets are also well represented (you can take a look at the entire lineup here).
Tony award winning actress Joanna Gleason recorded a poem that "chose her"--her husband left it on the bed in honor of their wedding anniversary--Pablo Neruda's Sonnet XVII (translated by Mark Eisner).
I don't love you as if you were a rose of salt, topaz,
or arrow of carnations that propagate fire:
I love you as one loves certain obscure things,
secretly, between the shadow and the soul.
I love you as the plant that doesn't bloom but carries
the light of those flowers, hidden, within itself,
and thanks to your love the tight aroma that arose
from the earth lives dimly in my body.
I love you without knowing how, or when, or from where,
I love you directly without problems or pride:
I love you like this because I don't know any other way to love,
except in this form in which I am not nor are you,
so close that your hand upon my chest is mine,
so close that your eyes close with my dreams.
Chris Sarandon, whom you may remember as Prince Humperdinck from The Princess Bride, chose to record Tennyson's inspirational poem "Ulysses." He told GPR that the poem has been on his bulletin board for the last 30 years. Here's an excerpt:
Come, my friends.
'Tis not too late to seek a newer world.
Push off, and sitting well in order smite
the sounding furrows; for my purpose holds
To sail beyond the sunset, and the baths
Of all the western stars, until I die.
It may be that the gulfs will wash us down;
It may be that we shall touch the Happy Isles,
And see the great Achilles, whom we knew.
Though much is taken, much abides; and though
We are not now that strength which in old days
Moved earth and heaven, that which we are, we are---
One equal temper of heroic hearts,
Made weak by time and fate, but strong in will
To strive, to seek, to find, and not to yield.
"A loaf of bread," the Walrus said,
"Is what we chiefly need:
Pepper and vinegar besides
Are very good indeed--
Now if you're ready, Oysters dear,
We can begin to feed."
"But not on us!" the Oysters cried,
Turning a little blue.
"After such kindness, that would be
A dismal thing to do!"
"The night is fine," the Walrus said.
"Do you admire the view?
Patrick Stuart will read Robert Pinsky's poem "Doctor Frolic," a poem that is also, coincidentally, focused on shellfish.
He strolls the jetties when the month is right
With a knife and lemons in his pocket, after
Live mussels from among the smelly rocks,
Preventative of impotence and goitre.
Will all the star power generate some publicity for poetry? We'll find out when the album is released on April 2nd, just in time, fittingly, for National Poetry Month.