Going on a trip to Ikea is like going on a highly anticipated date. You've done your online stalking, your expectations are insanely unrealistic, and you mentally prepare yourself to stay cool and collected throughout the entire experience. Then, usually, nothing goes as planned.
Below, we've outlined the Ikea experience that'll resonate with anyone who's visited their local store and left in a total haze of exhaustion.
1. You officially block off a few hours on your calendar because you're making the Ikea trip.
The time has come.
2. The anticipation of what lies ahead is strong.
Sofas and pillows and rugs, OH MY!
3. You optimistically envision what your home is going to look like once you get back and build all your new furniture.
The Hemnes wardrobe is going to look great next to my Koldby cowhide!
4. You walk through the doors and become immediately distracted by thousands of things you definitely don't need.
Honestly, why do people say Ikea is overwhelming? This place is interior design heaven.
5. You admire the pristine kitchen and living room setups and pray that someday your home can be just as spotless.
If I never cook or eat or walk around my place, it will look exactly like that.
7. You start noticing that couples are arguing everywhere you turn.
Whether they're fighting over the shape of silverware or the wood color of their future dining room table.
8. You get completely lost and don't know how you managed to get trapped in the section for children's bedroom furniture.
Where am I?! Where did all these pastels come from!?
9. Yet you somehow stumble across the cafeteria, a.k.a. the Mecca of Ikea, and immediately get in line for those famous Swedish meatballs.
... Which may have contained horse meat in the past, but still taste just the same.
10. After you've been rejuvenated from your snack, you prepare yourself once again for the labyrinth that lies ahead.
And you give yourself a pep talk to make it through.
11. You feel the need to touch and sit on everything in the store.
Every. Last. Couch.
12. Then it finally comes time to grab all the pieces for your furniture, and you begin to understand that overwhelming feeling people told you about.
The endless rows of packaged cardboard make you feel the onset of vertigo.
13. Your cart or trolley soon gets too heavy to wheel easily, and you lose control of it more than a few times.
Before you know it, you're wreaking havoc through the aisles.
14. Fatigue takes over, both mentally and physically.
And you contemplate taking a nap on one of the pre-made beds.
15. You begin dreaming of the outside world and regret your decision to spend the day in this complex web of home goods.
The end has to be near, right?
16. You get in line, but not before grabbing a dozen items from the bins around the check out counter.
How can you say no to 30 candles for $2.99?
17. As you look at your shopping cart, you realize you forgot to grab one necessary item that was about half an hour closer to the entrance.
It's too late for that now -- if you turn around there's no way you'll find the exit.
18. As you check out, you wonder how you could possibly spend that much money in Ikea, the place of inexpensive household dreams.
And then realize that purchasing the pieces is just half the battle.
19. Attempting to fit all your items into your trunk is like an impossible Tetris game you're never going to win.
And if you drive anything smaller than an SUV, you should give up before you even start trying.
20. You remember that once you get home, you'll have to assemble everything you just purchased. You wonder why you didn't just get preassembled furniture.
Biggest mistake of the year.
21. You promise yourself that you'll never go back to that godforsaken place.
Because you're fairly certain that hell resembles a never-ending layout of Ikea.
Before You Go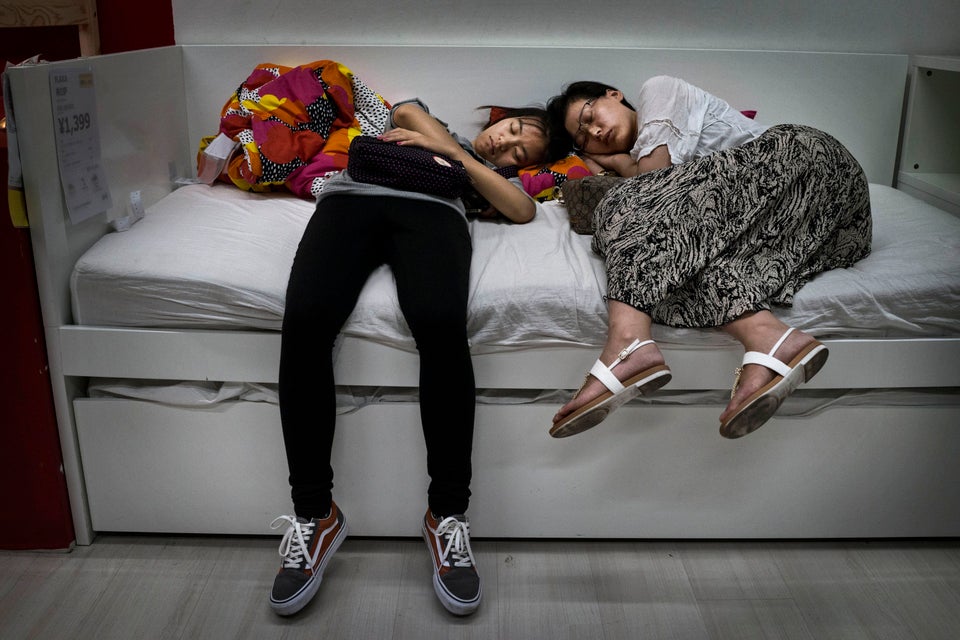 Best Ikea Moments Of 2014