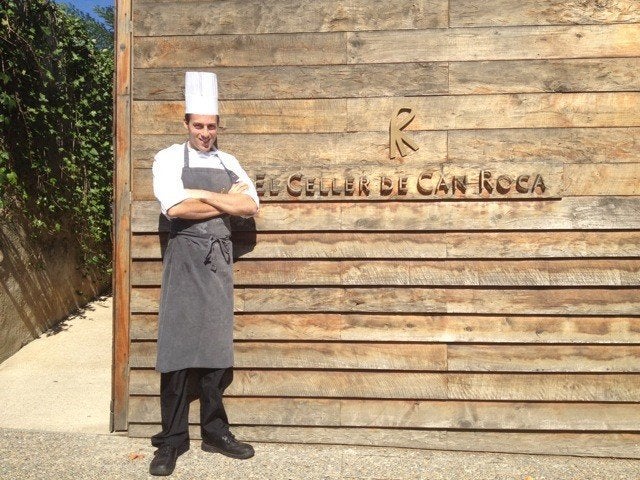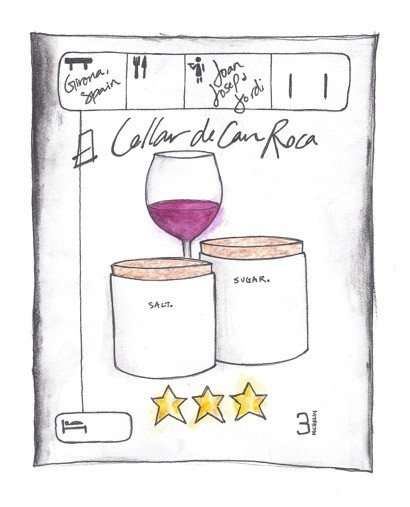 Illustration by Hillary Weber-Gale, of H. Creative, depicting the roles of each of the three Roca brothers
Imagine a perfectly round ball of brioche (a soft bread roll). The weight of the raw dough needs to be between 6.5-6.85 grams. Over 150 of them are made per day, and each needs to be the same size, the exact same shape. Oh, and when you're measuring it, you must be careful to touch the dough as little as possible or it will diminish the quality. After proofing in the oven for 30 minutes at 45 centigrade, and an exact humidity level, the brioche balls are taken out to rest before they go back in the oven to bake. Out comes a perfectly round puffy brioche ball that is airy, a little bit sweet, and at the end has a nice toothy texture. Who wouldn't like a warm ball of brioche like this? Well hold on a minute, we're not done. The next step is to fill that same brioche with a Cepe mushroom cream that has an earthy, savory flavor that is reminiscent of a black truffle. On my first day as a stage (culinary apprenticeship) at the number two-rated restaurant in the world, El Celler de Can Roca, this is what I first tasted, and it was divine.
Upon arrival at Celler Can Roca I spent a week working in a section called El Mundo. This is considered the snacks section, and creates the first bites clients will taste at the beginning of their experience at Celler Can Roca. Specifically, El Mundo makes five different samplings called Thailand, Japan, Mexico, Morroco, and Peru, and also creates parts of recipes, like the brioche balls, that other sections of the kitchen will finish. Each of the countries represented in El Mundo has specific meaning from travels that the Can Roca brothers have had either together, or alone. Thailand, for instance, is an exploding ball of fish stock, with spice, that is frozen in rubber trays and then coated in cocoa butter to give it a hard shell. When you eat it the ball bursts open and a cold refreshing texture fills your mouth. The experience, for most people, is unexpected and intended to hopefully provoke excitement and emotion. The purpose of El Mundo is to begin awakening the guest's senses, and also foreshadow the idea that the food of Josep, Joan, and Jordi Roca is a reflection of their travels, and of their work combining experiences and their relationships as brothers into their cuisine. When you eat at Can Roca, you are not just eating good food. All of their food has a purpose or inspiration.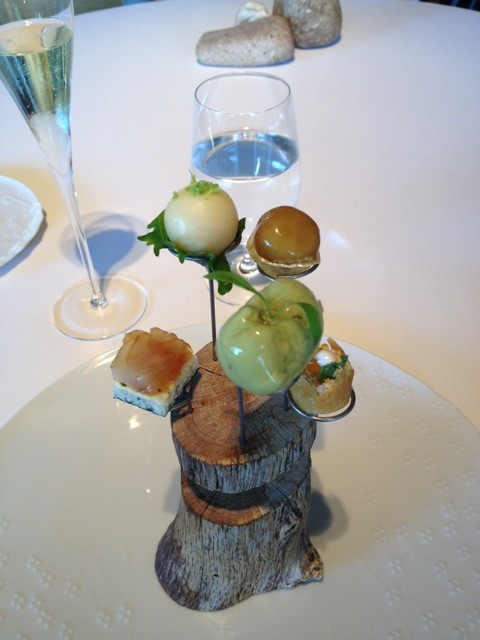 The offering from El Mundo. Five tastes from around the world.
I had never experienced dipping frozen balls of fish stock into cocoa butter using a needle before, most chefs probably haven't, and I'm not even a chef. Neither had I ever spent three hours breaking down whole calamari that would eventually be frozen in liquid nitrogen, blitzed in a high powered blender, then frozen in piping bags, which would later be pushed out into a mold and blow torched to create a tubular shaped cracker of sorts. Let me also mention that just breaking down all the squid, freezing it, blitzing it, and piping it out into molds takes several hours to do, and that's only part of the tiny morsel that you will finish in one bite, lasting less than ten seconds. Until you work in a restaurant like this there is really no way to understand the amount of preparation, time, and effort that goes into a meal of this caliber. Not only are there the ingredients you see on the plate, but many of them have gone through several different preparations to get to that point, including the calamari being broken down from their whole and natural state (as are all the fish), brining the meats, making bread doughs and measuring them into specific weights, pickling vegetables, or the many different types of chocolates they create in house. At Can Roca, you are definitely getting what you pay for. The ingredients are expensive, they have every sort of equipment possible (which is very expensive), a huge staff, and this is excluding everything that has to do with the dining room and wine service.
The food at Celler Can Roca is very intricate, very tedious to make, very delicious of course, but far from the norm of what other kitchens are able to create, or have the manpower to produce. There is a reason there are only a few places in the world like this. It isn't easy to pull off, nor maintain the stringent quality standards. As I stated, I am not a chef, but a professional swimmer who won two Olympic gold medals in the 2008 Beijing Olympics. Now you're probably wondering what on earth I am doing working in the number two restaurant in the world??
In 2005 I was diagnosed with dangerously high blood pressure. In order to save my swimming career and Olympic Dream, I was forced to learn how to cook so I could lower my high blood pressure with a healthier and low sodium diet. Unbelievably, I never had anything to do with cooking before, but I fell in love with food and working in the kitchen. My mind was amazed at the process of creating good food, and actually how simple it could be to make. I knew to really understand how to be a great home cook, I needed to learn from some of the greatest chefs in the world, I began staging. Last year I staged at Noma, the number one rated restaurant in the world, and have also staged at La Maison Troisgros in France, Daniel in New York City, and in Italy for a month in 2009. My goal has been to learn classic techniques and recipes that I can then transform into healthier cuisine, some of which you can find on my website AthleticFoodie.com.
I've come to realize after a few weeks at Can Roca that I will probably never be recreating their exact dishes in my own kitchen, in recipes I create, or in classes I teach. However, the principles they use to invent such outstanding food, and create such a complex and defined level of flavor is very basic, and readily feasible for anyone to do. Here they do the same things as you might do at a Thanksgiving dinner, they brine their meats, and fish. The pork gets brined in a 10% solution for two hours. The small red mullets are brined in 10% salt solution for four minutes, this is after we scale them, filet them, and pick out all the miniscule bones. Cutting vegetables is the same, as is glazing them or roasting them. It's all pretty basic, just done on a much larger scale, for often much longer amounts of time. At Can Roca they make an onion sauce that uses 60 kilos of onions that have been caramelized for over ten hours one day, and reduced in liquid for almost ten the next.
Yes, they do go to some crazy extremes to extract the most flavor from the products, but much of it we can all apply in our home at some level or another. Just last week I was blizting fresh herbs into oils and letting them infuse over night. The next day we strained them to use as garnishes over the food. Talk about adding flavor, and an easy way to minimize your use of salt! The onion idea is a great one too. You don't have to do it all day. But if you let onions caramelize for a couple hours, stirring occasionally on low, while you're watching TV or working around the house, you are going to end up with an incredible onion soup, or topping for that Sunday barbeque you're planning.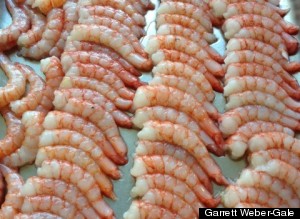 Shrimp that were taken from the sea four hours earlier.
In addition to learning how to increase flavor, the opportunity to work with different products here is unreal. The shrimp they serve in the restaurant are caught by a local fisherman and arrive to the restaurant within four hours of leaving the sea. Talk about fresh! Just working with products like this is a huge treat, and is giving me great experience that further refines my skills in the kitchen. I'm beginning to learn that maybe the most important thing about being a great chef, or a good home cook for that matter, is your knowledge about the ingredients. As I work with vegetables, fruits, meat proteins, even oils and vinegars, often for hours on end, I have a unique opportunity to really look at them, to think about them, and imagine what else could be done with them. The old adage of "practice makes perfect" also applies in the kitchen. Cooking good food is actually quite simple, but it takes a bit of practice, like anything, to get a feel for what you're doing. I got plenty of practice at Celler Can Roca and learned new ways to take normal, everyday food, and make it delicious, and healthy too!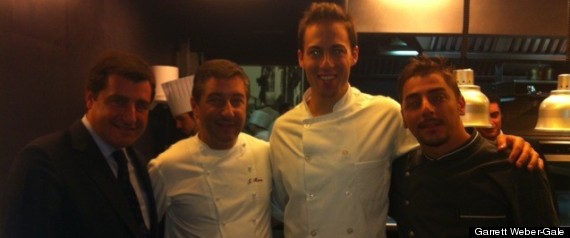 Spending time with these three food and wine geniuses was a once in a lifetime opportunity. Their level of knowledge, experience, and ability to teach is incredible.