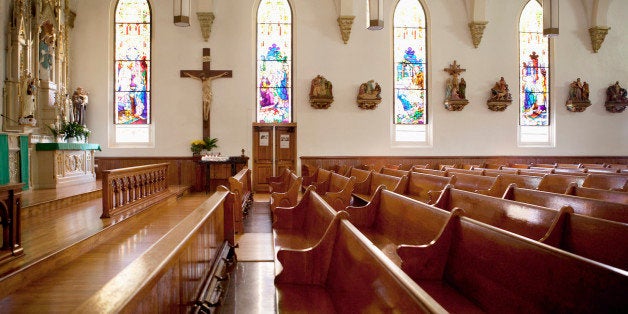 I was walking down Main Street in Durham on my way to lunch with my fiancée when a man stopped me. He's a local shoe shiner well known in the downtown Durham community. I didn't have the time or any cash on me to pay him for his services. At his behest after explaining all of this, I sat down in his chair to shine my scuffed loafers. I kept saying "I don't have any cash" and "don't waste your time on these old things." But he promised me this, "I can make them look brand new, and don't worry, this is my gift to you. Pay it forward."
The Church is not what it used to be. The old song from a by-gone era of Americana rings true, "The old gray mare, she ain't what she used to be." Attendance across the board is down, financial giving is down, and churches are closing their doors at never-before-seen levels. Anyone can read the writing on the wall to see that the institutional Church in the United States is heading the way of Europe's post-Christian secularism, or as we have dubbed them "nones," those persons who do not claim a religious tradition.
I don't have any objection to the reality of low attendance, financial giving, or churches shutting their doors. But I do wholeheartedly object to the reality that this is the end of the Church. Over the course of the past year and a half, I've studied, asked questions, and written a book titled "Stained Glass Millennials." This book seeks to give life to the narrative that though the Church is not the strength that it was fifty years ago, the Church is poised to make a difference in the world. I prove this by inviting other Millennial colleagues from across North America to share their stories of investing in the institutional Church.
Don't let the loudest narrative of churches dying be the narrative that consumes you. Just this past Sunday the lectionary from Jeremiah asked us to pray for the welfare of the city I have sent you into exile to. If the Church is doomed, then we all will walk her into the gentle goodnight. But I don't think that is the case, God is too much into resurrection for God to leave us dying. God is all about awakening and bringing forth the realities of Easter morning to the institutional Church.
That doesn't mean we can rest on our laurels. But we can work together to bring about God's unfolding future in the life of the Church. The book is due out this November, and I can't wait to share with you all the hope I've found in the Millennial generation.
Back to that man shining my shoes at no cost to me, God comes to us like that shoe shiner and says, "I can make this Church look brand new, let this be my gift to you, pay it forward." Let's invest in the Church, it is a beautiful institution in need of love and care. I invite you to join me on this journey toward resurrection.