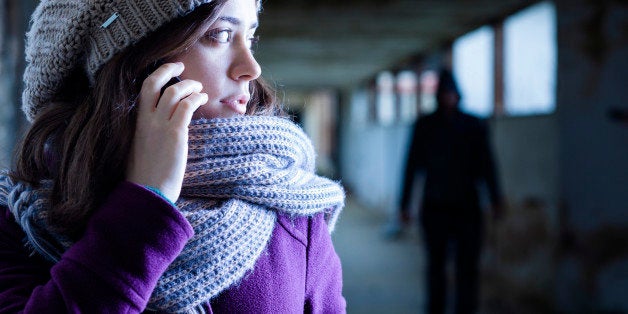 Last weekend, Sony Pictures released the The Perfect Guy, starring Sanaa Latham, Michael Ealy and Morris Chestnut, and it shot to number one at the box office, taking in over $26 million that weekend alone. Without divulging anything (no spoilers here!), the film convincingly tells the story of a romantic relationship that tragically devolves into something terrifying and surprisingly common: stalking.
Many of us think of stalking as something that only happens to celebrities and other high-profile people. However, 7.5 million Americans experience stalking every year. For the record, stalking can and does occur between strangers, but what few Americans know is that stalking most commonly occurs between current or former intimate partners -- nationally, 61 percent of female victims and 44 percent of male victims are stalked by a current or former intimate partner.
Consider this: during the good times in a relationship, partners often share phone and social media passcodes, details on daily routines and even keys to their apartments. And with today's technology, everyone has access to spyware, GPS, location services and other ways to monitor the daily coming and goings of their former partners. If a partner or ex-partner intends to intimidate, track or terrify, you can imagine how these tools could be used to exert control and to cause fear. A stalker can easily gain access to information regarding their victim's family, friends, and professional and romantic life -- not to mention find out where their victim is at any given moment.
The Perfect Guy is not the story of a love triangle gone wrong. Stalking is not just jealous or controlling behavior -- stalking is a form of intimate-partner violence. It is an act intended to cause fear and intimidation and it can often escalate to serious harm, if not death. Across the nation, 54 percent of female homicide victims reported stalking to the police before they were killed by an intimate partner.
Victims of stalking do not have to experience this on their own, nor should they take matters into their own hands. There is help. Here in New York City, Mayor Bill de Blasio, through the New York City Mayor's Office to Combat Domestic Violence, has made stalking a top priority. In 2014, the city launched the Coordinated Approach to Preventing Stalking (CAPS) program to increase the identification and reporting of stalking incidents, enhance stalking arrests and prosecutions, and connect victims to the city's Family Justice Centers that provide wrap-around supportive services under one roof. The CAPS program will soon be replicated throughout each borough in the city.
For more information on how to get help for yourself or a friend, and to learn about the other resources offered at the city's Family Justice Centers, visit the Mayor's Office to Combat Domestic Violence, or call (212) 788-3156. Outside New York City, information can be found at the Stalking Resource Center, or call VictimConnect at (855) 4-VICTIM, both are programs of the National Center for Victims of Crime.
Popular in the Community