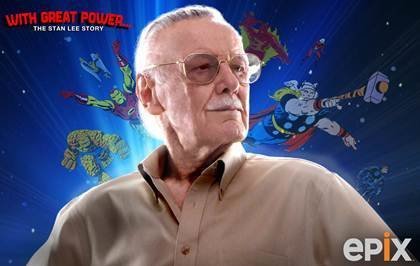 Stan Lee is not only the co-creater of Spider-Man, The Fantastic Four, The Incredible Hulk, X-Men and Iron Man (to name a few), but he is also a true American legend. His ability to craft characters, his passion for collaboration and his creative genius are just a few of the attributes of his impressive and prolific career.
The Huffington Post was given the privilege of interviewing the man behind the Marvel mask. As it turns out, we think he's the greatest superhero of them all.
HuffPost: It's 2012. Young boys can be seen across the country wearing Iron Man shirts and being Spider-Man for Halloween. Why do you think the characters you created almost 50 years ago still resonate with today's youth?
Stan Lee: I would guess it's because we tried to make our characters as human and empathetic as possible. Instead of merely emphasizing their super feats, we attempted to make their personal life and personal problems as realistic and as interesting as possible. We wanted to make them seem like real people whom the reader would like to spend time with and want to know better.
If all the superheroes in the world were wiped out, but you could keep one around, who would you keep that had the highest value to humanity? And who would you keep for selfish reasons?
I think I'd have to say Iron Man because Tony Stark has the wealth, inventive genius and impenetrable armor to accomplish almost anything.
You've created a modern American mythology - which character would like to see imagined on the big screen next?
In your new film "With Great Power: The Stan Lee Story" you say the comics and characters "would have been nothing if not for the artists I worked with. It was a partnership." If you could choose someone creative to partner with, alive or dead, who would it be and why?
I think Jack Kirby would have to be my first choice. He had the ability to take any basic idea or concept and make it appear spectacular by the way he drew it and positioned it on the page. I feel Jack would have made an ideal film director because he always knew the most dramatic way to depict something.
You were also quoted as saying, "I'm having fun. Don't punish me by making me retire." What adventures are you going on with your new company POW! Entertainment?
Every new project we're involved in is a new adventure. We have a few movies in development as well as a couple of TV series, plus a live-action arena show. We're also involved in publishing all sorts of digital media and we're even partnering in an exciting new comics convention venture.
Do you frequent any comic book shops in LA? If so, which ones?
I used to but just haven't the time these days. When I did, the Golden Apple was my comic book store of choice.
How do you think digital media on iPads, Kindles and Nooks will change the experience of reading a comic book?
The experience of reading a printed comicbook will never change, but now, thanks to the digital age, there are many different ways to enjoy the same story. Digital comicbooks, of course, can be interactive in many different ways, allowing the reader to feel like a participant in the story. But the pleasure of reading a story and wondering what will come next for the hero is a pleasure that has lasted for centuries and I think will always be with us.
How did being a husband and parent influence your comic creations?
Perhaps it gave me a greater perspective with which to view my characters. It's impossible to be specific because, actually, every experience a writer has is certain to influence everything he writes.
Did Joan, your wife of six decades, inspire any of the characters?
She did more than that—she inspired me. Because I've spent most of my life with such a beautiful, talented, challenging female, I feel I've gained, and am still gaining, a great deal of knowledge about the feminine mystique and about personal relationships—knowledge which is so important to a writer.
When not working, where might someone find you?
At home with Joan, treasuring the few free moments that we have together.
What are some of your favorite restaurants in LA?
Wolfgang's, Porta Via, Via Alloro and Nate and Al's.
What is your favorite movie?
I'm no good at naming favorites. There are countless movies, of all types, that I think are great, from "Citizen Kane" to "On the Waterfront" to "My Fair Lady" to "Twelve Angry Men" to "The Caine Mutiny" to "Inherit the Wind" to "Spider-Man" -- the list is endless!
What makes you feel like a kid again?
You use the word "again." I think I've never stopped feeling like a kid.
You've had a cameo in almost every Marvel movie since "X-Men". Is it safe to assume we'll see you pop up somewhere in "The Avengers"? I know the fans hope so!
You're right! I have a funny cameo in "The Avengers" and an even funnier one in the "Spider-Man" reboot!
"With Great Power: The Stan Lee Story" airs April 27 on EPIX. View the trailer and images of Stan Lee and his comic creations below:
Popular in the Community