Stan Romanek (pictured below), a controversial figure in the UFO community -- known for his claims of personal alien abduction and a dubious video allegedly showing an alien looking through a window in his house -- has been arrested on charges of "sexual exploitation of a child," according to a Loveland, Colo., Police Department press release.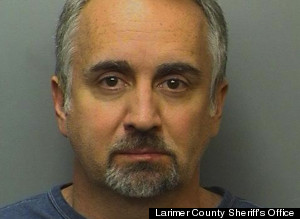 Romanek, 51, of Loveland, had been the subject of a long-term investigation that began with a search warrant in April 2013.
"The search warrant was executed at Romanek's home and followed several tips that were provided by Homeland Security that were then investigated further by Loveland police detectives and the Northern Colorado Regional Forensics Laboratory," the press release says.
Romanek was under investigation "of the online sharing and possession of child pornography." The police release (seen below) also states that part of the charges against Romanek "relates to the possession of more than 20 images of child pornography." Romanek was released last Thursday on $20,000 personal recognizance bond.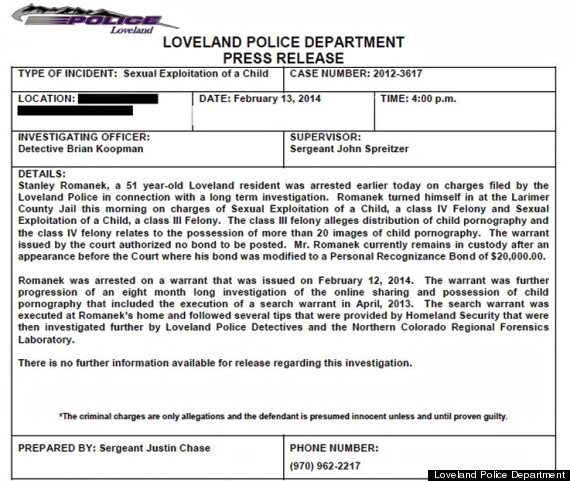 A condition of his release is that he's not allowed access to the Internet, reports Aaron Sagers on paranormalpopculture.com, who also acquired and provided the Loveland police press release to The Huffington Post.
Romanek's wife, Lisa, who has deactivated her husband's Facebook page, chimed in on the whole situation on her Facebook page. Below are excerpts from it:
Last April, a search warrant was served. On this past Wednesday, a warrant was issued. Stan cooperated by turning himself in. The charge as far as we know (without having an attorney in place until next week) is of possession of...NOT distribution [of child pornography].

Anyone who follows Stan is already aware of the harrassment [sic], break-ins, hacking and remote access of our computers for starters that we have experienced.

It is our belief, that whoever has been accessing our system also left behind traces to verify the Office of Homeland Security tip that the police department received.

For those of you who live in fear and function in hate, please just unfriend us both and do not make this terrifying situation any worse with your ignorant threats and ugly statements.

We will be taking UFOlogy into the courtroom. We know that this has EVERTING [sic] to do with our being outspoken about the ET/UFO reality.
Romanek is no stranger to controversy. For years, he's claimed to have been abducted by aliens, which reportedly includes ET experimentation and implants.
In 2003, Romanek shot a few minutes of video which, he claimed, showed an alien looking through a window of his house. He was eventually in demand on television and radio talk shows and UFO conferences around the country.
Watch Stan Romanek's alleged alien video. Note: the "alien" appears at 1:20 and 1:45:
While this case revolves around child pornography allegations, it's hard to imagine that Romanek's well-publicized involvement with UFOs and alleged alien abductions won't find its way into the courtroom, as well.
But, to be fair and judicial, it's probably best to consider what's written at the bottom of the Loveland Police Department press release:
The criminal charges are only allegations and the defendant is presumed innocent unless and until proven guilty.
ANNOTATION: In the HuffPost video at the top of this story, Christian Nilsson mentions how Stan Romanek was released "on a $20,000 personal reconnaisance bond." He meant to say it was a recognizance bond. We apologize for any confusion.
Popular in the Community