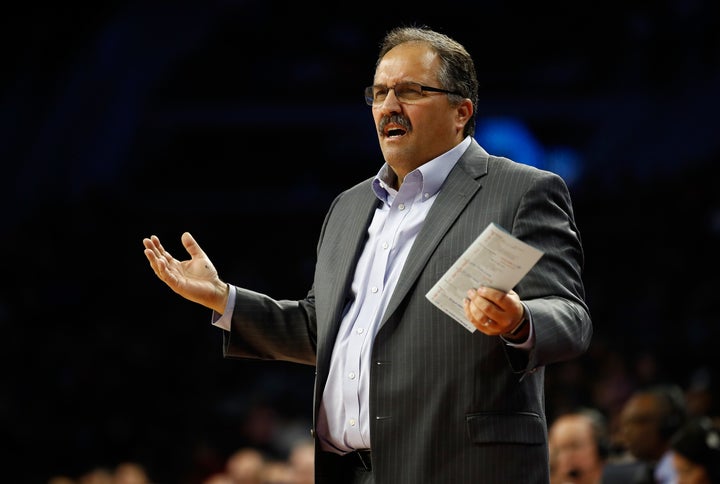 Comparing the injustice of House Bill 2 to "the discriminating against blacks back in segregation," Van Gundy prodded the NBA on Monday to change the location of All-Star Weekend 2017, which is currently slated to take place in Charlotte next February.
"I understand logistically it would be a major problem, but so what?" Van Gundy said. "Sometimes standing up for things that are right makes things tougher. I don't think the game should be there if they're not going to change that law."
"We went through this. People had their rationale for discriminating against blacks back in segregation," Van Gundy said on Monday. "I don't care, religious liberty and all of that -- look, that's the same stuff that people brought up during the civil rights movement. They'll try to justify it with anything they have. We shouldn't have the right in our country to discriminate against anybody and especially in this situation. And I think the league should take a stand."
Defenders of HB2 claim it safeguards "religious liberty" and "protects" the safety and privacy of young girls and women. Those opposed to the bill respond by deeming it poorly concealed bigotry.
Count the NBA in with the latter group, as the league released the following statement reproving the statute weeks ago.
The NBA is dedicated to creating an inclusive environment for all who attend our games and events. We are deeply concerned that this discriminatory law runs counter to our guiding principles of equality and mutual respect and do not yet know what impact it will have on our ability to successfully host the 2017 All-Star Game in Charlotte.
Now, it seems that Van Gundy wishes for the NBA to make good on its threat, and definitively reject discrimination by relocating All-Star festivities, thereby refusing to reward North Carolina's regressive policy with the league's biggest weekend of the year.
"That game should be moved if they don't change the law. I'm really proud of -- like, Bruce Springsteen moved his concert, I think that's outstanding," Van Gundy added. "Look, we're in 2016, and the idea that for any reason you can conjure up, you think you have the right to discriminate against people, I just think it's against everything that we should stand for."
REAL LIFE. REAL NEWS. REAL VOICES.
Help us tell more of the stories that matter from voices that too often remain unheard.
BEFORE YOU GO
PHOTO GALLERY
Monster Dunks From The 2015-2016 NBA Season