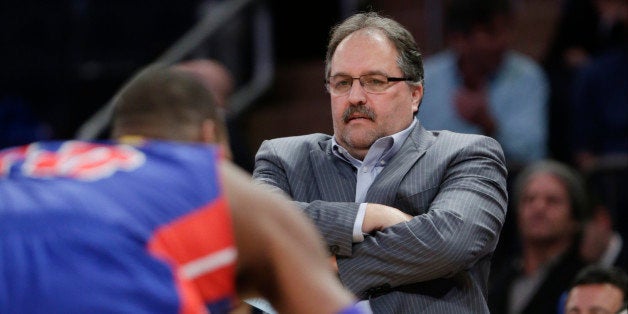 It's hard enough for most of us to check out from work and get some recharging time. But what do you do when you're on an NBA team and the league decides your punishing schedule?
This has been a point of contention this season for Detroit Pistons coach Stan Van Gundy, who slammed the NBA earlier this year over the number of back-to-back games his team has been forced to play.
With the Pistons out of the playoffs this weekend, Van Gundy told reporters on Wednesday that looking for ways to deal with exhaustion will be part of his team's discussions on the past season and the next.
"It's one of the things you have to examine here in the next week as we talk to everybody, on how we structure practices, walk-throughs, the season, travel, nutrition, strength and conditioning, all of those things," Van Gundy said before the Pistons season-ender against the New York Knicks.
The goal is to "identify problems," the coach said. "You go out and talk to people, who maybe you think have expertise in those areas and try to come up with the best practices that you can," he added.
In 20 of those back-to-backs, according to Pistons.com, the team had to travel for the second game.
The coach has taken some blame on himself for not properly managing players' minutes on the floor and thereby giving them enough rest. In February, he expressed "definite concern" for point guard D.J. Augustin, who ended the season averaging 24 minutes per game, but had an eight-game stretch in which he saw over 30 minutes each game.
"If you're going to put your three perimeter guys out there running on fumes, you're going to have a hard time closing the game with the energy you need to do it," Van Gundy said following a loss in November. "I've got to take responsibility for that."
On Wednesday, Van Gundy said that some players handle back-to-back games better than others, and he noted that such schedule difficulties are "not an excuse for not winning games."
"I've had teams that have played very, very well on the second night of back-to-backs," he said. "It's a manageable thing, there's no question about it."
You just have to figure out how to manage it. Fortunately, Van Gundy is a guy who understands a full workload -- he serves the Pistons as both head coach and president of basketball operations. So when will he find some downtime himself? Not until August, he said, after the draft is over and the free agency period ends.
"But I'll get three-day weekends here and there. I'll get out to baseball games at night," he said. "I'll get my relaxation."
REAL LIFE. REAL NEWS. REAL VOICES.
Help us tell more of the stories that matter from voices that too often remain unheard.