It starts with the writing. Once a playwright has an idea, there are lots of details to be worked out. Backstories for characters, plot points, important revelations, the possibility of redemption, and how and where he wants the story to end. But, just as Bill Clinton got elected on the slogan that "It's the economy, stupid," a fully-developed comedy or drama is going to depend on the quality of the written script.
Even with readings, workshops, and regional tryout productions to help iron out the kinks, the creative team (director, choreographer, set, lighting, sound, and costume designers) all take their cues from the script. Sometimes a script nearly sings with inspiration and imagination; at other times it can hobble along with little or no spark.
It's rare for audiences to have the opportunity to visit two dramas by the same playwright being performed in two different theatres within walking distance of each other. But with 2014's The Realistic Joneses on stage at the American Conservatory Theater and 2010's Middletown receiving its Bay area premiere from the Custom Made Theatre Company, comparisons were inevitable.
Despite such obvious variables as production values, rehearsal time, budget, and casting choices, it soon became obvious that Middletown may be the poor relation in Will Eno's family of contemporary absurdist plays. Like Thornton Wilder's classic, Our Town, the play delivers a series of intimate (and occasionally interlocking) vignettes directed by Brian Katz which include such characters as:
The Cop (Ted Zoldan), a man who seems to be drunk with power out of boredom more than anything else. Despite his bravado, he's dealing with a dying mother; other personal issues make him a sympathetic character when he's not acting like a total asshole.
The Landscaper (Rowan Rivers), a young man planting trees in the community who likes to build tiny rock sculptures and teases the local cop that, despite his uniform, a policeman is a person (just like everyone else in Middletown).
The Mechanic (Justin Gillman), Middletown's most unfortunate soul who is struggling with alcoholism, desperately seeking pain pills, frequently targeted by the bullying local cop, and assigned to do community service by entertaining young kids while dressed as an American Indian (and who has carefully been coached in how to avoid confrontational words and phrases that might scare the children).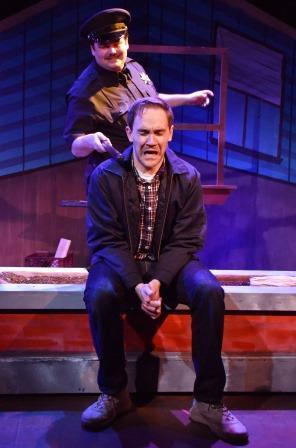 Ted Zoland (Cop) and Justin Gillman (Mechanic) in
a scene from Middletown (Photo by: Jay Yamada)
The Aunt (Catherine Luedtke), a woman who has come to the theatre with her precocious niece (who displays a phenomenal memory and the ability to parrot whatever has been said within her earshot).
John Dodge (Fred Pitts), a local plumber who finds himself leading an unrewarding life that includes an astonishing lack of friends, two unfulfilling jobs, and a troubling sense of anonymity. Imagine a version of Mr. Cellophane whose speech becomes horribly garbled while his head is underneath a sink as he works to fix a leak.
The Doctor (Catherine Luedtke), a medical professional adept at maintaining her emotional detachment from patients while revealing as little critical information as possible about matters of life and death. Despite her professional demeanor, once she leaves the building on her break (even though she no longer smokes cigarettes), she doesn't mind "spilling" a bottle of pills on the sidewalk for a desperate man who has been dumpster diving in search of painkillers.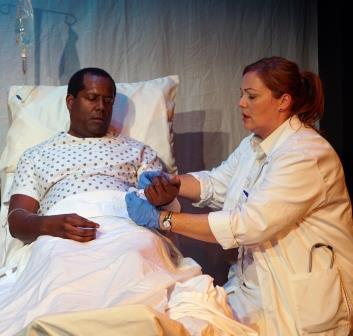 Fred Pitts (John) and Catherine Leudtke (Doctor) in
a scene from Middletown (Photo by: Jay Yamada)
Mary Swanson (Cary Cronholm Rose), a young woman who recently moved to Middletown and is eager to make new friends. Because her husband frequently travels on business, he is never around when she needs him (including when she is admitted to the hospital to give birth). Although Mary has tried to build some kind of friendship with John Dodge, neither one of them has much to say. Nor are they very good at expressing themselves.
The Gynecologist (Malcolm Rodgers), a doctor who continuously gives his very pregnant patient conflicting bits of information whenever she asks what to expect during childbirth. "Just be yourself" is the answer given by a man who seems to be supremely out of touch with himself, his wife, and his family.
The Tourists (Ashley Cowan and Rowan Rivers), a married couple who have traveled the world and arrive in Middletown looking for something that will really impress them.
The Librarian (Jean Forsman), the good-hearted, encouraging anchor of Middletown, a woman who supplies resources for a newcomer like Mary as warmly as she delivers unconditional love to a delusional loner who has frequented the local library since he was a child.
Jean Forsman as the Librarian in Middletown
(Photo by: Jay Yamada)
The opening night performance of Middletown suffered from a problem with the auditorium's ventilation system which left several people (including critics) struggling to stay awake during the first act due to the heat in the theatre. Even after intermission (when fresh air was again circulating), this turned out to be one instance in which Mr. Eno's writing left me sorely underwhelmed. Because so much of his style depends on muttered phrases, aborted sentences, and pregnant pauses, his plays become like tone poems that can soar in the best of circumstances or implode at any moment.
With two members of the ensemble unable to perform on opening night (Rowan Rivers replaced Neil Higgins and Leah Abrams substituted for Jessica Jade Rudholm), it often felt as if the production was struggling to find its rhythm and tone. The two actors whose work stood out were Jean Forsman as the Librarian and Justin Gillman as the delusional Mechanic. Here's the trailer:
There was no need to worry about David Javerbaum's writing in An Act of God. The touring version of the show starring Sean Hayes which recently touched down at the Golden Gate Theatre effortlessly drew as many laughs from the audience as The Book of Mormon. Whether or not the jokes were as tasteless did not matter. With an accomplished comic actor in the driver's seat, it was like watching a baseball slugger during batting practice.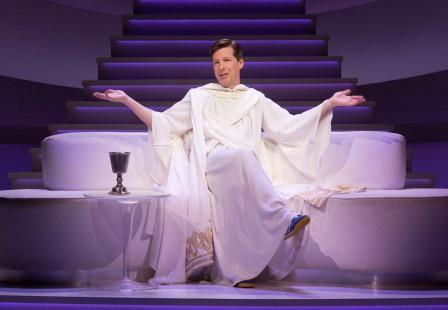 Sean Hayes holding court in An Act Of God (Photo by: Jim Cox)
Based on Javerbaum's book, The Last Testament: A Memoir By God (as well as the Twitter account he wrote @TheTweetOfGod), An Act of God opened on Broadway in 2015 with Jim Parsons (best known for his work as Sheldon Cooper in The Big Bang Theory) on the heavenly throne. Following performances in Los Angeles and San Francisco, the touring production will return to Broadway for a summer's worth of performances at the Booth Theatre.
Directed by Joe Mantello, the production (which features James Gleason as the Angel Gabriel and David Josefsberg as the Archangel Michael) includes a certain amount of audience participation.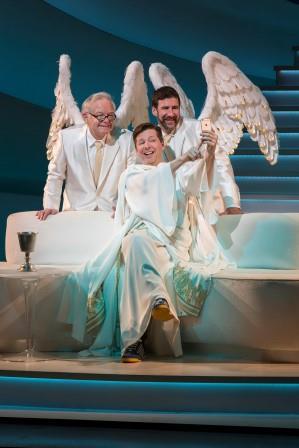 James Gleason, Sean Hayes, and David Josefsberg in
a scene from An Act Of God (Photo by: Jim Cox)
With all the sarcasm and merriment emanating from the stage, it's important to acknowledge Scott Pask's deliciously elegant and austere unit set, David Zinn's costume design, Hugh Vanstone's lighting, and Fitz Patton's sound design.These design elements so beautifully frame the theatrical experience that it's hard to imagine anyone screwing up An Act Of God.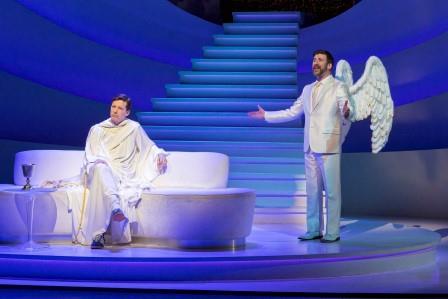 Sean Hayes and David Josefsberg in a scene from An Act Of God
(Photo by: Jim Cox)
Having won 11 Emmy Awards for his work on The Daily Show With Jon Stewart, Javerbaum's facility for inserting timely material into the script was evident in his references to issues affecting Northern California, Donald Trump, as well as God's insistence that he didn't approve of humans who cheapen his brand. The best theatrical device of the evening, however, is God's explanation that he had chosen to appear before the audience in the form of Sean Hayes so that the audience will feel comfortable in the presence of God.
As Javerbaum explained in a post-performance Q&A session, this gimmick provides an easy tool for introducing the star of any production whenever and wherever An Act of God might be presented. The show is an obvious go-to for Hollywood actors on break from television and film commitments. Potential replacements who quickly come to mind include Lewis Black, Kathy Griffin, Harvey Fierstein, Wanda Sykes, Mario Cantone, Alan Cumming, Amy Schumer, Billy Eichner, Seth Rudetsky, Patty LuPone, Graham Norton, and Nathan Lane.
The strength of Javerbaum's writing can easily be seen by comparing the trailers for the original production (with Jim Parsons as God) and the current version starring Sean Hayes. Whereas Parsons is a bit tightlipped and terse, Hayes is like a big, cuddly puppy who has no reason to hold back from his audience.
Calling all HuffPost superfans!
Sign up for membership to become a founding member and help shape HuffPost's next chapter