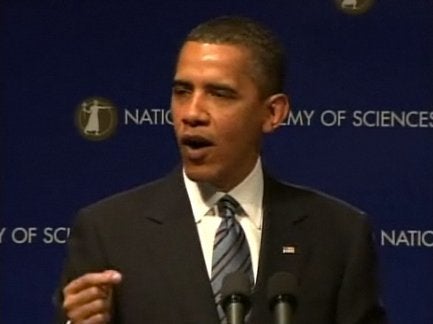 President Obama is a brave man. He doesn't hesitate to take great political risks. He asked Congress for billions to save the banking system and more billions to stimulate the economy -- and Congress handed them to him. Not everyone looked happily on the trillions we'll be facing in debt, but in a Washington Post-ABC News poll released Sunday he still got a 69 percent approval rating -- the highest of any president at the 100-day mark in 20 years -- and 72 percent of Americans said they have a favorable impression of him. Not since Ronald Reagan's first 100 days has a president done so well. Obama is not only living up to most Americans' expectations, he's exceeding them.
So here we have a decisive president who's not afraid to act boldly on the economy. He takes the enormous risk of allowing the release of the torture memos, and even so more Americans approve of that controversial act than disapprove. Majorities say that that the country has turned around and is now headed in the right direction, and that he's kept his campaign promises.
That's a lot of political capital, and political capital is political power. The president may never have a better moment. There is, however, one campaign promise he's been silent on since he was elected in November: the repeal of "don't ask, don't tell." It's still up there on the White House website. "President Obama agrees with former Chairman of the Joint Chiefs of Staff John Shalikashvili and other military experts that we need to repeal the 'don't ask, don't tell' policy," it says. "The key test for military service should be patriotism, a sense of duty, and a willingness to serve. Discrimination should be prohibited. The U.S. government has spent millions of dollars replacing troops kicked out of the military because of their sexual orientation. Additionally, more than 300 language experts have been fired under this policy, including more than 50 who are fluent in Arabic. The President will work with military leaders to repeal the current policy and ensure it helps accomplish our national defense goals."
There is no ambiguity in that statement. We like it just fine, but the question is, where's the beef? The president is a man of words, and he knows how to use them very well. He knows their value and he knows their power, and I still like to think that he's a man of his word. I am sure of it, in fact. That's why I'm puzzled by the complete and total silence from the White House on this issue that is vitally important not only to the 65,000 gay and lesbian service members now in the military but also to the security of our country. Firing 50 men and women who are fluent in Arabic solely because they are gay when we are fighting in the Arabic-speaking world? The mind boggles.
If I had five minutes of your time, Mr. President, I would make three points. I would say to you that "don't ask, don't tell" is the only federal law on the books today under which a service member can be discharged for one reason only: because he's gay. He may be the best Arabic translator on the planet, the best pilot, the best battlefield surgeon -- but if he's openly gay he runs the risk every day that he'll be reported and discharged -- by law -- for that reason alone. I would paraphrase what I heard on one of the Sunday talk shows in regard to the torture memos: "This is not a matter of Left and Right. It is not a liberal issue or a conservative issue. It's a matter of what is morally right."
I would like to respectfully remind you, sir, that your Defense Department administers this law. You yourself have said the department "spends millions of dollars replacing troops kicked out of the military because of their sexual orientation." In order to get rid of it, send your Defense budget to Congress next month without the authorization to enforce this shameful testament to prejudice. Tell Congress "don't ask, don't tell" should go the way of the Jim Crow laws. Defense Secretary Gates and the Chairman of the Joint Chiefs, Admiral Mullen, can't do it for you. In fact, it's obvious they're not going to volunteer for this assignment unless you ask. But almost certainly they will join you if you, as their Commander-in-Chief, propose it.
I know that some in the White House, in the Pentagon, and in Congress are afraid of this issue. The specter of President Clinton's bungled attempt to achieve open service in the military in 1993 still haunts them. But this is not 1993. Sixteen years have passed and most of the world has changed, the American people perhaps most of all. It is true that some retired admirals and generals in their 70s and 80s still have the mindsets of the 1950s or before, and it is true that with Elaine Donnelly conducting from the wings they have made some harrumphing noises. Elaine Donnelly probably cares more about keeping gays and lesbians out of the military than anyone in the United States, with the possible exception of Phyllis Schlafly who was her mentor years ago in their successful fight against the Equal Rights Amendment and is the brains behind the establishment and continuation of the Donnelly-Schlafly cleverly but inaccurately named Center for Military Readiness.
Mr. President, it is clear that you, along with 80 per cent of the American people, left these women and their surrogates behind long ago. It is also clear that today you have more political capital in your bank than any president probably since Ronald Reagan. Use it wisely. Speak out loudly against "don't ask, don't tell." You -- and we -- have more to lose by your silence.
Repeal will not happen without your taking the case to the Pentagon, to Congress, and to the American people. You are a natural leader, Mr. President. We are approaching a critical moment in this debate. Now is the time to lead. Failing to speak out against "don't ask, don't tell" in your own Defense Department budget really does mean that you are giving the green light to the content and enforcement of this law. We can't ignore the reality that it will then become Obama's law. I don't think you want that.
Keep your promise, Mr. President, and ask Congress and the American people to join you in standing against this reprehensible law that tortures every day so many young men and women who want to serve our country. Consign it to the dustbin of history where it belongs.

Popular in the Community