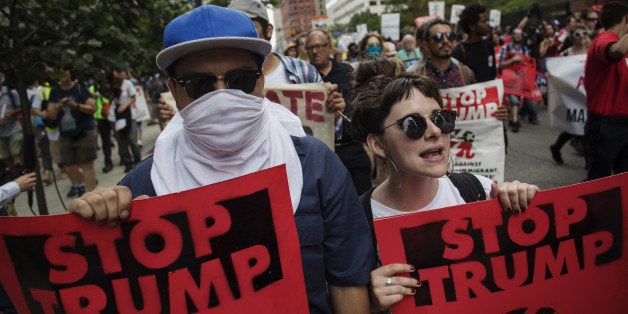 There is a line between political views with which we can politely disagree, and dangerous, offensive rhetoric which we must stand up to challenge. Donald Trump has crossed this line many times during his candidacy. Regardless of political persuasion, all Americans should be in agreement that there is no room for hateful, racist speech in our presidential race. Whether you are a fiscal conservative or a Social Democrat you should be appalled that a person can make his candidacy on suggestions that Hispanic immigrants are likely criminals and rapists. Supporters of gun rights and supporters of gun control alike should be horrified when Donald Trump makes space for hate groups in the national conversation. Whatever your usual political affiliation, you should be offended when Trump's first response to any woman who challenges him is to mock and belittle.
There are two common views of Donald Trump. The first is that he is a center-right pragmatist who said racist and sexist things to win a primary, but in the end will be a relatively mainstream Republican president. Pandering to our darkest tendencies is deplorable, but this reasoning argues that Mr. Trump wouldn't be truly dangerous as president since he would revert to his pragmatic underpinnings.
The second view of Mr. Trump is that he actually believes the things he's been saying; that his supporters are right when they like him because "he says what he really thinks." We cannot risk being lulled into complacency by the belief that Mr. Trump will become a mainstream pragmatist in office if even a modest chance that this second interpretation is correct. Otherwise we risk allowing an unpredictable racist and misogynist with xenophobic policies to become leader of the most powerful nation on Earth.
No, we do not subscribe to the view that the Donald Trump who has been on full display for the last year isn't the real one. His candidacy is not only a threat to our ability to tackle the great moral issues of our time; his candidacy itself is one of the great moral challenges of our generation. Now is not the time to comfort ourselves by inventing a moderate version of Mr. Trump which may not exist. Now is the time to draw on every fiber of our shared humanity and stand together against him. America is better than this.
For those who recognize Mr. Trump's campaign as one of the defining moments of modern American politics, there are many ways to act. Talk to friends and coworkers, register new voters, sign petitions; defeating Trump means you have to stand up in some way. We represent a group of professionals who have formed the political action committee Stand Together Against Trump (STAT) to organize strong, peaceful, and positive protests of Donald Trump when he accepts the Republican nomination for president in Cleveland. Responding with violence at the convention is not only morally wrong, but would serve to strengthen his campaign. Public protest is only one method of acting, but we believe a broad-based and peaceful demonstration is an essential part of our nation's response to his candidacy. By employing nonviolent demonstrations we will show a more positive vision of this country on Thursday, July 21.
Some things are worth protesting. Some things cannot be left unchallenged. Regardless of your usual political affiliations, this is a candidate who must be stopped. So stand up. Stand now. Stand up for your friends and your coworkers. Stand up for your family doctor, your child's teacher, a local business owner, your neighbor, whomever it is in your life that Donald Trump is threatening to block, deport, belittle, or ostracize. Stand together with us in Cleveland on Thursday.
-Nathan Stehouwer
Stand Together Against Trump
standtogetheragainsttrump.com
@ST_AgainstTrump
Calling all HuffPost superfans!
Sign up for membership to become a founding member and help shape HuffPost's next chapter