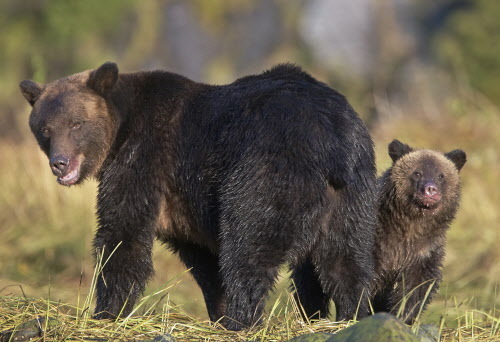 Every year, millions of visitors from all over the world travel to Yellowstone National Park to see some of the most famous bears in the world - the Greater Yellowstone Ecosystem grizzly bears. These same tourists pump hundreds of millions of dollars into the local economy. But what would happen if there were no grizzly bears or just a scant few? I suspect that many of these tourists may go elsewhere. Think of the disastrous economic impact this would have on the livelihood of individuals who serve as guides, maintain campsites or operate hotels and restaurants in the three states covered by Yellowstone Park - Idaho, Montana and Wyoming--let alone the ecosystem itself.

This unfathomable scenario might just play out. Yellowstone grizzly bears are in danger. The U.S. Fish and Wildlife Service (FWS) has proposed to remove them from the list of federally threatened and endangered species. This means management would be handed over to the three states - Idaho, Montana, and Wyoming - which have readily indicated that they would rush to allow the bears to be trophy hunted.
This would be a conservation disaster. Wayne Pacelle, president and CEO of Humane Society of the United States, has said: "This same group of states bungled wolf de-listing and they are making all the same noises on grizzlies--threatening to open up trophy hunting season. Other forms of human-caused mortality are up, and bears are facing a range of threats to critical food sources, including white bark pine nuts and lake trout."
There are so many reasons why the majority of Americans disapprove of killing our vulnerable and native carnivores solely to obtain a "prize" and acquire dominance over vulnerable species by placing heads, hides or pelts, and even to put a whole animal, stuffed, on a wall. The practice is cruel, harmful and unsustainable.
The most well-known trophy hunter right now is Walter Palmer, who killed Cecil the lion in Zimbabwe. He used baiting, putting out food for an animal and then killing them when they find and eat it. This is just one of many despicable practices often used by trophy hunters. They also use packs of dogs in a practice called hounding to corner a poor animal and chase it up a tree and then shoot it. And they kill not to feed for subsistence, but just for bragging rights.
Why would these states support trophy hunting Yellowstone's grizzly bears when a recent national poll found that most Americans oppose this practice (68 percent).
The same poll found that 81 percent of Americans agree that grizzly bears are a valuable part of the Greater Yellowstone area and 67 percent believe that if the management of grizzlies is handed over to Idaho, Montana and Wyoming that there should be a 5-year moratorium on trophy hunting to ensure that the grizzly bear population is fully recovered.

The FWS estimates that around 700 grizzly bears live in the Greater Yellowstone Ecosystem today, while as few as 800 to 1,000 make their home in the entire 48 states. At one time there were 50,000 grizzly bears roaming North America. So now is not the time to make grizzlies a target of state managers so beholden to trophy hunters.
The public can weigh in on the plan to delist the Yellowstone Grizzly Bear's status as an endangered species by posting a comment at www.regulations.gov before May 10th and oppose the proposal to delist.
Grizzly bears are good for the eco-system and tourism. Why put them in the cross-hairs of trophy hunters when they are still recovering from centuries of persecution?
Calling all HuffPost superfans!
Sign up for membership to become a founding member and help shape HuffPost's next chapter