What We Tried: Stand Up Paddleboard Yoga
Where: Marina Mother's Beach in Marina Del Rey, California
Who: Stoked Yogi, class led by owner Amelia Travis. (This company is based in Southern California, but SUP Yoga is popping up all over the country. Look for one in your area.)
What We Did: After a brief demo of how to get on the paddleboard and how to use the paddle, we all hopped on our boards and slowly got a feel for how to balance on our knees and then how to stand. As a group, we paddled out into the marina and, after being told how to drop our anchors, set up a pod together before starting our yoga practice.
The instructor led an hour-long hatha yoga flow, which included typical poses that you will recognize from land yoga. We did up-dogs, down dogs, warrior poses, sun salutations, bridge and other basic poses. The practice is generally slower than regular yoga, because you are learning to balance on your board. For more advanced yogis, a few balancing poses like crow pose and headstand were offered, but not required. The practice is not rushed, and the instructor floats around helping anyone who needs more guidance or balance tips. We were told it is rare to fall in the water, and no one in our group did. The paddleboards weigh approximately 27 pounds and are very buoyant.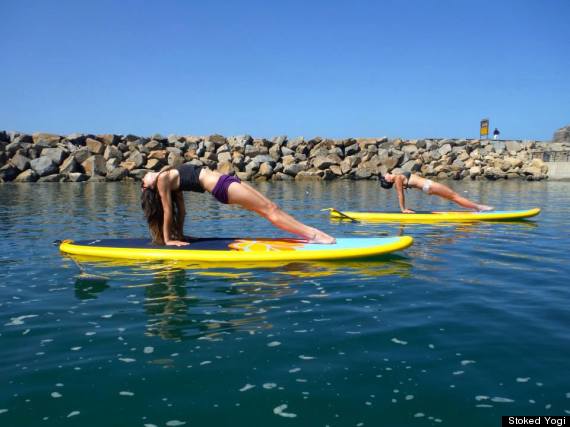 For How Long: Generally classes are 90 minutes and workshops are two hours.
How'd It Feel: I have done my fair share of yoga, but had never been on a stand up paddleboard before. I was most nervous about learning to balance on the board, but within a few minutes of playing around and getting used to it, I was surprised at how quickly my body adjusted. Once we began our yoga practice, I found myself concentrating deeply as I listened to the instructor's cues and searched for balance during each pose. The first couple of down-dogs felt challenging, but I was delighted as I became used to the swaying of the board and found myself holding poses more and more easily.
Yoga feels good. But practicing yoga on a board in the middle of a bay or in the ocean is simply delightful. Your senses are invigorated as you hear the sound of lapping water, feel the sun shining down and smell the salt water -- but the most incredible aspect of SUP yoga for me was the gentle rocking of the water beneath the board. An incredible calming sensation came over me, and it lasted for hours after we were back on shore.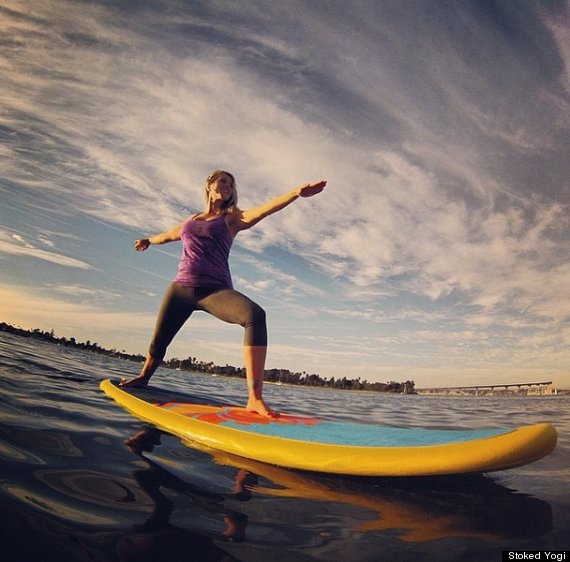 What It Helps With: Paddleboarding is fantastic balance training and core stabilization. Due to the unstable surface of the board, the body has to engage all the little muscles that are often overlooked in strength training and cardio exercise. "Without mirrors, the yoga practice invites a deeper awareness of proprioception -- sensing and feeling where the body is in space, rather than analyzing how a posture looks compared to other students," instructor Amelia Travis said to HuffPost. "SUP Yoga is just plain fun. Yoga doesn't have to be serious! It can be lighthearted, playful, and fun -- and practicing on the water invites a sense of play." Also, we find that spending time outdoors is fantastic for emotional health and mental clarity. Fresh air and vitamin D does a body good.
If you're not convinced, here are 10 other reasons why you should try yoga on a stand up paddleboard.

What Fitness Level Is Required: You must be able to swim and transition from kneeling to standing. Stoked Yogi has taught students as young as 8 and as old as 70. The practice can be adapted to most ages and fitness levels. First time paddlers and never-before practiced yoga still are able to enjoy the workout.
What It Costs: $55 for two-hour workshop, $90 for 60-minute private lesson. Prices vary for intensives, trainings and retreats.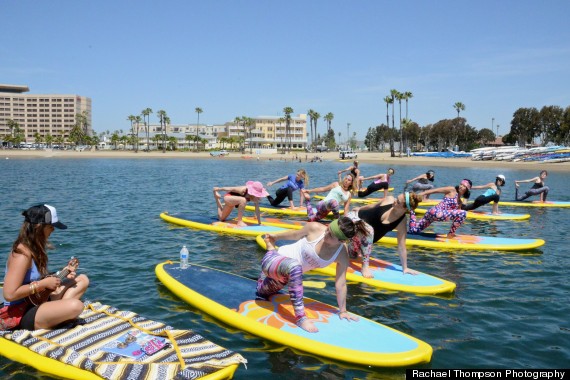 What To Wear: Most people wore cropped workout pants or leggings on bottom and a sports bra/bathing suit top underneath a T-shirt or tank on top. Depending on how warm it is, you could also just wear a bathing suit. You do not spend time in the water, and only your feet, ankles and hands get wet. Sunglasses (not your most expensive) and a hat or headband help keep the outdoor conditions manageable and not distracting.
Would We Go Back: If texting seven different friends from the parking lot is any indication, I can't wait to go back out in the water and try SUP yoga again. My muscles worked hard throughout the practice and the final Shavasana (resting) pose was the most fulfilling I have ever felt in yoga. Stoked Yogi has an added bonus of bringing someone out on a board who plays a soft ukulele and sings during your practice. The entire experience was pure bliss.