What if every girl, regardless of where they were born, had the same exact opportunities to thrive?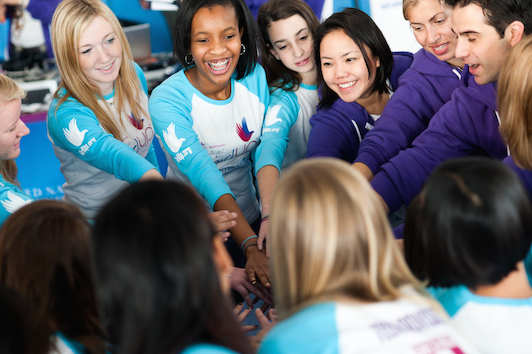 When I stumbled across the alarming statistics on Girl Up's website that you're about to read, they hit me hard.
The second most common cause of death for girls between the ages of 15-19 is complications from pregnancy and childbirth.
· Girls between the ages of 10-14 are five times more likely to die in pregnancy or childbirth than women aged 20-24.
· 75 percent of HIV-infected youth between the ages of 15-24 are girls.
· 50 percent of all sexual assaults worldwide are against girls 15 or younger.
· One in seven girls in developing countries is married before the age of 15 (excluding China).
Sadly, like too many people out there, I only stumbled across these figures by accident. Earlier this year, I got in touch with Sharon Herzog, a global advocate for women and girls and the founder of Luxe Media Inc., and she led me on a search that surprised (and not in a good way) me in so many ways.
It's stats like the ones listed here that make Girl Up, the United Nations Foundation's adolescent girl campaign, so important. Later this year, the campaign will be celebrating its fifth anniversary, and the wins to date are nothing short of remarkable in a relatively short timeframe.
Now consisting of nearly half a million passionate advocates, the Girl Up community continues to go from strength-to-strength having also just registered its 1,000th Girl Up club. To say this is a huge milestone is an understatement for a campaign that originally began for American girls, but has quickly become a borderless movement with clubs now in 66 countries.
Often, we're so overwhelmed by the enormity of the situation we're facing, we choose to turn a blind eye to it because maybe it's too hard to think about how some people are really living. It's too hard to think about...
The 13-year-old girl who's married to a man in his forties because her family is so poor.

The woman who fears reporting a rape because her family will be ashamed.

The young girl denied an education.

Reality is, we're lying to ourselves so that we can rest easy at night because every one of us has the potential to make a difference.
The choice we all have is whether we're going to turn a blind eye to what's happening all around us, or whether we're going to help empower one another to change the world.
However you twist and turn the following words over in your mind, fact is, they represent the truth.
Girls are powerful. Females who are educated, healthy, safe and counted have the ability to transform their communities.
The recent Girl Up Leadership Summit held in mid-July proved this to be true in the most triumphant of ways. This forum allowed girls to gain the confidence to seize the moment, to learn the skills that make voices heard and gave these girls the opportunity to take their message to members of US Congress. These girls embodied the summit's theme: Stand Up. Speak Up. Rise Up.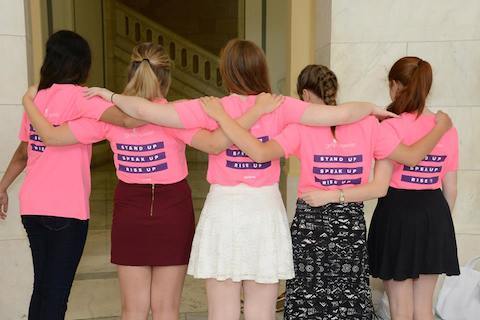 According to Melissa Hillebrenner, Girl Up's Director, the summit was easily the most successful yet.
"The feedback has been nothing short of incredible! This year's Girl Up Leadership Summit was the best yet, in terms of speakers and workshop presenters, Lobby Day impact, and the exceptional participants," she says.
With more than 225 participants from 29 states and 11 countries, every girl left the summit driven to make a difference on a wider scale.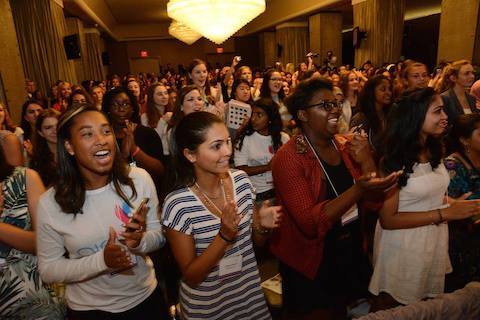 Speaking of making a difference, First Lady Michelle Obama headlined the summit and delivered a speech to remember. A speech in which she put us all in the shoes of the 62 million girls who can't go to school: "Think about what it would be like to see your brothers going off to school every day while you were stuck at home."
Such a powerful statement. One of many incredible lines delivered by the First Lady that my words won't do justice. Watch the speech for yourself below and while it's sure to leave a different mark on each person, there's no doubt it's delivered with passion.
That was just under 20 minutes of incredibly inspiring footage from one of the most recognizable role models for women and girls around the world.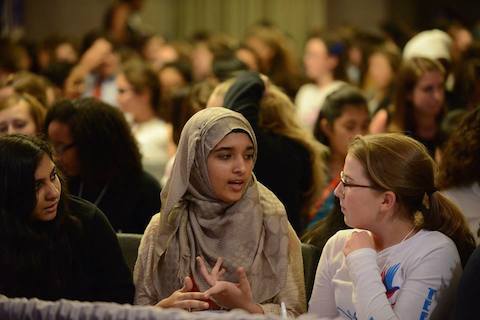 As Hillebrenner says: "The support of renowned names helps amplify the work Girl Up is doing and helps bring our campaign to the attention of more girls around the world."
So, are you ready to step-up and make a real difference to another girl's life? Wherever you are -- from the U.S. or even Down Under where I'm writing this piece from -- there are a number of ways you can get involved.
Hosting fundraisers to spread the word, joining the Girl Up community as a supporter, starting a Girl Up Club of your own... the ball is in your court. A great place to start is the Take Action page on Girl Up's official website.
Meanwhile, feel free to share your thoughts and experiences below.
REAL LIFE. REAL NEWS. REAL VOICES.
Help us tell more of the stories that matter from voices that too often remain unheard.