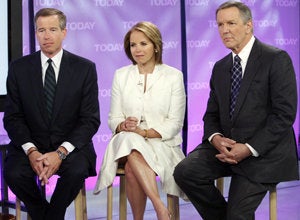 At 7 o'clock Central tonight, I'll be glued to the television as though my life depended on it - because it just might.
When I was 27 years old, four words changed my life: "Positive for a deleterious mutation." Translated into English, that meant I was carrying the mutated gene that triggered the breast and ovarian cancer suffered by my mother, grandmother and great aunts.
What came next was just as scary: The only reliable way to avoid cancer was to remove my healthy breasts and reproductive organs.
It was a horrible choice: Sacrifice part of my body and give up my hopes of bearing children, or live with the knowledge that my body contained a ticking time bomb that might cause cancer today, tomorrow - or 20 years from now.
It is hard to believe that, in this day and age, medical science offers so few options, so few answers, to countless women who have inherited genes that can cause breast and ovarian cancer. It is painful to think of the many lives that have been lost because we have not invested enough in cancer research, education, testing and treatment.
So I am deeply, deeply thankful that ABC, CBS and NBC are joining together in a simultaneous - and potentially life-saving - broadcast: Stand Up to Cancer, an informational and fund-raising special.
I am so proud of brave women like Christina Applegate, who are speaking out about their inherited cancer risk and the medical choices they have made to save their lives. When I received those grim genetic test results seven years ago, I never talked about "It." That isolation led me on a five-year exploration of what it means to live in the shadow of cancer, a journey which resulted in my new documentary film, In the Family.
As I tried to figure out how to live with this crazy information, I looked to other women for answers. In the Family tells their stories: Linda, dying of cancer, yet teaching me not to mess with life; Martha, working tirelessly to keep African-American women included in the fight against breast cancer even as she battled her own disease, without health insurance; Olga, a young mother so paralyzed by her terror of cancer that she could hardly bring herself to undergo a genetic test that might relieve her fears.
Over the past few months, In the Family has premiered to small audiences across the country, thanks in part to our co-sponsor, the Chicago-based Playboy Foundation. (There will also be a special New York premiere of the film on September 15, co-presented by the Playboy Foundation, Kartemquin Films, P.O.V. and the Paley Center for Media.) In The Family will premiere on television nationwide on PBS on P.O.V. on Oct. 1, the first day of Breast Cancer Awareness Month. I hope that In the Family, like SU2C, will educate people about their own cancer risks, and will let people know how much more still needs to be done to end cancer in our lifetimes.
On the night of the historic SU2C broadcast, I shout out, with my fellow "pre-vivors" and survivors of hereditary breast and ovarian cancer, for increased funding - not only for a cure, but for early detection, better cancer-prevention options, and increased access to affordable genetic testing.
We must forever change the paradigm of Cancer=Death.