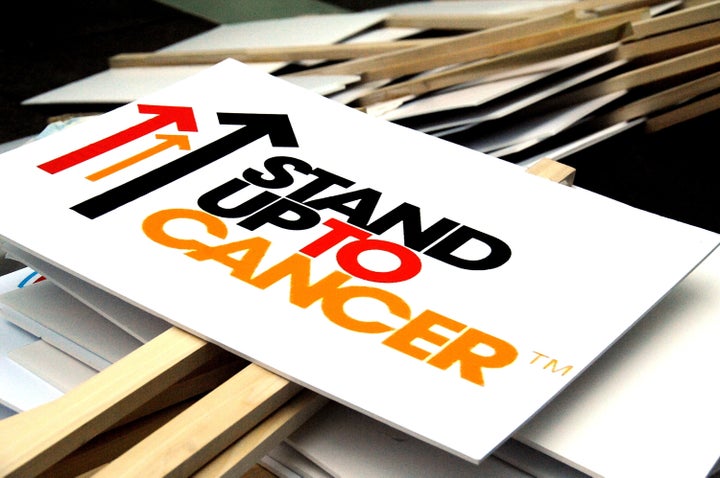 All cancer survivors can vividly recall the moment the disease invaded their lives. After three years of repeated tests that always ended with being told everything was fine, I listened to my doctor's chilling voicemail: "You have lobular breast cancer, and you need to come in as soon as possible."
My head was spinning with questions like "What in the world is 'lobular' cancer?" One that's hard to diagnose, it turns out. The tumor's lace-like texture meant there were holes in the mass that a needle could pass through, resulting in "clean" biopsies while cancer lurked -- and spread ... to 30 lymph nodes.
The ensuing seven years have been quite an odyssey, but I am still here, fortunate to count myself among the 28 million cancer survivors worldwide ... And grateful, as one of the co-founders of Stand Up To Cancer, for all the support SU2C has received as we raise funds to help scientists develop better, less toxic treatments and get them to patients quickly.
Feeling fortunate and grateful doesn't mean I'm not mad, though. I'm mad as hell, not only about my years of misdiagnosis, but also that -- despite many advances in the fight against breast cancer -- the particular type of disease I have is still a challenge to treat. Cancer sucks, and each and every day I have moments of telling it where to go. And today, on National Cancer Survivors Day, I can shout it from the rooftops!
Today, LIVESTRONG and Stand Up To Cancer call on everyone affected by cancer to declare themselves: those of you actively in the fight or who have won the battle; family members, colleagues and friends; doctors, nurses and scientists; advocates; and anyone who has watched this vicious disease take someone you love.
Whether it's to vent your own anger or frustration, or to show support for a loved one, it takes only seconds to "donate" your Facebook status (via http://livestrong.standup2cancer.org/) and give cancer a piece of your mind ... Here are a few sample messages:
"I am a survivor. Cancer, we are bringing a fight." ~ Lance Armstrong, cancer survivor, champion cyclist and LIVESTRONG founder and chairman
"I am a survivor. Cancer, you picked the wrong person when you picked me." ~ 20-year-old Danielle Stanford, who battled leukemia while her mom contended with colon cancer. They are both survivors
"I am a survivor. Cancer, you may have thought you had me, but there's a lot more time left on my clock." ~ Kareem Abdul-Jabbar, cancer survivor and NBA's all-time leading scorer
"Cancer, we plan to make you old news." ~ Cancer activist and journalist Katie Couric, who lost both her husband Jay and sister Emily to the disease
"Cancer, make no mistake, we WILL defeat you." ~ Brian J. Druker, M.D., Director, OHSU Knight Cancer Institute, Chair of Leukemia Research, and developer of the breakthrough cancer treatment Gleevec
While somewhat more crass assertions also readily come to mind, what I really want to say is:
"Cancer, you can't survive ME!"
I couldn't have imagined my medical odyssey at its outset, in part, because some of the therapies I've received didn't exist seven years ago. Some, not even seven months ago. This is an incredibly hopeful time in cancer research, with monumental discoveries occurring at a breathtaking pace ... In 2008, for example, only one cancer genome had been sequenced. Today, more than 100 have been, yielding an exponential increase in the number of targets for which scientists can develop tailored treatments.
All of which will lead to more survivors; more lives to celebrate.
So please join us today, with whatever message you wish to send cancer. Take a stand -- for yourself, for a loved one ... for anyone in the fight. Let's make every one diagnosed with cancer a survivor.
Popular in the Community