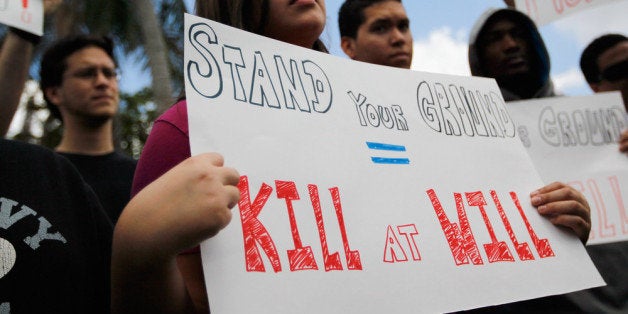 ORLANDO, Sept 17 (Reuters) - Killings deemed justifiable rose sharply in states where Stand Your Ground self-defense laws allow individuals who claim to be in fear of their lives to use lethal force rather than retreat, according to a new study by a coalition of groups who favor greater gun control.
The overall justifiable homicide rate jumped 53 percent in 22 states that adopted Stand Your Ground lawsbetween 2005 and 2007, according to the study sponsored by Mayors Against Illegal Guns, the National Urban League and Vote Vets.
By contrast, states without Stand Your Ground laws saw an average 5 per cent drop in justifiable homicides, the study found.
The 28-page report, published on Monday, compared the number of justifiable homicides committed in the five-year periods before and after enactment of the laws. It concludes that Stand Your Ground laws have undermined public safety and tied the hands of law enforcement officers.
Mayors Against Illegal Guns Co-Chair and New York City Mayor Michael Bloomberg said he hoped the report would encourage legislators "to review these laws to determine whether they're helping their communities, or making the public less safe."
However, the sponsor of the original Stand Your Ground law in Florida, which was used as a model across the nation, found the increase in justifiable homicides a positive development.
"That's the point. The point of the Stand Your Ground law is to create additional protection for someone who is utilizing their rights of self defense," Florida State Representative Matt Gaetz told Reuters on Tuesday. "It should tie the hands of law enforcement when they're trying to prosecute someone who is just trying to defend themselves."
In Florida, the average annual rate of justifiable homicides jumped 200 per cent, higher than in most other states, the study found. Overall, African Americans were affected disproportionately, with the justifiable homicide rate more than doubling when the victim was identified as black.
That matches a 2010 Tampa Bay Times report that justifiable homicides tripled in Florida after the Stand Your Ground law went into effect, based on state law enforcement data.
The study issued on Monday was commissioned after the fatal 2012 shooting in Florida of unarmed teenager Trayvon Martin drew national attention to the repercussions of the law which opponents refer to as "shoot first, ask questions later."
A U.S. Senate hearing on Stand Your Ground laws in response to Martin's killing was set for Tuesday but canceled in light of Monday's mass shooting and deaths of 13 at the Navy Yard in Washington D.C..
Martin, 17, was walking back to a townhome in a gated community in Sanford, Florida after buying snacks at a convenience store when he was involved in a confrontation with George Zimmerman, then the neighborhood watch captain.
Prosecutors accused Zimmerman of profiling the black high school student, then pursuing, confronting and killing Martin. Zimmerman claimed self defense and a jury acquitted him of murder in July.
The report also cited a 2012 study by Texas A & M University which found that Stand Your Ground laws made no dent in the rate of robberies, burglaries and aggravated assaults despite the contention by advocates of the law that it could deter serious crime.
Six states that enacted Stand Your Ground laws after 2007 were not included in the analysis because of insufficient data. (Editing by David Adams and Tim Dobbyn)

Popular in the Community