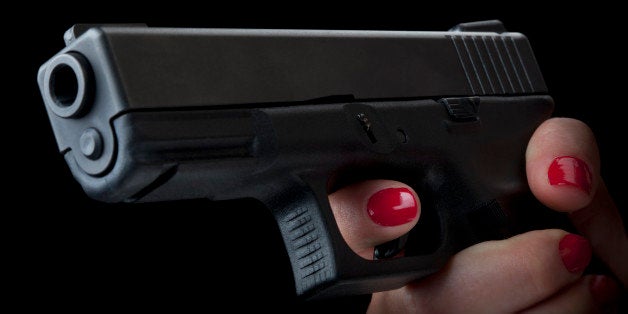 In 2012 editorial, father-and-son Florida politicians Don and Matt Gaetz called criticism of the state's controversial Stand Your Ground law "anti-woman." "Consider," they gravely intoned, "an elderly woman in a dimly lit parking lot or a college girl walking to her dorm at night. If she was attacked, her duty was to turn her back and try to flee, probably be overcome and raped or killed. ... Calls to repeal 'Stand Your Ground' are anti-woman. Imposing a duty-to-flee places the safety of the rapist above a woman's own life."
These claims echo those made in 2005 by Marion Hammer, whose lobbying efforts as the former president of the National Rifle Association led to Florida becoming the first state to pass a Stand Your Ground law. Like the Gaetzes, Hammer illustrated the need for Stand Your Ground by invoking a stranger rape scenario: "The duty to retreat had been imposed by the system and essentially if someone had tried to drag a woman into an alley to rape her, the women [sic] -- even though she might be licensed to carry concealed and ready to protect herself, the law would not allow her to do it. It required her to try to get away and run and be chased down by the perpetrator before she could then use force to protect herself." Hammer's conclusion, like the Gaetzes, is clear: if you do not support Stand Your Ground, you support rape.
A similar sentiment ran through NRA Executive Vice President Wayne LaPierre's speech at the Conservative Political Action Conference in 2013, in which he singled out "young women" for the following message: "the one thing a violent rapist deserves to face is a good woman with a gun." Fox News host Sean Hannity jumped on the rape bandwagon as well, expressing outrage at the "Left" for failing to acknowledge the supposed need for women to carry concealed weapons to protect themselves against rape (this included criticizing an actual rape victim, Zerlina Maxwell, for rejecting the supposed wisdom of armed responses to rape -- the response from many of the show's fans included, with no apparent sense of irony, rape threats).
The solicitude for rape victims in the context of armed self-defense stands in sharp contrast to the way rape generally tends to figure in right-wing discourse. Republican politicians and candidates made headlines during the 2012 election season for making unsympathetic, offensive, and outright inaccurate statements about rape. From Todd Akin's infamous assertion that women rarely get pregnant as a result of "legitimate" rape because "the female body has ways to try to shut the whole thing down" to Paul Ryan calling rape "a method of conception," Republicans were widely criticized for trivializing and defending sexual assault. This flurry of ill-advised public statements prompted commentators to note that Republican antipathy to rape victims has been characteristic of the party long before 2012. An example that has recently come to light is Maine Rep. Lawrence Lockman's 1990 suggestion that if abortion is legal, it's only fair to allow men to rape women: "If a woman has [the right to an abortion], why shouldn't a man be free to use his superior strength to force himself on a woman? At least the rapist's pursuit of sexual freedom doesn't [in most cases] result in anyone's death."
What then explains the exalted status of the vulnerable rape victim for the armed self-defense crowd? The rhetoric of Stand Your Ground can certainly be very seductive: it is tempting to imagine a world in which a woman faces down a street harasser, fights off a rapist, or stops an abusive partner in his tracks. It is even more seductive to imagine a world in which a woman is encouraged, praised and supported for fighting back in these ways. No doubt this is partly why Stand Your Ground supporters so often invoke the image of woman in an alley fighting off a violent rapist to justify expanding the uses of deadly force.
But the choice of a stranger rape scenario is a telling one. Of all the interpersonal threats women and girls are likely to face in their lifetimes, including street harassment, acquaintance rape, and domestic violence, stranger rape is one of the rarest. The vast majority of rape victims -- more than two-thirds -- are assaulted by someone they know. The vast majority of rapes also do not take place in the street; they happen in houses, apartments, cars, and dorm rooms. So while the image of a pistol-packing woman triumphantly dispatching a lurking rapist is compelling, such a scenario is statistically unlikely (as well as unrealistic, but that is a topic for another time).
This is no doubt the real reason that Stand Your Ground proponents, conservative pundits, and gun activists love the stranger rape example. Its value is purely rhetorical. It allows the speaker to claim concern for women's safety, and even more importantly, to decry critics as "anti-woman," without so much as causing a ripple on the surface of entrenched, commonplace violence against women. It is utterly safe to condemn the stranger rapist -- he is an outlier, a monster. The stranger rapist can be vilified without casting guilty shadows on mainstream society. Women who fight back against stranger rapists do not destabilize sexual order or challenge gender-disciplining norms.
By contrast, consider how Stand Your Ground proponents regard the vastly more common kind of violence that women are likely to face: violence from intimate partners. Of all the categories of victims who might justifiably agitate for more protection from the law, women facing down abusive partners in their own homes should be at the top of the list. And yet Stand Your Ground laws do nothing to help protect victims of domestic violence who use deadly force against abusive partners. This is not by accident but by design.
To put this in context, it is important to clarify just what Florida's Stand Your Ground law actually does. In the wake of the Michael Dunn and George Zimmerman trials, there has been much confusion and heated disagreement about the role of Stand Your Ground in violent confrontations. On the one hand, it is correct that the law's most infamous provision allowing individuals to "stand their ground and meet force with force" is not for the most part a departure from traditional self-defense doctrine. The law does not on its face radically alter the duty to retreat; the duty to retreat has historically been understood to apply only in situations where one can retreat "with complete safety and without undue sacrifice of one's liberty." That is, if George Zimmerman's and Michael Dunn's accounts of being threatened with serous bodily injury prior to the moment they shot their victims were true, they would not, under traditional self-defense law, have had a duty to retreat.
Much of the confusion about Stand Your Ground eliminating a supposed duty to retreat comes from the law's own proponents. Note how Don and Matt Gaetz claim in their editorial that before Stand Your Ground, a woman threatened by a rapist had a duty "to turn her back and try to flee, probably be overcome and raped or killed. Prior to 'Stand Your Ground,' that victim didn't have the choice to defend herself, to meet force with force." Marion Hammer similarly asserts that pre-Stand Your Ground law imposed a duty to retreat on potential rape victims: "It required her to try to get away and run and be chased down by the perpetrator before she could then use force to protect herself." But the claim that a woman would not have been allowed to defend herself from a threatened rape prior to Stand Your Ground is not an accurate statement of the law. A woman dragged into an alley by a would-be rapist would likely not be able to retreat at all, much less in complete safety, and thus would be authorized to use deadly force without any recourse to Stand Your Ground.
On the other hand, the insistence that Stand Your Ground plays no role in deadly confrontations is disingenuous at best. Regardless of whether Stand Your Ground is specifically invoked in any particular case, the concern that it encourages a "shoot first" mentality, especially one overlaid with racial biases, is well-founded. The law moreover does in fact include several innovations that run contrary to traditional limitations on self-defense. One is that it authorizes individuals to use deadly force not only to prevent death or serious bodily injury, but also the commission of any "forcible felony," which includes robbery. This is a significant departure from the long-held belief that the use of deadly force should not be used to protect mere property. Inasmuch as this belief reflects the principle that life is precious and should not be taken except under extraordinary circumstances, this is an innovation that fosters disrespect for human life. The law also allows for presumptions about the need for deadly force against persons who unlawfully enter homes or vehicles regardless of whether such persons pose an immediate threat.
But perhaps the most unsettling innovation of Florida's Stand Your Ground law, the one that arguably does the most to shift social defaults away from respecting human life, is the provision that provides immunity from criminal prosecution to those who claim self-defense. That means that a person who intentionally kills another person may not only avoid having to demonstrate to a jury that he acted in self-defense; he may avoid being arrested at all. Even if arrested, a killer can request a special immunity hearing at which his claim of self-defense need only meet a "preponderance of the evidence." The implications of this are staggering: the weighty, complex determination whether a person acted reasonably and justifiably in using deadly force may be disposed of by a police officer's impressions. Whether or not such immunity is granted in any particular case does not resolve the question of the provision's influence on social understandings of justifiable force and killing with impunity.
So let us return to the question of whether Stand Your Ground protects women in the violent encounters they are mostly likely to face. When asked if it was correct that Stand Your Ground did not apply in domestic violence situations, Marion Hammer answered, "Yes." Her explanation was as follows: "the law attempts to say that if in a domestic violence situation you are being beaten you may use self-defense, but you can't simply take action against an estranged spouse who breaks into the home if they own the home. You have to be under attack in those situations." This note of restraint is incongruous with the rest of the Stand Your Ground provisions. A person can presume that a stranger breaking into his house means him harm, and can thus use deadly force against the stranger. A domestic violence victim cannot presume that the person who has been beating her or has threatened to kill her -- even a person against whom she has obtained a protective order -- means her harm if he enters their home, and she cannot use deadly force against him until the moment he attacks her. Hammer elaborates that this provision was a result of the drafters' effort to ensure "that in restoring your self-defense rights and your right to protect your home.... they did not set up scenarios where people could murder people they did not like and claim it was lawful self-defense."
The architects of Stand Your Ground are, in other words, openly hostile to the use of deadly force by victims of domestic violence. Women threatened in their homes are actually placed at a distinct disadvantage not only compared to men threatened in their homes, but to men in any place where they have a right to be. Stand Your Ground does in fact openly assume, if not embrace, the risk of allowing individuals to "murder people they did not like and claim it was lawful self-defense," even outside of the home, so long as the killers are men (preferably white) and their victims are strangers (preferably black). What it refuses to do is to allow a domestic violence victim to fight back, even when confronted by a known abuser in her own home.
To see this, we need look no farther than the very different treatment of George Zimmerman and Marissa Alexander, two Florida cases that raised Stand Your Ground issues. George Zimmerman, a white-Hispanic male, avoided arrest for six weeks after shooting an unarmed black teenager to death and was eventually acquitted of all charges. Marissa Alexander, a black woman, was immediately arrested after firing a warning shot at her abusive husband and sentenced to 20 years for aggravated assault with a firearm.
The failure to arrest Zimmerman stemmed from the police's determination that he had acted in self-defense; the police's immediate arrest of Alexander expressed the opposite determination. Alexander requested a Stand Your Ground hearing, where the judge ruled that she did not act in self-defense. This was despite the fact that Marissa Alexander appears to be the ideal Stand Your Ground candidate: she had a protective order against a person who did in fact threaten her with great bodily injury, according to the latter's own sworn deposition. In addition to all of this, Alexander, unlike Zimmerman, did try to retreat -- repeatedly. It was only at the moment that she realized she physically could not retreat, and that her husband was threatening her life, that she fired a warning shot. A warning shot, even though a person in her circumstances presumably would have had the right, under Florida law, to shoot to kill.
After being denied immunity, Alexander was tried and convicted of three counts of aggravated assault with a firearm, resulting in a 20-year sentence. On appeal, the court found that the trial court had improperly shifted the burden on Alexander to prove she was acting in self-defense, as opposed to the prosecution having to prove that she was not, and granted her a new trial. The court also held, however, that the lower court acted properly in denying Alexander immunity from prosecution based on Stand Your Ground. Prosecutor Angela Corey -- the same prosecutor in charge of the Zimmerman prosecution -- is seeking to increase Alexander's punishment on retrial, from 20 to 60 years.
Alexander, having been denied the protection of Stand Your Ground, will likely be forced to argue Battered Women's Syndrome in her defense. That is significant for several reasons. First, the consequences of using Battered Women's Syndrome vs. Stand Your Ground are very different with regard to investigation and evidence. As discussed above, if law enforcement determines that a person has acted according to Stand Your Ground, the person is not even arrested, to say nothing of prosecuted. That means there is no examination whatsoever of the person who used deadly force beyond an initial police interrogation -- no presentation of evidence, no hiring of lawyers and experts, and no loss of liberty. There are no comparable immunity procedures for Battered Women's Syndrome defense, and the defense requires extensive evidentiary findings, expert testimony, and intense evaluation of the defendant's life.
Furthermore, Battered Women's Syndrome is often thought of as an "excuse defense," as opposed to a "justification defense" like Stand Your Ground. Both excuse defenses and justification defenses can result in acquittals or reduced sentences, but they communicate very different judgments about the acts of the defendants. Finding that an act was justified is commonly understood to signify moral approval of the act. By contrast, a finding of excuse expresses moral condemnation for the defendant's act; the defendant is "excused" on the basis of some serious moral or psychological defect.
Stand Your Ground defendants avoid punishment while engendering admiration for their supposed courage; Battered Women's Syndrome defendants are forced to plead for mercy for their supposed weakness. The narrative that Alexander will be forced to relate is one of a helpless woman who felt she had no choice other than to use deadly force against her abuser, whereas Zimmerman (and Dunn, and many others) can invoke the narrative of a man standing up for himself against a violent interloper.
Stand Your Ground laws not only fail to protect women; they actually reinforce and exacerbate existing gender divides in self-defense law. The cynical appropriation of women's right to self-defense by Stand Your Ground supporters masks the law's actual hostility towards women's use of force, including its continued stigmatization of women who fight back. At the same time, the female empowerment rhetoric of Stand Your Ground obscures the real achievement of such legislation: the normalization and promotion of (often white) male violence in an ever-expanding number of scenarios.
Calling all HuffPost superfans!
Sign up for membership to become a founding member and help shape HuffPost's next chapter