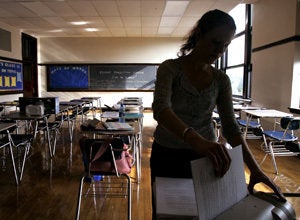 NEW YORK -- Teachers unions have the right to collectively bargain over almost every component of teacher evaluations, an Albany County (N.Y.) Supreme Court judge ruled Wednesday afternoon, dealing a blow to those who think teacher reviews should be based heavily on objective data.
"This is a huge step backward and a slap in the face of Gov. [Andrew] Cuomo and Chancellor Merryl Tisch," said Joe Williams, who heads Democrats for Education Reform. "Even worse, a mediocre teacher evaluation system just got even weaker. This is a huge win for the teachers unions."
In response to a complaint by New York State United Teachers (NYSUT), the trial court ruled that state standardized test scores can count for up to 20 percent -- not 40 percent, as Tisch's regulations demanded -- of teacher evaluations. The criteria for the other 20 percent must be collectively bargained at a local level.
"It's a strong decision that upholds the collective bargaining process," NYSUT president Richard Iannuzzi told The Huffington Post.
The New York State Education Department plans to appeal the ruling, arguing that it limits the effectiveness of evaluations by allowing teachers whose students show no improvement to be deemed effective.
"We can't have an evaluation system that permits a teacher who scores a zero on student achievement to receive a positive rating," education Commissioner John B. King Jr. said in a statement. "This decision is not consistent with the legislative intent, and it's certainly not what our students need. ... We'll explore every avenue, including new legislation, to turn this around."
The court decision comes as state legislatures across the country move to consider student achievement data in the hiring, evaluation and firing of teachers. These laws were largely inspired by Race to the Top, a national grant competition directed by U.S. Secretary of Education Arne Duncan, that requires, among other things, that states be legally able to connect teacher evaluations to test scores.
Two years ago, NYSUT helped legislators draft a law in preparation for the state's Race to the Top application that allowed student test scores to count for 20 percent of evalutions and mandated that another 20 percent be linked to "other, locally selected measures of student achievement ... [that] are developed locally." New York won $697 million in Race to the Top funding.
Earlier this summer, the New York State Board of Regents adopted regulations saying that state test scores could count for up to 40 percent of evaluations. In late June, NYSUT filed a complaint alleging that the board had overstepped its bounds.
New York's Race to the Top application -- and the underlying state law -- were rife with holes, according to journalist Steven Brill in his new book "Class Warfare: The Fight To Fix America's Schools." Clauses that made the entire evaluation process contingent on union negotiations, he said, prevented enforcement. "This decision is totally predictable," Brill told HuffPost. "You can't fill loopholes by promulgating regulations." His book said that even New York City schools chancellor Joel Klein thought the law was a joke. Klein did not immediately return a request for comment.
"If you're Arne Duncan, you have an obligation to realize that a state is not complying and cannot comply with the promises it made when it got this money -- you stop writing checks to them," Brill said.
In his ruling, Justice Michael Lynch held that because the law stresses that teachers must be rated based on collectively bargained "multiple measures," state tests can count for only 20 percent. But, he wrote, if "other data can be derived from the state assessments to define a distinctly different measure of student achievement," that measure could count for the second 20 percent, as long as it was developed locally through collective bargaining.
"That's like saying if a man had wings, he'd be permitted to fly," said Iannuzzi, the union president.
The state education department interpreted the ruling differently. "The Court rejected NYSUT's argument that the regulations could not allow state assessments to be used by local school districts for up to 40 percent of teacher evaluations," the department said in a statement.
Lynch also wrote that the state cannot prescribe the allocation of the remaining 60 percent of reviews. He held that the state's scoring thresholds for rating a teacher ineffective, developing, effective or highly effective are invalid -- which means in practice that teachers can't be rated "ineffective" based only on student performance.
The ruling also extended protections for probationary teachers. That "piece is the icing on the cake," said Iannuzzi. He said the court had made it clear that if the revised evaluation process can be used for decisions to grant tenure, "then it obviously must be considered before denying tenure."
Lynch's ruling upheld a component of the regulations that would speed up the teacher termination process.

Support HuffPost
The Stakes Have Never Been Higher
Related
Popular in the Community