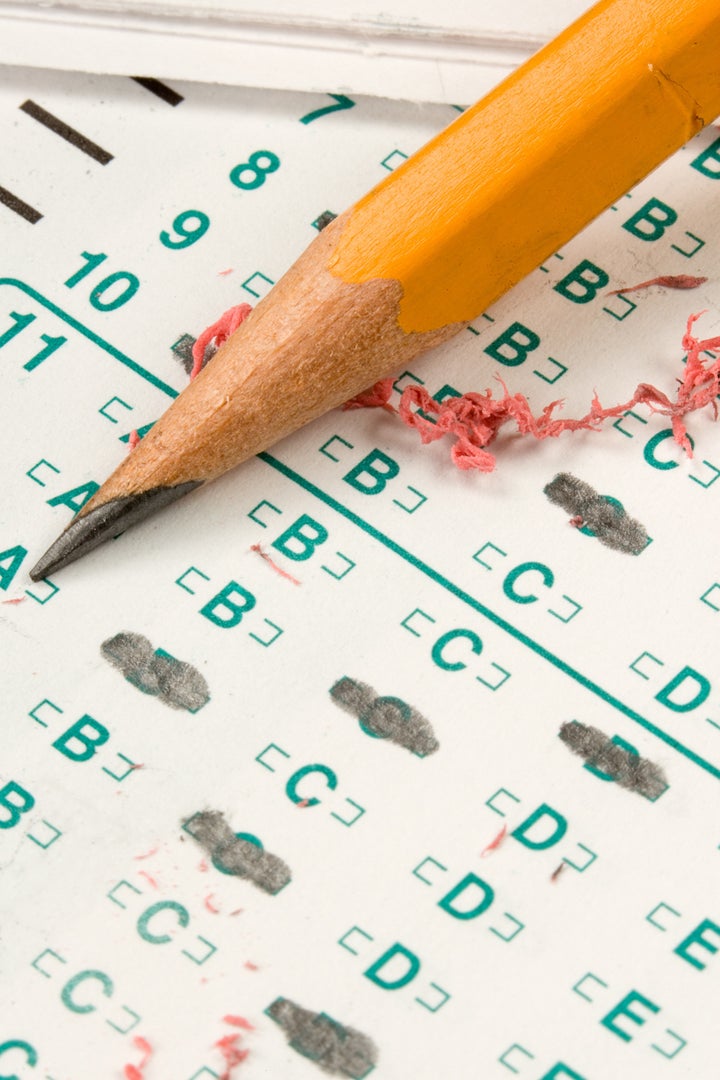 When asked about the problems associated with standardized testing -- cheating, overtesting, blunt measures of student achievement -- U.S. Secretary of Education Arne Duncan often points to a duo of "next-generation assessments" funded by federal money.
But a new survey, which consulting group Whiteboard Advisors plans to publish this week, suggests that "education insiders" aren't so sure that the one of the new tests will resolve all of the issues with standardized testing. Fifty-eight percent of those surveyed reported that they believe the Smarter, Balanced Assessment Coalition, one of the two state-based consortia developing the tests, is on the wrong track.
"Smarter Balanced seems to have started with a misdiagnosis of the testing program to begin with, and then gone from there," one respondent wrote.
These new tests are funded by $330 million in stimulus money through the federal Race to the Top competition and are intended to measure critical thinking, particularly the critical skills emphasized by the Common Core State Standards, the set of educational standards most states have agreed to adopt. The tests, by SBAC and Partnership for Assessment of Readiness for College and Careers, will both be administered mostly on computers and will feature more open-ended questions than the traditional "fill in the bubble" exams to which students have grown accustomed. But only SBAC is a "computer adaptive test," which means that it conforms to a student's performance during testing (if a student does poorly, the questions will get easier).
"Both are mediocre at best," one survey respondent wrote. "Neither has staying power."
The tests are also supposed to be implemented by 2014. But according to the survey, respondents are doubtful, with 45 percent of them saying that they don't think the tests will be ready by then.
"They are 1 year behind," one respondent wrote. "The capacity is not there in states and districts for the delivery of online assessments."
And the problems aren't entirely the fault of the consortia, according to 45 percent of the participants, who signaled that the inability of school districts to get the new tests up and running would be "the biggest threat to implementation." One-fifth saw technology infrastructure as a major hindrance, as not all schools have sufficient computers to allow students to take the test simultaneously.
The consortia are more positive. "Smarter Balanced is working collaboratively with member states, educators, and experts in the field to develop a next-generation assessment system aligned to the Common Core," Eddie Arnold, Smarter Balanced's communications chief, said in a statement. "With a pilot test set for early 2013, these assessments are on track for implementation in the 2014-15 school year."
Eighty-five percent of respondents signaled that PARCC is on the "right track," but 45 percent also expected PARCC delays. "Oklahoma looks forward to both the pilot test this academic year and the field test of the assessment in the 2013-2014 academic year," Janet C. Barresi, Oklahoma's education chief and a PARCC steering committee member, said in a statement. "This will help to assure the on-time delivery of this important assessment."
Whiteboard Advisors, a consulting firm that specializes in school policy, sends surveys about once a month to 50 to 75 anonymous political and policy "insiders," including current and former senior staff from the U.S. Department of Education, White House, Congress and think tanks. Whiteboard only recently began making portions of its surveys public.
Beyond the tests, the insiders believe that the Common Core itself faces a rocky path. School districts "are very unprepared" for the new standards, according to 80 percent of respondents, and only one-quarter believe teachers have "very strong" support for the Common Core. On the other hand, commercial vendors, three-quarters of "insiders" say, have strong or very strong support for the Common Core.
Paul Bruno, a California science teacher, isn't sure the new tests will be as different as they're touted to be. "People who do the best on tests that measure critical thinking are those who know the most," Bruno said. "There's really not this abstract critical thinking ability to test."
As they did last month, 100 percent of insiders surveyed flunked Congress on education issues. And they also continue to think that a rewrite of the much-maligned No Child Left Behind Act, which is now five years overdue, won't happen before 2014.
See full text of Whiteboard's survey below:
CORRECTION: A previous headline for this article stated that the survey suggested that insiders thought the standardized tests were on "the wrong track," which is true only of the SBAC test and not of the PARCC test. The headline has been revised to reflect that 45 percent of insiders believe both tests are running behind schedule, and the article has been revised to reflect that 85 percent think PARCC is on "the right track."
Related
Popular in the Community